Robert "Cal" Hubbard
College: Centenary (La.), 1922-24; Geneva, 1926
Inducted Pro Football Hall of Fame: 1963
NFL 50th Anniversary Team: 1969
NFL 75th Anniversary All-Two-Way Team: 1994
NFL All-Decade Team: 1920s
Official NFL All-Pro Team (11-man team, chosen 1931-42): 1931, '32, '33
Other years selected to an all-pro first team: 1929
Packers All-Time Team: 1946, '57
Packers 50th Anniversary Team: 1969
Packers All-Iron Man Era Team: 1976
Press-Gazette All-Century Team: 1999
A mountain of a man also blessed with a rare burst off the ball and quick-twitch reactions, Hubbard has been described as the most feared lineman in pro football during its first several decades. It was once written that he looked like the Empire State Building when he stood on the field.
Former teammate Mike Michalske said Hubbard effectively carried up to 270 pounds, almost 70 more than the average NFL all-pro at the time, and described him as "a big man in a small world." Yet despite his size, Hubbard started his pro career in 1927 by playing end on offense and backing up the line on defense for the New York Giants. At the time, football's substitution rules required players to go both ways, and tight seven-man lines were common on both sides of the ball.
Steve Owen, his coach with the Giants and now a member of the Pro Football Hall of Fame, said Hubbard could outrun any back in the league for 30 yards. The legendary George Halas, "Papa Bear," said, "There never was a better lineman than that big lineman."
When the Packers acquired Hubbard, they moved him to tackle. But with both the Giants and Packers, he was given the freedom to freelance and was one of the first NFL defenders to roam behind the line of scrimmage and blitz similar to today's linebackers.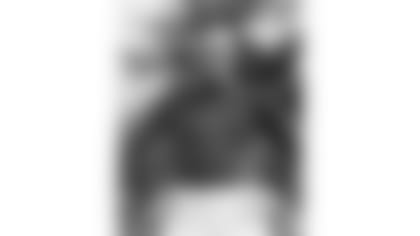 Coaches wanted to take advantage of his unusual size and quickness, and put him in position to go where the ball was. "On occasions, he'd even station himself as a widely spaced end and knocked down most of the enemy line like a bowling ball spilling pins," columnist Arthur Daley once wrote in The New York Times.
That's not to say that in tight quarters, as both a blocker and defender, Hubbard was any less overpowering at the point of attack. "The greatest tackle I ever played against was Cal Hubbard," Mel Hein, who played center for the Giants for 15 years and a charter member of the Pro Football Hall of Fame, told author Richard Whittingham.
All things considered, it probably was no coincidence that Hubbard played on four NFL championship teams in his first five seasons: the Giants in 1927, and the Packers from 1929 to 1931. In 1963, he was inducted into the Pro Football Hall of Fame as a charter member.
"The greatest player who ever lived was Cal Hubbard, lineman or back, college or professional," Bo McMillin, a college football legend, and later an NFL player and head coach, said just prior to his death in 1952.
The Packers announced they had purchased Hubbard from the Giants on July 31, 1929, after he had played two seasons in New York. Nearly 50 years later, Hubbard said he fell in love with Green Bay when the Giants played there in 1928 and insisted they trade him there the next year. He said he was never comfortable in New York and wanted to play in a small town.
Hubbard announced his retirement in January 1934, to become line coach at Texas A&M, but returned to the Packers in 1935 and doubled as a player and offensive line coach. In 1936, he became an American League baseball umpire and was given his release by the Packers in mid-October. He ended his career that season, playing one game with Pittsburgh and six with the Giants.
In six seasons with the Packers, Hubbard played in 75 games and started 53, including 47 at tackle and six at end.
Elected to the Baseball Hall of Fame in 1976, Hubbard is the only inductee in both the baseball and pro football halls of fame. He served as an AL umpire from 1936 to 1951 and then became the league's supervisor of umpires from 1954 to 1970. In a 1976 story in Pro!, the NFL's official magazine at the time, it was written that Hubbard was at his best calling balls and strikes thanks to his 20-10 vision, the strongest ever recorded up to that time at Boston's American Optical Laboratory. However, Hubbard lost his depth perception when a pellet lodged in his eye in a hunting accident in December 1951, and that's when he gave up umpiring to become supervisor.   
Born Oct. 31, 1900, in a small farmhouse in Keytesville, Mo. Given name Robert Calvin Hubbard. Died Oct. 17, 1977, at age 76.