Verne Lewellen
College: Nebraska, 1921-23
Selected to an all-pro first team: 1927, '28, '29
Packers All-Time Team: 1946
Besides being one of the greatest all-around backs in the NFL's first three decades, Lewellen also was widely regarded, along with Sammy Baugh, as being one of the game's two best punters. Unfortunately, he played all but his final season before the NFL kept statistics, and that left him "one of the orphans of pro football" in the words of former Milwaukee Journal sportswriter Oliver Kuechle, who covered the sport from the 1920s through the 1960s.
Over the course of Lewellen's nine-year career, NFL teams averaged fewer than 10 points a game. That placed a premium on his two specialties: punting and scoring touchdowns. In fact, punters might have been the most important players in the game. They dictated field position, quick-kicked on early downs and often punted from inside the 50-yard line because long field-goal attempts were rare.
In 1928, for example, Lewellen was unofficially credited with 136 punts, whereas the Packers' Harry O'Boyle led the NFL with three field goals. Lewellen not only excelled at punting for distance but also had an uncanny knack for placing his punts out-of-bounds or deep inside enemy territory. According to unofficial and incomplete statistics listed in The Football Encyclopedia, published in 1994, Lewellen was clearly the NFL's most prolific punter of the pre-statistical era with 681 punts for a 39.5-yard average.
While his average might pale in comparison to today's punters, Lewellen stood only 10 or 11 yards behind center and often punted from inside an opponent's 45-yard line. "No one who ever saw Lewellen kick could ever forget him," Arthur Daley wrote in his New York Times column in 1962. "He was the finest punter these eyes ever saw."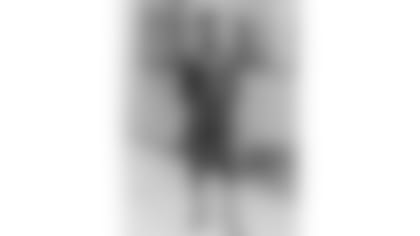 Lewellen also scored more touchdowns than anyone else in the NFL in his time and was the second-leading scorer with 307 points. In fact, Lewellen's league record 50 TDs wasn't broken until Don Hutson surpassed him in 1941 and it remained the second highest total for 16 years after his retirement. During the league's first 15 seasons, from 1920 to 1934, Lewellen also unofficially ranked sixth in receiving yards and 12th in passing yards, although he was never the Packers' featured passer.
Lewellen's versatility was perhaps best exemplified by one of the biggest games in Packers history, a 20-6 showdown victory over the New York Giants that led to their first NFL title in 1929. Lewellen moved from halfback to quarterback, replacing an injured Red Dunn, and played the full 60 minutes. The New York sportswriters, in turn, generally credited Lewellen's punting and all-around play as being the difference in the game.
"Defensively, offensively – of the players we had in the old days, he was number one," said Charlie Mathys, a former teammate and fellow Packers Hall of Famer. "And I'm not alone in saying that. Any of the old-timers I've talked to say the same thing … He was way ahead of his time in ability. If he doesn't get in the (Pro Football) Hall of Fame, it's a joke."
The Packers announced Lewellen's signing on July 31, 1924, after receiving a tip from Jim Crowley, who had played for Curly Lambeau at Green Bay East High School before gaining fame as one of "The Four Horsemen" of Notre Dame. During Crowley's junior year, the Irish suffered their only loss, against the University of Nebraska, which was led by Lewellen. The Packers outbid the Milwaukee Badgers and Kansas City Blues for his services.
Years later, Lewellen explained that he wanted to play with the Badgers and two of his former Nebraska teammates, but he had graduated with a law degree and Lambeau promised to find him a job with a Green Bay law firm.
Baseball was another option. Before signing with the Packers, Lewellen tried out for the Pittsburgh Pirates as a pitcher.
With the Packers, he played in 102 games, starting 67, including 63 at halfback and four at quarterback.
When Lewellen was not inducted as a charter member of the Pro Football Hall of Fame in 1963, teammate and fellow halfback Johnny Blood called it an egregious oversight. "Verne Lewellen should have been in there in front of me and (Cal) Hubbard," Blood said.
More than 20 years after his playing career ended, Lewellen was named general manager of the Packers in December 1953, and held the title with limited authority until Vince Lombardi replaced him in 1959. At that point, Lewellen became business manager and held the post until he retired in January 1967. Previously, Lewellen served on the Packers' executive committee and board of directors from 1950 until he became GM. In 1941, he coached the Long Island Indians, a Packers minor league affiliate, and led them to the American Association championship.
Lewellen also served as Brown County's district attorney from 1929 to 1933 while playing for the Packers.
Born Sept. 29, 1901, in Garland, Neb. Given name Verne Clark Lewellen. Died April 16, 1980, at age 78.