What do you think of this squad vs. the 2011 15-1 squad?
This one has a lot more speed and talent on defense. That's the big difference. I think it also has a better stable of running backs. Does that mean I think this team has more talent on its roster than the 2011 team? Yes, it does, but the 2011 team had some advantages this team won't have: 1.) The 2011 team didn't play a schedule as difficult as this year's team will. 2.) The league was getting its first real look at Aaron Rodgers in his prime and the Packers offense at peak performance. It wasn't until late in the season that the league got a bead on how to slow down the Packers offense: Get pressure with a minimum of pass rushers and flood the passing lanes with defenders. What I'm waiting to see this year is if the Packers can use their running game to drag some of those defenders up to the line of scrimmage. That would be a game changer.
Vic, in photos of the first day of practice with pads, it looked like a number of players had exposed knees. Do all players need to wear knee pads this year? Do the pads actually need to cover the knees?
Mike McCarthy said the Packers' definition of a full-pads practice includes knee and thigh pads. The NFL's definition of a properly worn uniform requires the pant leg to cover the knee.
Vic, I'm curious if you would speak a bit more on the point you made about the offensive line getting unfairly blamed for the poor running game. I'd argue the opposing point of view, citing sacks and poor run blocking, especially on third-and-short situations. I welcome your perspective on third and short.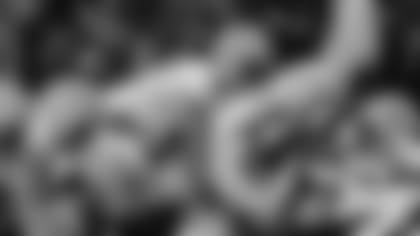 In a drive-blocking scheme, the offensive line's responsibility is to move the line of scrimmage. Third and short often includes a drive-blocking scheme. If you want to blame the line for third-and-short failures, go ahead, but I don't believe they bear the blame for the Packers' No. 26 yards-per-carry average. Yards per carry are mainly the result of yards gained beyond the line of scrimmage. It's a stat that is especially inflated by long runs and the Packers didn't have enough long runs last season. Any back will tell you that once he gets into the secondary, it's his responsibility to break tackles and make defenders miss. Also, in normal down-and-distance situations, the Packers employ a lot of zone-blocking principles. The line's responsibility in zone-blocking is for it to occupy defenders and create cutback lanes. It's my opinion that the responsibility for rushing yardage falls mostly on the back. As long as the line denies penetration, I believe it's the back's responsibility to find running room. The better the back, the more yards he'll gain. In the four years it took for Tony Dorsett to set the all-time NCAA rushing record, he never had an offensive lineman drafted by an NFL team.
Augustus from Humboldt, CA
I keep reading you mention the major emphasis on the chuck rule. Could you explain what that rule is and how the emphasis helped establish the need for "The Man"?
The chuck rule was instituted in 1978 and it immediately resulted in an explosion of passing yards and points. The simultaneous combination of the chuck rule and the rule that allows offensive linemen to use their hands in blocking effectively ended the run-the-ball era in professional football. Those two rules made pro football a passing game. As the years passed, however, the league's officials became lax in enforcing the chuck rule. It came to a head in 2003 when Bill Polian, then the president of the Colts, complained that the Patriots' defensive backs were allowed to "mug" Colts receivers in the AFC title game. The league sided with Polian and announced a major point of emphasis in a greater enforcement of the chuck rule in 2004, which resulted in Peyton Manning setting an all-time touchdown passes record, which Tom Brady broke three years later. For the second time in NFL history, the chuck rule changed the game, and the league remains committed to a major emphasis in enforcement of that rule. Why run the ball when it's become so easy to pass it? Football is now first and foremost a passing game, and that's why you can't win championships without having "The Man."
Not that long ago, several NFL teams held training camp in Wisconsin. I think there was talk of creating a Cheese League similar to the Cactus League and Grapefruit League that exist in Arizona and Florida for MLB spring training. The goal was to lure warm-weather teams to a cooler climate for training camp. Why did this idea never really catch on and the teams that were here go back to training closer to home?
I was with the Jaguars in 1995 when they spent their inaugural season's training camp in Stevens Point. Not only did that summer produce record heat in the upper Midwest, but moving people and equipment in and out of small airports became cumbersome and expensive. Taxes were another problem. Florida doesn't have a state income tax. The Jaguars didn't return.
Cullen from Salt Lake City, UT
If players' and coaches' main goal is to win a Super Bowl every year, why can't fans expect it every year? Would you say the problem isn't the expectation, it's the reaction?
The Super Bowl has been played 47 times. The most wins by one team are six. When the team that's won the most Super Bowls has won less than 13 percent of those games, I don't understand why anyone would expect to win a Super Bowl every year. There's coachspeak, and then there's fansense.
Erik from Noblesville, IN
Vic, any updates on the kicking competition between Mason Crosby and Giorgio Tavecchio?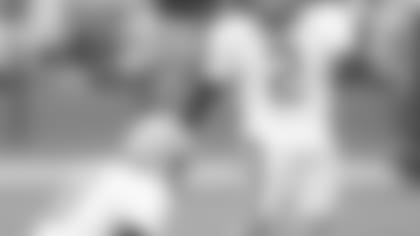 Not since the Friday field goal competition, but I suspect will have another little head-to-head before long. I would certainly expect one on "Family Night" this Saturday.
Nick from Peterborough, Ontario
Vic, how does Lattimore look?
He flattened Eddie Lacy in nine-on-seven on Sunday.
"Stats are often what we want to see when we don't like what we see." Great quote. However, even with that said, what stat must the defense improve to be good enough to win those big games this coming season?
Butts kicked in big games. It's a great stat. Lead the league in that stat and you won't worry about the other stats.
Conor from Glen Mills, PA
Is Eddie Lacy really that big?
I suspect the question will be asked of Mike McCarthy during his post-practice press conference on Tuesday. I think Lacy looks thicker than he did in OTAs, but it doesn't alarm me for two reasons: 1.) Big backs get big; it's common. 2.) Ultimately, it's about how a big back carries the weight. Pete Johnson and Jerome Bettis never seemed to have a problem with their size. The bigger they got, the better they got. Marion Butts, on the other hand, got too big. He was a big, pounding running back, and then he was gone. There's a line of demarcation for big backs. Lacy will learn where that line is.
How would you compare the relationship between McCarthy and Ted Thompson with those of other coaches and GMs? It sounds like each one knows his proper place and that they get along great, or is this just a smoke screen to what really goes on?
They have a great relationship and it's built on friendship. The coach/GM relationships that turn stormy are usually the result of the coach wanting more control in matters of personnel. Coach McCarthy is happy to have Thompson do the "shopping," so to speak, and I've long considered that to be the best approach for a coach in a coach/GM relationship. Joe Gibbs and Bobby Beathard set the standard for that kind of relationship, in my opinion. Beathard as much as told Gibbs to go away during the draft. "When it's over, I'll hand you your football team," I once heard Gibbs describe it. I think it's the best approach and it's because coaches tend to be enamored with a prospect's execution of technique, whereas personnel guys look for players with raw talent that makes them capable of a higher level of play. You don't want guys who are as good as they're going to get. You want players with upside who are then turned over to the coaches to be taught how to reach that upside. Good scouts live in the future. Coaches live in the moment. That's the way it should be.
Vic, my question is do you think the defense is focusing too much on the first two games and not the rest of the season?
Last January, everybody accused Dom Capers of not having his defense prepared for Colin Kaepernick. I think Coach Capers should do everything in his power to prepare for this year's season opener.
Chris from Joint Base Langley Eustis, VA
Did you cover the Steelers during the Joe Gilliam/Terry Bradshaw controversy? Does it remind you of any other QB controversy in recent years?
It was a unique situation for a few reasons. First of all, it occurred during the players strike of 1974. Bradshaw honored picket lines and didn't report to training camp. Gilliam crossed picket lines and, in Bradshaw's absence, established himself as the team's starting quarterback. It was never as much about race as it was about labor. In a labor town, Chuck Noll angered fans for benching the quarterback that didn't cross lines and for promoting the scab. I know of no other comparable quarterback controversy. Years later, Coach Noll told me his decision to bench Bradshaw had nothing to do with not having crossed picket lines. He benched Bradshaw for an incident that occurred the previous year when Bradshaw left the team the night before a game on the road, to make a trip home to Shreveport. He returned after curfew. Noll didn't make an issue of it then, but he decided he would do so in the following year's training camp. He had already decided to open the job to competition.
Is it the coaching staff that is able to take guys from being low draft picks and make them stars, or do some scouts just pick up on things some others miss?
Good sculptors need good clay. Packers scouts provide Packers coaches with good clay. The coaches take it from there.