GREEN BAY – As long as Colby Wooden can remember, he's had a knack for beating offensive linemen up the middle.
Equipped with a buildable 6-foot-4, 273-pound frame, the Auburn defensive lineman has leaned on quick twitch and a 4.79 40 time to burn a direct line to quarterbacks in the Southeastern Conference.
And now, Wooden looks to bring those same intangibles to the NFC North after the Packers drafted him in the fourth round (No. 116 overall) on Saturday morning.
A three-year starter and former SEC All-Freshman Team selection, Wooden played all over Auburn's defensive line on his way to registering 152 tackles (30 for loss) and 15 sacks in 40 games (36 starts).
"I feel like my versatility is my biggest weapon," Wooden said. "The ability to play inside and outside. So, me using my quickness on the guards, pass-rush situations and passing downs I feel like the matchup favors me."
As a redshirt junior, he set single-season career highs in both tackles for loss (11½) and sacks (six) while primarily playing inside. His ability to sneak up on ball carriers also led to Wooden generating a team-high three forced fumbles and two recoveries.
Athleticism runs in Wooden's family, as his young brother, Caleb, is currently a safety for the Tigers. Given his tweener traits, Wooden said NFL teams were split between playing him inside as a defensive tackle or working him on the edge.
There was no such dilemma in Green Bay. The Packers plan to play the 22-year-old at defensive tackle, where Green Bay lost two starters, Dean Lowry and Jarran Reed, during unrestricted free agency.
Wooden's interior speed is seen as an ideal complement to a Green Bay D-line that brings back two-time Pro Bowler Kenny Clark, former first-round pick Devonte Wyatt and T.J. Slaton.
"Because of his quickness and athleticism, he kind of sneaks up on guys at times and catches guys from behind that they're not used to seeing," said Packers assistant director of college scouting Patrick Moore.
"I think you see more and more, the Jalen Hurts, the Mahomes, our guy (Jordan Love), quarterbacks are breaking the pocket more and a lot more offenses are throwing stuff behind the line of scrimmage.
"With the screen game and all of that it just helps guys to chase plays down and make plays. So, we need to get faster because the NFL's getting faster and he definitely brings that to our defense."
Moore believes Wooden has a frame that can carry more weight, too. Wooden said he currently weighs 283 and understands he may need to bulk up even more to match the physicality of the pro game.
"I feel like I got a whole lot of work to put in," Wooden said. "Now, the grind begins. I have to work on the hands, the fundamentals, the techniques. Everything that got me here, I gotta keep getting them better and better and better."
Wooden's selection extends the Packers' streak of drafting at least one college defensive lineman to 26 consecutive years, though former Miami (Fla.) defensive end Jonathan Garvin has primarily played outside linebacker since being drafted in the seventh round in 2020.
Having already studied the film of Clark, Preston Smith and Rashan Gary, Wooden can't wait to get to Green Bay and begin melding his skill set to Joe Barry's defense.
"I'm blessed and honored to go to such a storied franchise," Wooden said. "I've been sitting around today, it was just like a calmness, like I knew I was going. I just didn't know when. But when the Packers gave me a call, I was over the moon, ecstatic. I'm just ready to go."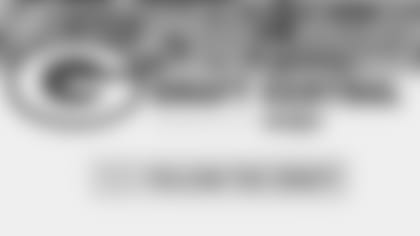 Packers Draft Central | Recap the 2023 NFL Draft
Follow packers.com's coverage of the 2023 NFL Draft