GREEN BAY - Davon House is all about finding ways to have fun during the dog days of an NFL training camp.
With humor in mind, the Packers cornerback busted out a Minions mask he recently picked up during a shopping excursion with his family. After debuting the mask at practice last Thursday, the eighth-year veteran has worn it to Nitschke Field for all seven of the Packers' training-camp practices.
What originally began as a playful joke between him and his wife, House said he proceeded to wear the mask around a store for an hour and a half to the joy of every child he encountered.
"I was like 'Oh this is cool' and I put it on and I was just like, 'Hey, no one knows who I am right now, so I can be goofy,'" House recalled. "All the kids loved it. I didn't take it off at all. Just didn't say anything and was saying hi to kids. It was fun."
An admitted prankster, House bought the mask and wore it home to the delight of his 4-year-old son, Lavon, and 2-year-old twins, Titus and Isaiah, who are all fans of the movie franchise.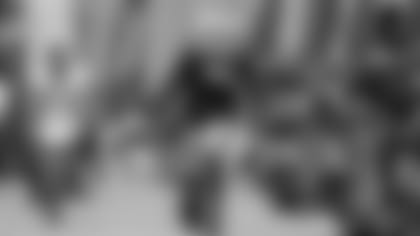 After passing the eye test with his kids, House sent a group chat of him wearing the mask to the Packers' defensive backs, who laughed and told the 29-year-old cornerback he was a "fool."
Taking things to the next level, House donned the mask at the Packers' first practice of training camp last Thursday.
And the next day and the day after that.
It did lead to some questions at the House household, though.
"My son, the next morning was like where's the Minion mask at. I said, 'Daddy took it to work,'" House said. "It's training camp. No one's really done anything fun yet. I was going to do like Chewy, but the kids won't like that. The Minion mask is where it's at."
So where does the Minion go when practice begins?
"It goes to sleep. It leaves," House smiles.
House appears to have started a new tradition. His son wore the mask to practice on Friday and House said he has an even bigger surprise planned for the next practice at Nitschke Field Monday.
"It's going to get bigger," House said. "Look for more than just one person wearing it Monday. I don't want to throw any names out, but there will be more than one person."
Packers players rode kid's bikes down the DreamDrive Friday to practice