GREEN BAY – As Devante Mays looks to make the most of his lone preseason appearance Thursday night in Kansas City, there's a teenage boy in Texas with very limited access to the outside world who will be waiting anxiously to hear how he performs.
He's a 16-year-old Mays met the weekend before training camp started, roughly 10 days before Mays injured a hamstring that kept him sidelined in camp for 3½ weeks.
The past month has not gone according to plan for the Packers' second-year running back, who now has the smallest of windows to earn a roster spot for 2018. But no matter how things unfold from here, his impact on a secluded admirer will perhaps never diminish.
A visit months in the making, Mays dropped by Giddings State School, a juvenile correctional facility in Lee County, Texas, back on July 22. He was just two days removed from helping teammate and fellow running back Aaron Jones at his football camp, and three days away from being due to report to Green Bay.
Charlie Jackson helped with the arrangements, and they were extensive – fingerprints, background checks, clearances from child protective services and the Texas Juvenile Justice Department, and the like.
Jackson, a volunteer with Texas CASA, which stands for court-appointed special advocates, met Mays last winter in his home state. He felt it might really mean something to this troubled teen, whose case he had taken up, to meet an NFL player who didn't exactly have the easiest path to achieve his dream.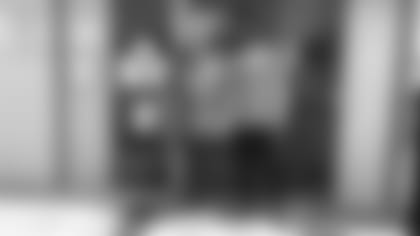 Charlie Jackson and RB Devante Mays
In an interview with packers.com, Jackson did not divulge any details of the boy's background, nor even his name, citing state laws. (For the purposes of this story, the pseudonym James will be used.)
All Jackson could say is James "got into some trouble" and was shuffled around the foster care system before ending up at Giddings, a place that a previous vernacular would have labeled a "reform school." At 6-foot-3, 180 pounds, James would love to play football in his football-mad state, but he was on a very wrong path to do so.
"I got to thinking maybe this would provide a little motivation for him to achieve," Jackson said. "Devante has a really motivating and uplifting story. Where he came from as a kid, and achieving what he's done, is truly remarkable."
After connecting with a former high school coach and his wife, who evolved into surrogate parents to help support him, Mays then made an impression at a second junior college before earning a Division I look from Utah State, which ultimately led to his selection by Green Bay in the seventh round of the 2017 NFL Draft.
Mays sat down with James, initially not knowing what to say. Then he just told his story, and James was a captive audience of one. The two connected in a significant way, and their conversation lasted nearly 90 minutes.
"I think it reached him on a personal level, because I feel like we kind of both grew up the same," Mays said. "I don't think he really had his parents there, and he just didn't have any guidance.
"Fortunately for me, I had that from different coaches and people that I had in my life that I would meet. That's what helped me, because I was kind of on that wrong path, too. That's what I want to do for him, to be there like how coaches and other people were there for me."
Mays' influence on James actually began before they met. Jackson had been telling James he was working on getting an NFL player to come visit him, and that in itself served as a motivating force.
Youth at Giddings are highly restricted, but they can earn certain privileges with good behavior and other contributions. In order to travel outside the facility and play for the school's football team – it has a very rudimentary one that competes against other small Texas schools – James would need to achieve what's referred to at Giddings as "Level 4."
"They wear these gray T-shirts, but when they get to Level 4, they get to be a BMOC with a nice blue polo," said Jackson, who also has served as James' guardian ad litem in court. "The day we visited, he just got his Level 4. I looked around the room and there were a dozen other families in there, parents and grandparents visiting kids in the facility, and my young man was the only one with a blue polo shirt on.
"It was really good to see. He's going to be able to play football this fall. He wants to play wide receiver."
The pride on James' face to see Jackson and meet Mays with his blue shirt on was evident, and the day couldn't have gone any better from Jackson's standpoint.
"He was totally locked in when Devante was telling his story, about growing up, getting in trouble, (problems with) parents, not having any stability," Jackson said. "He said his line to the NFL was not a straight line. It had lots of points where it went sideways and down, things weren't happening, but don't beat yourself up if you take a step back, two steps back. Stay focused on what's really important.
"Devante hadn't been in the kind of trouble he had, but sometimes it's just these little small things that make the connection. You make this shift in your mind that you're not going to let other people determine how your life turns out."
Mays' young pro career has reached another key point. With the hamstring injury hopefully behind him, he will push to take control of his football fate in the preseason finale in Kansas City.
During the offseason, he put the two fumbles from his rookie year behind him. He says he's "100 percent full-go," a positive step after a disappointing camp spent mostly sidelined and rehabbing.
"I want to show them if they needed to, they could depend on me and count on me," Mays said of his goals for Thursday's game. "Just earn some trust, and show that I can make some big plays.
"Just watching the team travel and having to stay behind, it's pretty hard. I had high hopes going into the offseason, but I still have a lot of confidence there are bigger things to come."
The hope is there are better things ahead for James, too. Jackson said he could be eligible to move from Giddings to a more mainstream school next year, and he'd be thrilled if it somehow worked out in Mays' football schedule for him to see James play in a game somewhere down the road.
"That would be awesome, and he's just a ninth-grader, so I don't think that's out of the question," Jackson said. "Back in February when we started talking, there wasn't any hesitation on Devante's part. He has Christian principles I think he lives by, and he said, 'If I can help somebody, then I'm glad to do it.'"
For Mays, he's simply paying it forward and will continue to do so, because the visit provided a meaningful perspective for him, too.
"As I think about it now, it could easily have been me," Mays said of James' situation. "I've done things that I regret in my past.
"I want to help people who grew up the way I did, or if they didn't have the proper upbringing or whatever. I felt like I was able to reach someone and impact their life in a positive way."