Nick from Quebec City, Canada
Can you tell me the year when the Packers' offices were moved from the Washington Street location on the east side of town to Lambeau Field? I'm talking about the two-story offices that had a beige brick design and were located on the north end of the stadium facing Lombardi Avenue. Also, when were these offices demolished?
The Packers moved into the offices on Washington Street in June 1949 and remained there until the summer of 1963, when the owners of the adjacent Downtowner Motel (now Quality Inn & Suites) told Lombardi they needed the building for a restaurant and he had to move out. In hindsight it's hard to imagine, but Lombardi didn't want to leave. He didn't want to move the offices to the stadium, although the Packers had recently gained more space there by purchasing and razing the old farmhouse in the stadium's west parking lot. The two-story, beige office building that you asked about consisted mainly of a first-floor ticket office with locker rooms in the back and offices upstairs for Lombardi, his assistant coaches and a small administrative staff. The original cost was $175,000. Although the building underwent several expansions and renovations, including a nearly $2 million addition in 1982, the exterior never changed much in appearance. The Packers' offices were moved into the Atrium in mid-July 2002 and demolition of the old office building began on July 31, 2002.
Chuck from West Hartford, CT
I was telling friends Aaron Jones' 77-yard TD run against Philadelphia was even better than Jim Taylor's 84-yard TD run vs. Detroit in 1964. I think it could be the greatest run in Packers history. Realize it's subjective, but before Jones' run, I always considered Taylor's run the best. Ahman Green's 98-yard TD run in 2003 was great, but he broke free at the line of scrimmage and just outran everyone. I like Jones' better than Taylor's. What do you think?
To be honest that didn't cross my mind when I watched the game. But I took a look at all three runs and I certainly wouldn't argue with you. What Jones' run showed was a little bit of everything that makes him special. No. 1, I don't believe I've seen many runners who have been quicker out of the starting blocks than Jones. Then, he planted and just exploded through the hole, but with a little wiggle, as well. When I think of Green, I think of the 4.16 and 4.19 40-yard dash times that Ron Wolf clocked him at on a visit to Nebraska, but I also think of Green as more of a straight-line runner than Jones. On Jones' run, the line of scrimmage was obviously the Packers' 23-yard line and he broke his first tackle at the 29. Actually, I don't know if he broke it as much as the defender missed on a shoestring effort because he either misjudged Jones' speed or couldn't react quickly enough to it. Ten yards later, another defender went for a shoestring tackle and Jones raced through it. It sounds like what really impressed you was the last 28 yards of Jones' run, where there were flashes of his cutback ability, vision, patience and also his ability to shift gears even after throttling down. All of that was what allowed him to elude two defenders who had an angle on him near the sideline and the final three that he encountered over the last 20 yards. On Green's 98-yard run, as you mentioned, he made one cut and was off to the races. I think he went untouched even as he burst through traffic at the line of scrimmage. Taylor also ran untouched for the first 33, 34 yards before exploding through a shoulder tackle near midfield and then running another 45 yards or so untouched before he was challenged by two defenders inside the 10-yard line. Taylor fended off one with the help of a Bob Skoronski block and stepped out of the arms of another defender's diving attempt at a tackle from behind. Surprisingly, Skoronski caught up to Taylor near the goal line. That's probably what was most remarkable about the play. How could a 215-pound fullback not known for his speed run 84 yards virtually untouched with a 250-pound teammate keeping pace with him? Where was the pursuit? What I'm also curious about with Taylor's run is how often it has been mistaken for Vince Lombardi's power sweep because of the misperceptions about that play. Here's why it wasn't Lombardi's signature play. 1) Taylor, the fullback, was the ballcarrier. On Red Right 49, the power sweep to the right, the left halfback carried. 2) The power sweep was always run from a split-back formation with the halfback and fullback lined up at equal depth. On Taylor's run, Hornung was in an upback position to the play side. 3) While both guards – Forrest Gregg and Fuzzy Thurston – pulled to the right behind the line of scrimmage, just as they would on a power sweep, Skoronski, the left tackle, didn't pull. He crossed the line of scrimmage first and then ran down it. "It was a toss 39, Blue Right 39," backup quarterback Zeke Bratkowski told me. Among the linemen, Bratkowski said the only major difference in the blocking assignments between the sweep and fullback toss was at left tackle. "Skoronski went through the line and came back across the defense," Bratkowski explained. "He didn't pull on (the Packers' side of the line). He pulled past the middle linebacker. He didn't go under the center; he went over the top." Back to your question: I don't believe I've ever seen a clip of Andy Uram's 97-yard run in 1939. But I'll invite readers to respond if they can recall a better one from scrimmage than Jones' 77-yarder? Returns, off kicks and turnovers, don't count; nor do pass receptions.
I came across your article about the first Packers player to wear a facemask. I've written two books on football history and have a website/blog from which I write about the history of the game. With that said, the timing of the first Packers player to wear a facemask likely depends on how you define a facemask. Arthur Cumnock, Harvard's captain, developed a nose guard in 1892. It strapped around the head and was also held in place by clenching a part of the nose guard between the teeth. Cumnock later sold off the rights to a sporting goods company. Those guards were worn by 10% to 20% of players on most teams. There also was an executioner's mask, the birdcage style nose and eye protectors. I'll do a bit of research about Packers players specifically, but attached are two images of Dick Stahlman wearing an executioner's-style mask while playing for the Packers in the early 1930s. One of the images is from the Chicago Tribune. I'd be interested in your thoughts.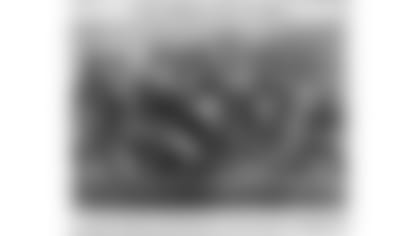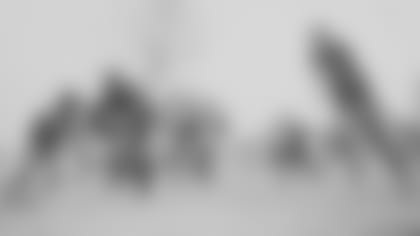 My first thought is to thank you. As I noted in my answer last week, all research should be open ended and so I appreciate that you reached out and sent copies of the images. Obviously, you've done more research than I have on the subject and I can learn more from you than you can from me. Stahlman played tackle for the Packers from 1931-32, appearing in 27 games. He also played with four different teams in 1924, with Akron in 1925, the New York Giants in 1927 and '30, and the Chicago Bears in 1933. On top of that, he was a catcher and played minor league baseball from 1927-32. I found a story in the Appleton (Wis.) Post-Crescent from 1935 when Stahlman signed to play for an amateur or semipro baseball team in nearby Kaukauna, Wis. The story noted, "At the Bay (Stahlman) was a marked player because he always wore a heavy mask and would fight at the drop of the hat." I think a full-face mask is a little different from the face guards of the late 1940s and early '50s. Those looked like forerunners to today's facemasks, but Stahlman deserves to be more than a footnote in the Packers' story about facemasks as you've pointed out. I wonder if and how many other Packers might have worn those early masks. Again, thanks for enlightening me and our readers. And please let me know if you find anything else.
Did the 1953 Packers really have three coaches? I saw the names Gene Ronzani, Hugh Devore and Ray "Scooter" McLean all for 1953.
Yes and no. Ronzani was in his fourth year as Packers coach and was fired after the 10th game, or the day after the Packers lost in Detroit on Thanksgiving. Devore and McLean, two of his three assistants, served as interim co-coaches for the final two games on the West Coast. But I'll add this teaser. The firing of Ronzani, along with the trials and tribulations of Devore and McLean as interim coaches, was one of the most bizarre stories in Packers history and it will be covered in considerable detail in our definitive history book due out later this year.
Craig from Johnson City, TN
I just saw this article about Emlen Tunnell in my local paper and found this link on the internet. It was very timely considering your article on Lombardi. Just wanted to make sure you saw it. Love reading your stuff.
Thanks for the article and for being a loyal reader. Emlen Tunnell's time with Green Bay makes for a great story, but his life story is even a better one.