GREEN BAY – The vacuum was Tammy Tonyan's security blanket and the duster a much-needed distraction on unquestionably the longest birthday of her life last Saturday.
Three bottles of champagne, adorned with the Packers' logo, were purchased in case of celebration should her son, Robert Jr., call with good news he'd made Green Bay's roster, but the phone wasn't ringing. Not yet, anyway.
Not wanting to jinx anything, Tammy kept the bottles hidden in the days leading up to cut-down day until secretly relocating them to the family refrigerator Saturday morning in preparation for the 3 p.m. CT deadline for all NFL teams to set their rosters.
A year ago, there wasn't much drama. Low on the Detroit Lions' depth chart, Robert Jr. was released early in the process. This year in Green Bay, however, it looked like Bob and Tammy Tonyan's only son had a legitimate shot at cracking the Packers' 53 as a fourth tight end.
With her phone glued to her hand, Tammy did everything she could to keep her mind off what was going on. When dusting and vacuuming couldn't calm her nerves, Tammy just paced back and forth in the Tonyans' McHenry, Ill., home.
Until her phone finally rang shortly after the deadline.
"It was Robert," Tammy recalled earlier this week. "I said, 'Hello?' He just says, 'Happy birthday.' I went, 'Robert, you're on the team! Oh my God, I'm so happy for you.'"
The realization Robert did it pulled tears from Tammy's eyes, reflecting on everything he's done over the past five years to make it to this point in his football career.
A lifelong quarterback who once wore a Brett Favre jersey to his 3-year-old birthday party, Tonyan gave up that dream after his redshirt freshman year at Indiana State when the coaching staff approached him about converting to receiver.
Looking to be the first Sycamore to crack an NFL 53-man roster in more than a decade, Tonyan spent the 2017 season flying cross-country from one visit to the next before finally landing on the Packers' practice squad last December.
Signing a futures deal with Green Bay after the season, Tonyan spent the offseason eating anywhere from 5,000-6,000 calories per day to complete a transition to a 6-foot-5, 237-pound tight end.
The small-town kid, who grew up 20 minutes south of the Wisconsin border, wasn't supposed to make it at a position where the Packers are carrying veterans Jimmy Graham, Marcedes Lewis and Lance Kendricks.
But nobody told Robert Tonyan Jr. that.
"There's not any words that can explain it," said Bob Sr., who spent an unproductive morning at his family-owned construction business to pass time Saturday. "How much work he's put into this career path he wanted to take, to see it work out was beyond expectations. We kept telling him all along – if it's something you want and you work hard at it, and stick with it, in the end, you will succeed. It just takes time."
The Gende family might have been onto something.
Growing up as the neighboring family to the Tonyans in McHenry, Bob Gende and his son, Brad, grew close with Bob Sr. and Robert through a series of backyard football games.
The Tonyans would be the Bears and the Gendes, notorious Packers fans, acted as their NFC North foils. The games were always fun, playful and cultivated a deep bond between the two families, whose children were all about the same age.
The Gendes made such a strong impression on young Robert, one day he decided he wanted to be a Green Bay Packer, too, for his birthday party.
"I don't know what happened, but all of a sudden, he was like, 'I like the Green Bay Packers,' and he wanted a Green Bay Packer party," Tammy recalled. "Because I'm the mom that lets my kids do that kind of thing, I'm like, 'You're going to have a Green Bay Packers party' and everybody wore a Green Bay Packers jersey."
The fact was Robert was interested in every team in every major sport. A year later, Robert had a Bulls-themed birthday party and so on. Over the years, Robert developed a large collection of jerseys that Bob and Tammy still keep in a bucket at their house, including a Favre jersey that's now more than 20 years old.
Despite his backyard beginnings, Tonyan didn't have an instant love affair with football. Bob remembers bringing Robert out to a Pee Wee football practice as a youngster and his son telling him he doesn't know if he'll like it.
"A friend of mine was a coach and he was like, 'Just bring him out to a practice. The kid is athletic. He'll want it. Just check it out,'" Bob recalled. "They gave him a ball and told him to throw it. I had three coaches look at me and say, 'You got to get that kid to play.'"
Bob left the decision solely up to his son, and on the way home, Robert said he'd give it a shot. Bob agreed to let him play under one condition: "Once you start, you can't quit. You have to see the year out. You never quit, and he never did."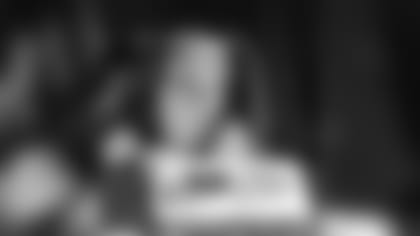 'Take that moment and run with it'
Robert was a natural, three-sport athlete, but football proved to be his true calling once he got to high school.
An all-conference quarterback during his junior and senior seasons at McHenry, Tonyan broke the school's career record for passing yards (5,000) with 40 touchdowns.
Still lightly recruited, Tonyan committed to Indiana State, where he played 11 games at quarterback as a true freshman in 2012. However, the decision was made after the season to move him to receiver.
Initially, it was a tough pill to swallow. Tonyan understood – his body was growing at a rapid pace – but quarterback was all he'd really known.
"I asked him once, 'Did you ever go through a low time where you thought you couldn't do it?'" Tammy said. "He said, 'Yeah, but it only lasted about 20 seconds.' That was when he was a quarterback and they made him a receiver at Indiana State."
As much as it hurt to give up quarterback, Tonyan found instant success at his new position. He hauled in 54 catches for 747 yards that first year on his way to becoming the Sycamores' all-time leader in career touchdown receptions (20) and second in school history with 2,047 receiving yards.
Bob Sr. attended every game during Robert's four seasons at Indiana State, while he and Tammy also were burning up the road traveling to Bowling Green, where his sister, Danielle, was an all-conference volleyball player.
In 2013, Bob and Tammy put 44,000 miles on their car traveling the turnpike to Ohio and following Robert around the Missouri Valley Conference.
As the years passed, there was optimism in the Tonyan household Robert might get a chance to play in the NFL, but everyone involved knew it would be an uphill battle.
There was a little mantra Bob Sr. instilled in both of his kids – you can do what you love or you can just exist. When Robert made it his goal to someday play in the NFL, Bob Sr. told his son that he and his wife supported him under one condition.
"I wanted him to look me in the eye and tell me this is a 100-percent thing, this is not fly by the seat of your pants," Bob Sr. said. "He assured me this is what he wanted. He's going to give it 100 percent and there was nothing that was going to stand in his way."
At the time Tonyan graduated in 2017, Indiana State hadn't had a player make an opening NFL 53-man roster since Dolphins offensive lineman John Bock in 2000. To play at the next level, it became obvious Tonyan would need to make one more position switch – this time to tight end. That meant more weight.
The problem was Robert has an extremely high metabolism. Tammy jokes he could eat four brats in the morning as a high-schooler and still manage to lose a pound. So the family put together a plan to help Tonyan accomplish his goal.
Robert worked out with Houston Texans tight end and fellow Illinoisan C.J. Fiedorowicz at Chris Leathers' Your World Fitness in Spring Grove, Ill. The two often bought four or five packages of chicken and grilled out together after workouts.
At home, Robert and Tammy split cooking duties on most days. For example, Robert often handled breakfast and lunch, while Tammy would cook lasagna and chicken, and other mixed vegetable dishes for dinner in addition to midnight sandwiches, when needed.
"We all put on weight. There was way too much food in the house," said Bob, laughing. "It's kind of easy when his mother is a great cook."
Whenever Tammy was stuck at work, Robert would go four houses down the street to his grandparents' home, where his "Oma" Maria Tonyan made food for him.
The routine lasted a little more than a year, taking Tonyan through his summer stint with the Lions and through most of the 2017 season. Criss-crossing the country in hope of landing a spot, months passed without any leads.
"We always just said give it everything you got and when you feel like you can't give anymore, pull it out and give more," Tammy said. "He knew he can do it. He just wanted somebody to give him a chance. That was the biggest thing. 'Somebody please give me a chance. I know I can do it.'"
Looking to dodge the gloominess that can accompany October and November in the Midwest, Tonyan spent time training in California before returning to Illinois prior to his December workout with the Packers.
There was a lot of anxiety leading up to that visit. While Robert had two more visits lined up afterward, he'd already invested so much mentally and physically into making his dream a reality.
Flying into Green Bay on a Monday with nothing more than a bag, Tonyan impressed the Packers' brass during his workout and was told by one scout to call his family and tell them "he wasn't coming home."
Overjoyed, Tonyan was presented with one problem.
"He's like, 'But I don't have any clothes,'" said Bob, recalling their phone conversation. "I go, 'Don't worry about that. Your mom and I will be up there in a couple days. Don't worry about it. Take that moment and run with it. Enjoy it.'"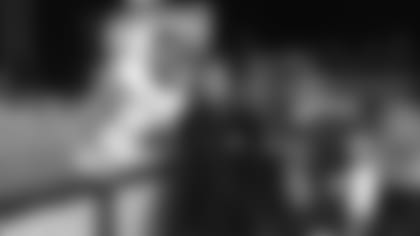 After hanging up the phone last Saturday, Bob Sr. and Tammy embraced in a long, emotional hug before calling over their parents and friends for a mid-afternoon celebration.
Busting out the secret champagne, the group toasted to Robert making the team before the Tonyans enjoyed a dinner at nearby Addison Steakhouse to put the final touches on an unforgettable birthday for Tammy.
The two parents had a chance to travel to Kansas City to watch their son catch four passes for 30 yards and a touchdown. Prior to the game, Bob Sr. worked his way down to the first row to embrace his son before what could have been his final NFL game.
It was an emotional moment for a father who used to sneak away from work to watch Robert's football practices in high school and counted down the days to Friday nights. Back then, Bob Sr. used to provide little pep talks, but their connection today goes well past words.
"He always guided me along the way because he knew how much I liked football," Robert said. "If I ever got down on myself, he's the first person to bring me up. But if I ever got too high, he's going to level me out, especially before the game. Now seeing him a little bit relaxes me knowing he's in those thousands of fans watching."
The Tonyans know everything can change in an instant in the NFL, but they choose to live in the now. Regardless of whether Robert dresses Sunday against Chicago, a caravan of friends and family is expected to make the trek to Lambeau Field.
If Tonyan is active, he'll become only the second Sycamore to play for the Packers. The first, two-time Pro Bowl tackle Tunch Illkin, played the final game of his 14-year NFL career for Green Bay in 1993.
Speaking at his locker Wednesday, two-time MVP quarterback Aaron Rodgers singled out Tonyan in saying "he 100 percent deserved to make this team" after a strong training camp and preseason.
The compliment makes Tammy's swell with pride. She and Bob already are making plans to attend most games this season, including the road matchups in the NFC North.
After Robert promised a birthday item for his mom when speaking to the media earlier this week, Tammy expects she'll probably receive it this weekend. Although Robert is known as a thoughtful gift-giver who once gave Tammy a diamond bracelet despite his limited income, there's really only one present mom wants this year.
"I just want a jersey with his number on it. That's the most important to me," Tammy said. "That's all I want."