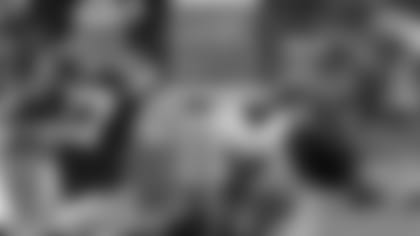 GREEN BAY—The highlights and milestones keep coming for Packers receivers Jordy Nelson and Randall Cobb.
In Sunday's 55-14 victory over the Bears, Green Bay's dynamic duo combined for 10 catches, 224 yards and three touchdowns as part of quarterback Aaron Rodgers' six-TD night.
For Nelson, his first TD was yet another long one, a 73-yarder when he was left wide open on a coverage mixup. Bears cornerback Tim Jennings played Nelson's go route as though there were two deep safeties, meaning one would be on his side of the field, but there was only one safety in the middle of the field who had no chance to catch up to Nelson.
It was Nelson's fourth TD reception of 59 yards or longer this season and it was the 16th for Rodgers of 70 yards or more, an NFL record he had previously shared at 15 with Brett Favre and Peyton Manning.
Nelson added a 40-yard score on the very next possession on his way to a 152-yard effort, his fourth 100-yard game of the season. His career high in that category is five.
Career-wise, Nelson moved ahead of Billy Howton into eighth place on the franchise's all-time list for TD catches, and he passed Carroll Dale for 10th place in receiving yards.
"Everything's just, it's all surreal to me," Nelson said. "It still doesn't make any sense why I'm here. I've told people many times I'm just hanging on for the ride and hopefully no one notices. It's fun. Getting an opportunity to play with a lot of great players is making my job easy."
Cobb added an 18-yard TD catch with just 14 seconds left in the first half, Rodgers' sixth TD pass. It was a spectacular, one-handed diving grab that more than atoned for a fumble inside the 5-yard line when trying to reach out for a score on the previous drive.
"I was trying to reach out and be greedy instead of just going down," Cobb said. "I thought I was a little closer to the end zone. Ball security is a huge thing for us. I have to be better with that, but the next opportunity, I was just trying to make the play."
Cobb now has a TD reception in six consecutive games, the first Green Bay player to accomplish that feat since Sterling Sharpe in 1994. Howton also had a streak of six in 1956, while the franchise record is seven, set by Don Hutson, who did it twice in the 1940s.
Gutting it out: Starting guards Josh Sitton and T.J. Lang both started despite not practicing all week due to injuries. Sitton was dealing with a toe injury while Lang's trouble was with his ankle. Both got hurt in the Packers' pre-bye game in New Orleans.
"Josh and I are kind of in the same boat," Lang said. "If we can go out there and play and do our job well, we're going to do everything we can to get on the field."
After a workout on Friday, both players felt optimistic about their chances to play. Since Sitton became a full-time starter in 2009, he has missed just two games. Lang became a regular starter in 2011 and has missed just one since then.
Both players said after the game they were sore but doing fine.
"It helped up pretty good," Sitton said. "We did some different things with the shoes, with the cleats, and a little tape job. Not a whole lot."
Injury update: The Packers reported no injuries after the game.