I think it's time you guys charge people $1 to submit a "give Aaron Jones more touches" question. By the end of the season I bet you could get a pretty nice meal at 1919.
End of the season? I'd have been eating lunch on Monday downstairs, plus dessert.
Drew from Rogers City, MI
Will we look back on Rodgers' "terrible on offense" interview as another "R-E-L-A-X" or "Run the Table" moment?
Maybe, but it wasn't quite the same type of calculated comment. It was an honest, forthright answer delivered out of postgame frustration. Rodgers has been around long enough to know the offensive production wouldn't have been good enough against a lot of teams the Packers have to play. He simply didn't want anyone to think the offense is where he wants it.
We all know this is Rodgers' team but I love how this year he's more vocal about his demand for excellence from his offense compared to in the past, when he was more subtle, read between the lines. With all the younger players, how well do you think they will respond?
No way to tell until the game is played, and we may find out a lot on Sunday in Detroit, as Adams, Cobb and Allison all missed Thursday's practice. The other day, Rodgers brought up the 2016 trip to Atlanta, when Allison, Davis and Janis all had to take on larger roles and delivered with TDs to keep the Packers in the game. Green Bay might need another effort like that at Ford Field.
Dear Wes/Spoff, regarding yardage measurements, it's only a matter of time before GPS and laser beams come in to replace "the chains." Maybe have a small Hadron Collider on each sideline to mark the position of every atom in that pigskin.
Our whole universe was in a hot, dense state …
George from North Mankato, MN
Other than winning the turnover battle and limiting penalties, what do you see as a key to success this weekend? I see Golden Tate as a difference-maker. If the Packers' defense can limit his touches and impact, we are more likely to win the game. Who do you think best matches up with Tate?
I've been really impressed with Tate over his years with the Lions now. He's been the bridge from the Calvin Johnson era for Stafford. I think Alexander might match up with him best, but we'll have to see if he's good to go by Sunday.
Another contract dispute happened in 2005. Javon Walker, represented by the infamous Drew Rosenhaus, threatened to hold out because he had outplayed his rookie contract and wanted to cash in. Ted Thompson issued a press release noting that he wouldn't budge. Eventually, Walker reported, and, in the first game tore his ACL and was put on IR. Walker was traded the next offseason to Denver for a second-round pick, which resulted in – maybe – Greg Jennings.
Technically Daryn Colledge, with Jennings taken five picks later due to another draft-day trade with New England. Other trades related to the Walker pick also netted Will Blackmon and Johnny Jolly.
I'm guessing the "patron god" of pick-sixes is Jobu. Very fickle.
Except Jobu likes rum, not scotch.
Can a team theoretically win by nine points in overtime? If the team that wins the coin toss goes down the field and kicks a field goal; then they kick off to their opponent. On defense, the team that is up by three gets a pick-six or fumble-six. Is that possible?
Yes. It's specifically in the rules that a change-of-possession play in overtime that essentially ends the game would still be allowed to play out to its conclusion. So a nine-point OT win could happen.
The consistency is what really gets me. They overturn the Browns first-down call based on determining where the ball would be even though no single view showed it short of the marker, but Peterson's TD stands because they couldn't see the ball short of end zone even though you can see him laying on ground short with his back to the end zone.
Preaching to the choir, and by that I mean not just me, but all NFL fans.
Gavin from Albuquerque, NM
Just an FYI on the "follyrot" banter. Google search results are influenced by your own behavior. If you frequent the Inbox, which has recently contained "follyrot," and then search for "follyrot," it will utilize the fact that your recent activity includes visits to the Inbox (packers.com) and give extra weight to those results. And given the lack of other occurrences of "follyrot," it places the Inbox at the top.
Well now we're gettin' somewhere.
Dean from Leavenworth, IN
Mike, I'm not sure about the injuries to Davis, House, or Murphy but the injury to Kumerow didn't seem too severe or a long-term problem. It seemed AR had developed some "trust" in him in camp and I'm wondering about the timeline for a possible return. If the Packers so choose, when can he practice and play? Also, do you think he could play effectively or will this be too much time lost for a "new guy" to overcome?
A lot of questions about Kumerow given the injury situation at receiver. He will be eligible to practice after the 49ers game, but with the Packers on their bye week, his first practice (if he's healthy, and if the Packers decide to activate him) will likely be leading up to the Rams game. He'll be first eligible for a game in Week 9 at New England. Missing all this time isn't ideal, but Kumerow is not a rookie. His years of experience in Cincinnati, combined with the camp he had, could help him get on the field faster than others in his spot. No guarantee the Packers use one of their two IR exemptions to bring him back, though. A lot could happen over the next two games.
That may be the first time "tuckered" has snuck into the Inbox but I've been here for a while.
It appears the Chiefs and Bears are playing a spread offense similar to college football but seems somewhat new to the NFL. Right now it appears to be unstoppable for the Chiefs and starting to look good for the Bears, but I can't help but classify it as a gimmick offense in the same category as the wildcat offense. Give defensive coordinators enough film and time, and they'll be able to stop this scheme.
I wouldn't call them gimmick offenses, but as I said earlier in the week, adjustments are coming across the board. Then the counterpunches. The Chiefs and Bears have impressive perimeter personnel who should be able to make plays in other ways if necessary. The key will be how well their young QBs can adjust and remain productive.
Patricia from Portland, OR
I LOVE STATS! But I know they don't tell the whole story, far from it at times. Can you please talk about the stats that you find most often do reflect something relevant? Or the weirdest, most obscure stat? Or the most misleading stat? Can you please just talk about some interesting stats you've come across in all your research?
Obscure stats don't interest me. Of the major ones, yardage stats (team and individual) have the potential to be the most misleading. If I could only have access to four stats, to apply to both sides of the ball, I would want to know turnovers, third-down percentages, red-zone efficiency and passer rating.
The defense was smothering on Sunday, more so than I can remember in over 40 years of watching. What single improvement (in addition to consistency) do you feel can push this unit into the elite category?
Your opening statement is a little much for me, but to answer your question, it's the same I would give for any defense – pressure on the QB with a four-man rush. Any unit that can regularly accomplish that has a chance to be elite.
Benny from Dusseldorf, Germany
I have been enjoying the Insiders nickname chat. I watched a fun weekend where MLB players played with jerseys donning their nicknames on the back. Do you think this will ever catch on to the NFL? I think fans would love it.
I'd be on board as long as Marge and her crew would get paid double-time.
With regards to DL snaps, in 2010 I remember seeing a stat that B.J. Raji played an incredibly high amount of snaps that year, something like 90 percent. It was some kind of record. He was also never the same player after that. The gold standard for DL snap counts was the 2013 Seahawks Super Bowl team where no defensive linemen played more than 57 percent of snaps. You can really fly off the ball when you're only playing half the game!
Easier said than done. The 2013 Seahawks won seven games by three scores or more.
Justin from Trabuco Canyon, CA
Hey guys, in your opinion what's the best time of year to go to Wisconsin and see a Packer game?
I always say the second half of November, for a few reasons. It's chilly but not uncomfortably cold to sit outside and watch football. The games can have more meaning than those earlier in the year. And it's deer hunting season, because my favorite Lambeau look is when it's loaded with hunter's orange. I'm disappointed this is the second time in three years the Packers don't have a home game during that two-week stretch.
Brandy from Rabbit Hash, KY
Looks like that little boy in the Jimmy Graham "Lambeau Leap" picture is going to need some therapy.
At the first Packers game my wife brought my son to after I started working here, he was in the concourse for the pregame military flyover and had no idea what was happening. He thought the stadium was about to explode.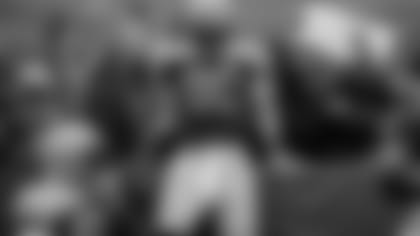 With the Packers possibly being without their top three wideouts, do you think they will move Montgomery out to play some snaps at WR? Or do you think they are confident enough to put all three rookies on the field at the same time?
I see Montgomery in the slot as an offensive option on Sunday.
Do you find that your writing cannot fully be objective since you work for packers.com? I have yet to read anything in this Inbox that is somewhat critical of anything the Packers do, or at least questions anything the Packers do. Your answers regarding this Aaron Jones debate has prompted this question and has confirmed in my mind that is indeed the case. Saving him for the playoffs? Making sure he doesn't get injured? Please be honest from now on.
Appreciate you and everyone else who has decided to insult my integrity this week. I won't speak for Wes, but it's time for my annual Inbox explanation. If I give an opinion in this space, you can trust it is mine. If there is an issue on which I disagree and expressing it would not be in my best interests as a team employee, I will keep that opinion to myself. This is not one of those times, but occasionally, what I don't say in the Inbox can be just as meaningful as what I do, if you're paying attention.
A popular summer Inbox question was what the "restructured" playbook may look like. Now that we are a few games in, have you noticed any significant changes to play-calling, route-running, or formations, or would you agree the majority of changes are either back-end or too minute for the average fan to pick up on?
It's mostly the latter to us, and it doesn't surprise me. My best conjecture is a lot of changes are to the adjustments in certain situations, the progressions for the quarterback, and the like. We have to keep in mind 2½ of the first four games have been played with Rodgers almost exclusively in shotgun or pistol and not under center, so I believe there have been some limitations to the menu.
On paper would it not be expected to see a sustained run game against Detroit's bottom-ranked run defense? If successful, it would keep Stafford on the sideline.
Certainly, but if the Packers go in this banged up at receiver, I would expect the Lions to commit more personnel to stopping the run and make the young receivers beat them.
Hey Mike, can you say "squandered opportunities on the field"...? The Packers do it, the BREWERS do it. I'm lucky I have any hair left from the stress! Can you help a guy out? Knock some sense into me and tell me it was a great win!
It was an important win that avoided what would have been a devastating loss to start the postseason. On to the next. They're all going to be like this.
Chris from New Canaan, CT
Greetings Insiders. When the schedule came out I immediately fixated on the five weeks after the Week 7 bye, trying to absorb the brutality of it all. Four of five on the road, two coasts, with a Thursday game at SEA. I think the fate of our season hinges on that tough five game stretch. Looking at where we and those five opponents (@LAR, @NE, MIA, @SEA, @MIN) are now, I think that stretch is even harder than it appeared at the start of the season. Whaddaya think?
Just beat the Lions. Happy Friday.