Randy from Des Moines, IA
Hey Insiders, I don't believe anyone has asked you yet, but what's your favorite dinosaur?
Velociraptor. Welcome to the brand-new packers.com, everyone! Today is the official launch of our new website. Duke Bobber, Matt Haberkamp and Kim Ippolito did a phenomenal job of laying the groundwork the past few months for what we feel will be a much-improved user experience. Good morning!
Dan from Jimboomba, Australia
You touched on it in the last "Packers Unscripted," veteran depth in multiple positions. The challenge is certainly "win the job" now and it seems to align with what MM said at his end-of-year media conference. Competition at backup QB. Check. Speed at CB. Check. Bridge gap between starters and inexperienced backups. Check. Has Gute included MM in any personnel decisions in his first year? It certainly seems like they're on the same page.
The final call belongs to Gutekunst, but he said from his first news conference that he wanted to strengthen the ties between the coaching staff and personnel department. The sample size is small, but the early signs are promising.
Insiders, I'm a normal guy (pun intended) by most standards and can talk rationally about the Packers most of the time. Like a lot of fanatics, though, rational thought goes out the window when a key play occurs or a bad draft pick or trade is made. How do you guys stay so even-keeled all the time?
Because you don't know what's a good/bad pick or trade until the dust settles. It doesn't matter if you're Brian Gutekunst or my mother. I'll never forget a close friend of mine asking me in 2007, "How on earth did Tramon Williams make this team?" Well, how did that turn out? Forming an opinion on incomplete information leads nowhere. Davante Adams is another great example. He's the toast of the town these days. What about in 2015? If you read the entire story, you're going to get the ending. Whatever you speculated might happen in the middle is irrelevant. So that's why I don't rush to conclusions. It's a week-to-week league and the story can change in an instant.
How many of our players from last year are returning? It seems that with 11 draft picks and a number of high-expectation free-agent signees, we're going to have to lose a fair number of the new additions when we get to the final 53, unless we lost a lot of last year's players in the offseason.
The Packers return 53 players from last year's roster and five from the final practice squad.
Insiders, what the heck's going out there at 1265 Lombardi Ave.? I was under the impression Ron Wolf had retired years ago.
As Gutekunst and Mike McCarthy often said this offseason – it's a 365-day focus. Teams constantly are looking for ways to get better. Marcedes Lewis and Byron Bell are established veterans with a lot of experience. When those kind of players are on the market late in free agency, why not take a look? The Packers clearly have had their eyes on Bell in the past and the timing was right to bring him back in. The benefit of getting those deals done now is both players have two months to get ready to compete in training camp.
Brian from Alta Vista, IA
I would like to add to what Wes was saying yesterday about signing Graham instead of drafting a rookie TE. Why try to draft and develop the next Jimmy Graham when you can just sign Jimmy Graham?
There are positions where rookies can come in and help you right away such as running back, receiver and even quarterback in today's NFL. I've just never felt tight end is one of them. It's a long-term stock investment, not BitCoin.
In a doomsday scenario where Mason Crosby and JK Scott both are injured with terrible cases of turf toe, which player takes kicks for the Packers? Or do we forgo any field goal/extra point attempt and go for the conversion?
Unless there is a field-goal savant I'm unaware of, I bet the Packers would just leave it in Aaron Rodgers' hands and go for two.
Fearn from Rolling Meadows, IL
There are numerous examples of former players becoming both scouts and coaches in the vast ranks of football. Other than personal preference, are there any specific traits/qualities in a player that will allow said player to succeed in either of those two career avenues; and, are you able to identify which players would make good scouts/coaches while they're still playing?
Jarrett Bush and Scott Tolzien are two players I've always felt would make good coaches because of their work ethic, willingness to help others and personal experiences as undrafted free agents. Both worked themselves to the bone to stay in the league and knew the playbook inside and out. It's harder for me to say who would make a good scout because I don't know that world. Obviously Charlie Peprah and Brandian Ross impressed the Packers because they've risen through the ranks quickly.
How many defensive linemen do you see us keeping? Outside of the big three of course, I see Adams and Lowry as locks. Chance we hold a sixth, in Looney or Sheehy?
I've seen them keep five. I've seen them keep nine. The sub-package culture of today's game has reduced those numbers over the years, but I could easily see the Packers keeping an extra D-lineman or two if they warrant a job.
On the subject of analytics, it was my suspicion that analytics have played a role in the Packers' late-round draft choices both this year and last. More players drafted at one position can't help but increase your chances of hitting, but I'm sure NFL franchises are considering the value returned by a late-rounder making the team, and whether or not "clustering" picks at one position in the late rounds offers a more sure return on their draft investment.
I'm not sure how much of that is analytics or just common sense. For example, the Packers wanted to find a running back in 2013, so they drafted two. In 2017, they did the same thing. Scouts see those Day 3 picks at a different level than the rest of us, but there's also something to be said for just turning on the film, looking at the measurables and taking a chance on a guy. You never know when that guy becomes the next Donald Driver, Mike Daniels or Corey Linsley.
I recently learned that the head, neck and spine committee and player safety advisory panel determined it was unsafe for players to wear helmets fresh out of the box since they required a breaking-in period. My question is do the players only have one helmet for the entire season? What happens if something happens to that one helmet?
Red Batty and his equipment gurus get to work.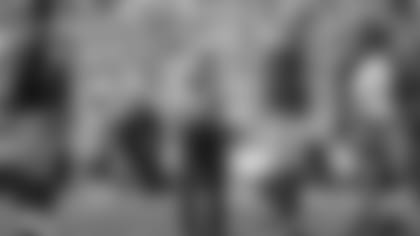 Arick from Eau Claire, WI
Growing up, I was always the shortest kid in my class. I found it almost impossible to make the height thing work while playing any sort of pickup game with my friends. I remembered growing up that the Packers never sought defensive backs shorter than 6 feet because they felt that they could not make the height thing work with some of the receivers in the league, much like me. Since the Packers took Jaire Alexander in the first round at 5-10, do you think they have other plans to make it work with other receivers out there who are shorter? Or do you think he'll be able to make it work with those receivers who are much taller than he is?
The standard Ron Wolf had for cornerbacks was a shade under 5-11, not 6 feet, but you also need to acknowledge how the game has changed over the last 25 years. Shorter receivers and defensive backs have found a home in the slot. That's not pigeonholing Alexander, either. There are plenty of cornerbacks out there with his height and athleticism who have developed into playmakers outside. The league is Alexander's oyster. He can go as far as his talent takes him.
Josh from Desert Hot Springs, CA
I see that Byron Bell had a chance to be with us last season but chose to go with the Cowboys instead. How good/bad would it have been if he chose to be with the Packers? How do you feel it would've played out with him on the team last year?
It worked out how it was supposed to. If Bell signs with the Packers, who knows if Justin McCray or Lucas Patrick make the team? Both young players became serviceable starters when injuries hit and now they're competing for big roles in 2018.
Wes, how involved is Brian Gutekunst in OTAs?
He's present, but I think the hay is mostly in the barn at this point. Gutekunst and the other scouts watch the players just like the coaching staff, but that's about the extent of it.
Micah from Corpus Christ, TX
Each week in the Packers app during the regular season, PSAs called "How to watch the game" are released. When I see one, I am left wishing there was a piece that would outline "How to better watch the game." For example, Team X runs 40 percent of the time, expect the linebackers to have an active day. Would either of you be interested in throwing something together, for those who want to watch the general weekly stratagem unfold?
You need to bookmark our "Final Thoughts" video series. Spoff digs up stats that'll make your head spin.
A few years back I got to go to Lambeau Field for the first time. I've made it a point to attend at least one Packers game in-person every year since. The stars are aligning such that I could, possibly, attend the Nov. 4 game at Foxboro. Would you be afraid to attend that game in a green jersey? I survived the playoff thriller at Dallas in 2017.
If you survived Arlington, you should be fine in Foxboro. A matchup of this magnitude is going to draw some green jerseys to Gillette Stadium. You won't be alone.
Derek from Eau Claire, WI
I once won a Madden 2006 32-man tournament on PS2. Once I crossed the 50-yard line, I would always go for it if it was fourth-and-10 or shorter. I don't have anything to back it up, except a trophy, but my gut told me it gave me a better chance to win than punting or kicking a FG every time it was fourth down. Do you think this strategy would be a net positive or net negative if the Packers tried it over the course of a whole season?
It probably would be a net positive, but sometimes you're going to get stopped and what happens if that costs you an NFC Championship Game or Super Bowl? That's the battle because a statistician would say you have to go for it every time for the data to be accurate. Otherwise, you're betraying your "system." Either way, it's too rich for my blood.
John from Casablanca, Morocco
A little while ago, Mark Murphy mentioned that the Packers were appealing the ruling surrounding the release of Martellus Bennett. All the recent talk about signing free-agent tight ends got me wondering what was the result of our appeal?
I have heard no update. Maybe he'll provide an update in the next "Murphy Takes Five" column. That's where we got the latest last month.
Patrick from Folly Beach, SC
Not naming names here but what positions are best for KR and PR? We have used RBs and WRs for KR, and DBs for PR. Or is it best to use the BPA regardless of position or experience? And do the new rules change that?
Receivers tend to be the most natural on kickoff and punt returns because they are ball-catchers by trade, but that's not the be-all, end-all. Micah Hyde is one of the best punt returners I've covered and not because he was the fastest guy on the field. He's smart and savvy. The new rules might restrict the likelihood of big kickoff returns, but the greats will still find a way.
Do you see GB opting not to keep a FB in light of the new-look offense? I think it would be best to keep four actual RBs or four TEs.
First, the Packers place fullbacks in the same category as tight ends, not running backs. But regardless of the classification, McCarthy has been a strong proponent of the position in Green Bay. You never can know for sure how a 53-man roster will shape out, but I don't see it going anywhere.
Has there ever been a player that has chosen not to play for the team that has drafted him? What happens to him? Does he become an undrafted free agent?
When doing a fantasy draft in Madden, what was your philosophy? Did you go with a balanced approach between offense and defense? Or did you load up on one side knowing you could build a powerhouse through the draft on the other side of the ball?
I was like 12 years old the last time I did a fantasy draft in Madden (I remember because Tom Brady was a rookie and had a 50 overall rating). I loaded up on offensive skill-position players because what 12-year-old gives two pennies about defense?
Hey Wes, trying to hit the trifecta with my pals. Hoping you can help answer how many people read the Insider Inbox on a weekly basis.
Did you guys do it? There were so many of you. How many people read the Inbox on a weekly basis? Enough to keep food in my kid's mouth and clothes on my dog's back.
Insiders, who writes your review?
Not you (in case that's where this was going).
Jay from Land O' Lakes, FL
Guys, Damarious Randall is on the hook for $70 million worth of jerseys and he is in Cleveland. Which is worse?
I never want to be on the hook for that much coin. A Hodkiewicz always pays his debts, but it might take a few generations of 'em to cover that bill.