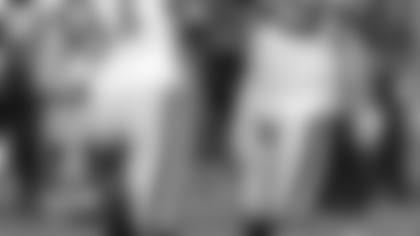 WRs Jordy Nelson & James Jones
GREEN BAY—Receiver James Jones and outside linebacker Mike Neal both missed their third straight day of practice on Friday, and their health will need to improve considerably in order to play on Sunday.
Jones (knee) and Neal (shoulder) are officially listed as questionable on the injury report, but Head Coach Mike McCarthy did not sound optimistic. He said after practice that if the game were Friday, neither would be able to go. He put cornerback and special-teamer Jarrett Bush (hamstring) in the same category.
"But we've got 50-plus hours before the game," McCarthy said. "That's where we are.
"Mentally, I trust them. They've been part of the game-planning. We'll have a chance to take a look at them Sunday morning. We don't have anything scheduled as far as a workout yet, but we'll see how it goes."
With Randall Cobb already out, if Jones can't play – and even if he can on a limited basis – it's expected receivers Jarrett Boykin and Myles White will play larger roles in the passing game, along with young tight ends Brandon Bostick and Jake Stoneburner.
White and Stoneburner, both undrafted rookies, would be making their pro debuts after being signed off the practice squad earlier this week.
"Myles really has done something each day that you feel good about," McCarthy said of the practice week, adding that he monitors closely during the game how a new player reacts to his first live action. "We're going to cut them loose and see what happens."
Given the Packers' receiver situation, it's a virtual certainty the Browns will match their top cornerback, Joe Haden, on Green Bay's Jordy Nelson.
Nelson expects to be shadowed and said he's looking forward to "a good battle." Based on his film study, he doesn't anticipate an inordinate amount of double teams because the Browns "believe in Joe Haden, the type of DB that he is, and I can see why."
With that in mind, it's been business as usual for Nelson in preparations this week despite the thin ranks at his position.
"It's going to be (about) your one-on-one-matchup," Nelson said. "When you're out there playing, you're going to be worried about the DB, not where's James and Randall?"
The outside linebackers won't have Clay Matthews or Nick Perry to turn to, either, and if Neal is also sidelined, that'll mean two rookies in Andy Mulumba and Nate Palmer getting the start, with no depth to speak of. The only other healthy player with experience at outside linebacker is Jamari Lattimore, but he's starting on the inside for Brad Jones.
Mulumba played roughly three dozen snaps last week after Perry got hurt, but Palmer has seen only a few plays from scrimmage. It'll be a baptism by fire at a linchpin position in Dom Capers' 3-4 scheme.
"Yeah, I'm going to be nervous. Everybody in their right mind would be nervous," Palmer said. "But all those nerves have to go out the window when you step in between those lines."
Palmer added the motto "keep calm and carry on" has been the message from the entire coaching staff for what promises to be a challenging game under the circumstances.
McCarthy introduced that mantra on Wednesday and he'll take it with him into the game, regardless of the 11th-hour injury decisions.
"We've been planning all week," McCarthy said. "When you get in these types of situations, you plan for every scenario. We'll be ready to go Sunday, I can promise you that." Additional coverage - Oct. 18