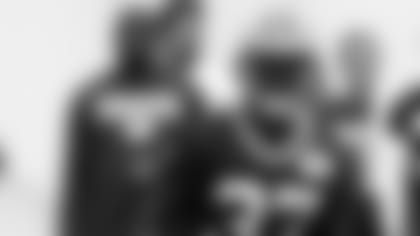 GREEN BAY—They're all here now. Training camp must be just around the corner.
Defensive lineman Johnny Jolly was back in a Packers helmet for the first time in three years and cornerback Sam Shields signed his restricted free agent tender and rejoined his teammates in practice at Tuesday's minicamp.
"Great to have him back," Head Coach Mike McCarthy said of Jolly, who finally was cleared through the process of reinstatement from substance-abuse problems that put a promising career on hold for three seasons.
Jolly practiced on a limited basis, "just to be smart," McCarthy said. He wore a green No. 97 jersey and gave a young and rebuilding defensive line another body to add to the mix.
"The biggest thing for Johnny Jolly is just to be one of the 90. Our locker room is ready to embrace him and make sure he has the support he needs. He's a football player competing for a job, at the end of the day," McCarthy said.  "This is more a question of life and second chances. I just want Johnny to get back into the routine."
Can he make it back this season from three years out of football?
"We're going to find out. If an individual can do it, Johnny is that man," McCarthy said.
Shields was absent through the first two weeks of the Packers' OTA practices, which are voluntary. This week's three minicamp practices are mandatory for players to attend.
"It's a very competitive position. This is the learning part of the year. We have time for the competition to sort everything out in training camp," McCarthy said.
Meanwhile, the offensive line continued its makeover, highlighted by tackle Bryan Bulaga's and guard Josh Sitton's move from the right to the left side of the Packers line.
"It's the footwork, but I have all the confidence in the world Josh and Bryan will get their footwork down," McCarthy said of the challenge the two players are facing in making the move.
Don Barclay, who replaced an injured Bulaga at right tackle for the final six games of last season, is making a move to center and is running with the two's behind Evan Dietrich-Smith.
"He's adjusting to it. It's a process with him," Offensive Line Coach James Campen said of Barclay's move from tackle to center. "He hasn't done this in a while. He started six games last year. It's going to give us a chance to create as many opportunities for guys who've shown ability."
Wide Receiver Jarrett Boykin is another second-year player making a push for playing time. Wide Receivers Coach Edgar Bennett praised Boykin for his play this spring, a year after Boykin was cut by the Jaguars following their rookie camp.
"What's up with that?" Bennett said. "I'll say this. We're fortunate to have him. He didn't make hardly any mistakes at all. He had the ability to create separation. He can get open."
Boykin did not practice Tuesday. He sustained a leg injury during last Tuesday's practice, which was open to the media.
Rookie running backs Eddie Lacy and Johnathan Franklin continue to take reps in DuJuan Harris' absence. Harris is nursing an undisclosed injury.
"We did scheme evaluation. We made tweaks where tweaks needed to be made, regardless of who's running. It'll play itself out. Preseason will be critical. It's great to have the depth. Someone will step up and take control of the deal," Running Backs Coach Alex Van Pelt said.
Van Pelt praised James Starks, despite Starks having dropped two attempted exchanges on Tuesday.
"This is a big year for James. He's looked great in camp. We'll get that cleaned up," Van Pelt said.
"The runs have looked good," Offensive Coordinator Tom Clements said. "It's just a matter of getting it in live action."
Live action, of course, grows nearer every day. Additional minicamp coverage