GREEN BAY – To many, collecting sports cards is an interest and an investment all wrapped into one. It's a nostalgic trip down memory lane, a time capsule housing some of the greatest moments of fandom.
For AJ Dillon, the hobby hits even closer to home.
When the COVID-19 pandemic struck a little more than three years ago, nationwide lockdowns led to millions across the country digging through their dormant collections. The Packers' then-rookie running back was no exception.
What's past became prologue for Dillon, whose passion was reignited during quarantine. As Panini released its line of 2020 rookie sets, Dillon started picking up his own numbered parallel cards, short-prints (SP) and rookie patch autographs (RPA).
By the end of 2021, Dillon's personal rookie 1-of-1 collection neared 50.
"I collected like everybody when you're younger, Pokemon cards and stuff like that," Dillon said. "That was the COVID year, and everybody went into their basement and was like, 'Oh I have this trading card, what are they worth? Wow.' People really liked these trading cards and I really got into it."
Today, there is one card that stands out a little more than most. It was an Elite dual rookie card featuring Dillon and rookie first-round pick Jordan Love, with whom the Packers' running back has forged a close bond.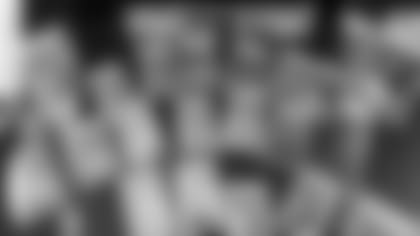 The two had the same NFL agency and became friends during the pre-draft process. Both drafted by Green Bay, Love and Dillon were part of the most unique rookie season in league history, highlighted by a virtual offseason program, the cancellation of the preseason, and a regular season played mostly in empty stadiums.
In his downtime, Dillon kept ripping packs and even started doing his own live breaks. His collection expanded to include several of his teammates, including fellow running back Aaron Jones, receiver Randall Cobb, and of course…Love. Eventually, Dillon called up Love and asked if he'd mind signing a few for him.
"He's into it. He's into it," said Love with a smile. "He collects a lot. He has a lot of cards, so he does a really good job of that. But yeah, he came over to my house and (I) signed him up and got some good stuff going."
Dillon went the extra step and got them graded by Professional Sports Authenticator (PSA), adding personal inscriptions such as "Quadzilla," "The Sauce" and "#28" to his own cards.
The shipment included Dillon's dual card with Love that started it all. Dillon later added a special Contenders card featuring Love and Los Angeles Chargers quarterback Justin Herbert, both of whom signed it with a "1/1" inscription.
There haven't been any autograph sessions these days. In preparation for his fourth NFL season, Dillon and his wife, Gabrielle, welcomed the birth of their son, Algiers "Trey" Dillon, on May 2, which was also AJ's 25th birthday.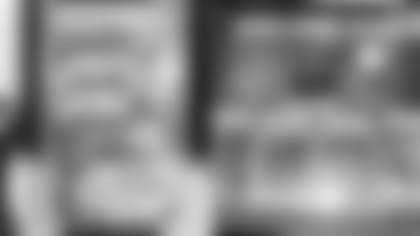 Meanwhile, Love is preparing for his first season as QB1 in Green Bay. The 24-year-old quarterback spent his first three seasons shadowing Aaron Rodgers before the future Pro Football Hall of Famer was traded to the New York Jets in April.
Having the backing of Dillon and the Packers' locker room has helped Love during this time of transition.
"It's huge. You gotta have people you can fall back on," Love said. "It's awesome to have those relationships and it helps when – like me and AJ, we get to come here to the same team (in Green Bay), and we have that relationship already."
As Love's hype train gains steam, Dillon sees the same guy in the Packers' locker room – the calm, easygoing dude who recently hung out with Dillon in his beloved Door County over Memorial Day weekend.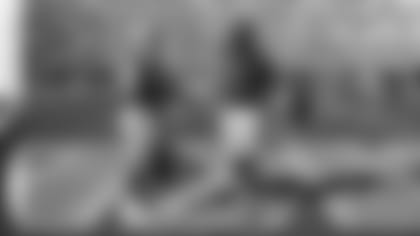 Yet, there is a fiery competitor lurking – the one Dillon knows all-too-well on the ping-pong table and in the locker room, where the two have a long-running rivalry centered on shooting empty Nicolet water bottles into wastepaper baskets near each other's lockers.
"Aside from a teammate, I'm a big fan of his. I want him to be great," Dillon said. "I want him to go out there and do everything he's ever dreamt of, and he can. He's been a great leader for us throughout these OTAs. He's been here since April, before we were even able to throw around the football and we were just running, running through drills.
"Everybody respects him. Everybody is listening when he's talking and it's really cool."
For Dillon, his collection is more about the person on the card than the player. Where some might see the Packers' newest franchise quarterback, Dillon sees only his friend who worked hard and stayed patient while learning from one of the best QBs to ever play the game.
With plenty of his own goals and motivations, Dillon will have his friend's back this fall like he has behind the scenes the past three years.
And if Love embarks on his own distinguished NFL career like Rodgers and Brett Favre before him, Dillon and his PC certainly won't be mad about it.
"I always tell him, I have no problem with you going out there and winning a couple MVPs and some Super Bowls," said Dillon, laughing. "Yeah, go ahead, dude. Do what you need to do."