GREEN BAY – As smoke billows out from the Lambeau Field tunnel, the Packers' starting defense emerges for introductions with signature entrances and rituals at the ready.
Jaire Alexander charismatically throws up his thumb, index finger and pinkie high in the air to sign "I love you" to the 78,000-plus in attendance before slashing his arms in a horizontal motion to mimic an incomplete pass.
Za'Darius Smith feints a Ray Lewis sack celebration before abruptly pivoting to an Aaron Rodgers-esque belt, while Kevin King – headband draped over his mouth like a bandit – lifts his arms dramatically and shifts to a sprint.
You'll find no such pageantry with Tyler Lancaster. In lieu of demonstrative gestures, the Packers' second-year defensive lineman pounds his barrel chest four times before glancing up and pointing straight into the cloudless sky.
All the while thinking to himself, "My dad is watching this."
Brad Lancaster loved football. Short, stocky and easily excited, Brad played fullback at Bolingbrook (Ill.) High School. While he never pressured his son to play, Brad was ecstatic when Tyler asked him and his wife, Bonnie, for permission to sign up for football in seventh grade.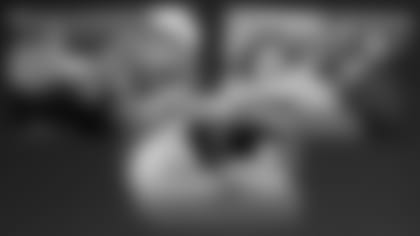 Work didn't always permit Brad to see all of Tyler's games. A dock hand for USF Holland, Brad loaded trucks overnight to pay the mortgage on the family's three-bedroom home in Romeoville, Ill.
In 22 years with USF Holland, there were two things Brad never did – work a day shift or complain. He was a neighbor's neighbor who loved playing corn hole and sharing a case of beer. Brad and Bonnie both attended Bolingbrook and during their 25 years of marriage invested every cent into their children, Tyler and Hannah.
Brad loved deeply to the point Tyler's friends used to tease him when his dad would kiss him on the head and tell Tyler, "I'm proud of you, son," every time they parted company.
"My buddies would say, 'I'm proud of you, son.' We would laugh and it would be funny," Tyler said. "But it was legit. He was extremely proud. … That sticks with me hard today."
It's now been 22 months since Brad passed away at the age of 55 after a yearlong battle with oral cancer. His diagnosis and death rocked the family at its core, but Tyler's emergence as a starting defensive lineman for the Packers has helped the healing.
As the Packers readied to host Oakland on Oct. 20, Bonnie proudly donned her son's No. 95 jersey from the stands. Accompanying her was Brad's sister, Lorelei, who frequently makes the four-hour drive to watch Tyler live out his NFL dream in Green Bay.
"Brad admired and lived through Tyler, and also envied Tyler … He didn't get to see him at Green Bay," said Bonnie, pausing to hold back tears. "But we know that he does (now)."
---
---
Family, first and foremost
Brad Lancaster epitomized '80s rock n' roll. He loved Metallica, classic metal rock and played bass guitar in a local band "Legend," a group so dedicated enough to the cause it made its own shirts, hats and merchandise.
Some of Tyler's fondest childhood moments were playing music in the basement with Dad. Since Tyler didn't know how to play an instrument, he would play the drums on "Rock Band" while Brad played his actual guitar. Dad didn't mind. It was their thing.
"Sometimes his dad couldn't be there but instead he got his mom and his sister and that was OK, too." Bonnie Lancaster
Tyler eventually received a hand-me-down drum set from his aunt. The basement wasn't soundproof so every bang of the drum reverberated throughout the entire house. It stayed that way until Tyler replaced the drum set with a set of weights in preparation for high school football.
"Once I got my hands on some real sticks, I was playing songs," Lancaster said. "I was naturally good at playing the drums and holding beats, knowing beats and working with my feet too with the kick pedals. If I have a dream job after football, it would be to be a drummer in a band."
If Brad gave Tyler his love of music, then Bonnie ushered in Tyler's passion for sports. Looking to keep her son active, Bonnie had Tyler in every sport imaginable as a kid – soccer, basketball, baseball, and swimming just to name a few.
It was strictly recreational, too. She didn't want him on any highly competitive travel teams flying down to Florida. She wanted him to have fun with his friends.
Once seventh grade rolled around, however, Tyler started to blossom into an athlete and quickly grew much taller than either of his 5-foot-7 parents and frankly anyone on either side of the family.
Brad, uber-competitive in his own right, used to race Tyler in the front yard until his son started to beat him in middle school. Then, that stopped.
It was around that time Tyler's friends started playing football and asked him if he'd come out for the team. Bonnie gave her blessing but still didn't want him playing on the traveling team. Playing two years for the Plainfield Junior Cats, Tyler quickly filled up his helmet with stickers for his accolades.
Brad loved that his son was playing football but his relentless schedule caused him to miss most of Tyler's games. His shifts ranged anywhere from 2 a.m. to 10 a.m. (Bonnie's least favorite) to a more amiable 5 p.m. to 1 a.m. in his later years.
It was a physical and demanding job. Day after day, Brad moved barrels and freight to keep trucks on schedule. Tyler recalled one time when his father came home and showed him the hole in his foot from a nail he'd stepped on.
There was frequent fear of layoffs, but Brad kept working there months after his cancer diagnosis in January 2017.
"I feel like just seeing him work like that, I appreciated everything," Tyler said. "Even if I got a terrible gift on Christmas, I appreciated every little thing that I got. Both of my parents instilled that in me. I feel like I'm still the same way today. That's definitely a big plus from the way I was raised."
Brad's vacations were mostly limited to weekend excursions or a quick trip to Wisconsin Dells. When Brad was completely unavailable, Bonnie and her mom would take the kids to Disney World or travel to California to see her brother in the Navy.
Bonnie worked at a salon before moving on to her current job supervising the child center at Lifetime Fitness, where she got Tyler his first job when he was 16. With hours similar to the kids' school schedule, Bonnie was a staple at Tyler's practices.
"Where most parents dropped off and went home and made dinner, since Brad was working, Hannah and I would be spitting seeds and eating peanuts at every practice," Bonnie said. "Sometimes his dad couldn't be there but instead he got his mom and his sister and that was OK, too."
---
---
'Always an underdog'
To this day, Mike Romeli still gets choked up anytime he looks at the photo hanging in his office of Tyler standing proudly next to Northwestern football coach Pat Fitzgerald.
It depicts the first Division I football player Plainfield East High School ever produced and currently its only NFL player.
"You get a little emotional," Romeli said. "Thinking about where he's come from, the adversity that he's fought through and where he's at today."
Romeli, a former center at Eastern Michigan who was a graduate assistant during former Packers guard T.J. Lang's time at the school, was hired as Plainfield East's football coach shortly after the school was built in 2008.
When Tyler got to high school, Romeli saw something special in the 6-foot-2, 225-pound freshman and wanted to pull him up with the sophomores right away. Brad was up for anything, but Bonnie was reluctant at first about pushing Tyler too early.
"He was always an underdog" Mike Romeli
Romeli reassured her that her son would be safe and received the green light to begin mentoring Tyler in football.
"Once Mama Bonnie was on board, things got rolling," Romeli said. "Once they realized Tyler had a gift, not only academically but athletically, they were all on board and they were ready to do whatever they needed to do to get him exposure and do things he needed to do to get a scholarship."
After Tyler's first year as a starting left guard, Romeli sat the family down again at parent-teacher conferences and suggested Tyler put greater focus on his weight training in order to play football past high school.
That conversation was a landmark moment in Tyler's life. He put the drums away – he still hopes to someday pick them back up – and bought a weight set. Two years later, weight-lifting is what led Tyler to meeting his future fiancé, Megan Ruzicka, a gymnast at Plainfield who later competed at the University of Iowa.
Tyler and Megan grew up 10 minutes away from each other and took honors math together at John F. Kennedy Middle School, but it wasn't until a light-hearted accident during a weight-lifting class that the two became more familiar with each other.
"How we started talking to each other was that he was helping me get up from sitting down and I went and pulled on his arm and he kind of fell over," said Megan, laughing. "He wasn't expecting that."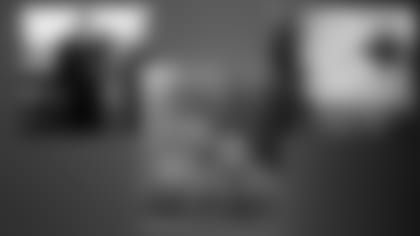 Tyler got bigger and better, starting three years on Plainfield East's offensive line. During Tyler's senior year, Romeli started playing him at defensive tackle whenever the opponent was inside the red zone.
While he gave up most of his other ball sports, Tyler went out for track his senior year and qualified for state in the discus.
"His dad was like, 'Oh my gosh, I was in track for four years, did it the correct way and never made it to state,'" Bonnie recalled. "(Tyler) just did it willy-nilly and threw it kind of his own way."
Rivals rated Tyler as the No. 6 center prospect in Illinois, but the offers didn't exactly flood in. Ohio State and Northwestern checked in but most of his attention came from the Mid-American Conference. An honor-roll student with a high ACT score, Tyler also drew some interest from Ivy League schools.
While it wasn't Tyler's makeup to complain, it was frustrating seeing players in surrounding counties accept Division I offers while his phone remained silent.
"He was always an underdog," Romeli said. "University of Illinois canceled on its school visit for him. I think that added fuel to the fire. The kid was always a hard worker but now he has some things in the back of his mind that he's working for."
Romeli suggested the idea of Tyler attending football camps across the Midwest to gain exposure. Bonnie and Hannah drove him to each one, including Northwestern's.
By this point, Tyler was hoping to land in Evanston. It was an hour's drive away, meaning his parents and Hannah could make it to nearly every Saturday home game.
Tyler had a good workout at Northwestern but left without an offer. Driving back on I-55 with Bonnie and Hannah, however, Tyler received a phone call notifying him the Wildcats were offering him one of their last scholarships for the 2013 class.
From that point on, "it was all purple" for Brad, Bonnie and Hannah. One of the first calls Tyler placed was to his dad, who was getting ready for work.
"The thing is with him, it wasn't like a sit-down, be-calm talk. It was like f-yeah, clapping hands and shouting," Lancaster said. "I was always the calmer one like, 'Yep, yep, awesome. Yeah.' He seemed more psyched than I was, which is totally understandable."
---
---
'Remember your why'
College was a roller-coaster for Tyler. Recruited as an athlete, the coaches mulled which side of the line he should play, a debate that raged among scouts all the way up to the 2018 NFL Draft.
After redshirting his freshman year, Tyler settled in as a defensive lineman but missed all but one game the following year with concussion-like symptoms.
Megan was now in Iowa and Tyler constantly felt lethargic. He considered giving up football, but Romeli and Tyler's family implored him to stick with it through spring ball.
The strangest thing was Tyler's brain scans always came back fine. He was finally referred to a sleep specialist and then diagnosed with sleep apnea within the first hour of his study.
The haze almost immediately lifted and Tyler started to realize his true potential, earning a starting spot on Northwestern's defensive line his third year on campus.
"My senior year, that was kind of a question for us about who would start at D-tackle," said Packers defensive lineman Dean Lowry, who started alongside Lancaster in 2015. "Because Tyler had come off some injuries and we had graduated some guys. That training camp, Tyler was just a whole new player."
The Lancasters were all-in on Wildcat football. Brad festooned his work locker with all kinds of Northwestern paraphernalia and practically forced his coworkers to watch every Wildcats game. For Saturday home games, Bonnie and Hannah would drag Brad to the car at 7 a.m. to drive to Evanston and tailgate.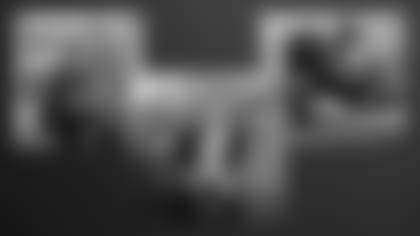 The family often sat near the Wildcats bench, allowing Tyler to give them a hug after every game regardless of the outcome – or how sweaty he might have been.
"Win or lose, good game or bad game, the joy on their faces and how appreciative they were that they were able to experience it with me – it definitely made those years a lot better," Tyler said. "It made their lives and it also helped make mine."
It was around that time injuries forced Megan to medically retire from gymnastics, so she transferred to Northwestern to be closer to home and Tyler. The two moved in together during Tyler's senior year, which turned out to be the most difficult of his 24 to date.
A few years after meeting Megan in the Plainfield East weight room, Tyler experienced another monumental moment in his life when he was introduced to assistant football performance coach Joe Orozco in the Northwestern weight room.
In every workout and every game, his message to Tyler was "When things gets hard, remember your why." When the going got tough, it was all about family for Tyler – as the coming years would show.
"He did everything for his family," Megan said. "He would come home on the weekends even if he could only see his mom for three or four hours. He still wanted them to know 'I love you guys' and that 'I'm here for you always.'"
---
---
'I love you, son'
The course of Tyler Lancaster's life irreversibly changed with a short voicemail from his father days after Northwestern beat No. 23 Pittsburgh in the Pinstripe Bowl at Yankee Stadium.
Brad, Bonnie and Hannah all made the trip to New York. A lifelong fan of the Beatles, Brad took a photo with the famous "Imagine" mosaic in the Strawberry Field section of Central Park. To cap off the impromptu vacation, Tyler had two tackles and recovered a fumble in the Wildcats' 31-24 victory.
Brad, never one to complain about anything, had been feeling discomfort in his jaw for a couple months at this point. He shrugged it off as nothing more than a toothache, but the pain became unbearable in New York and Brad agreed to go in once they returned home.
It led Brad to leaving a voicemail on his son's phone that Tyler will never forget.
"Hey Tyler, I don't want to scare you but they pulled the tooth and they just wanted to get a biopsy of it. No big deal just wanted to let you know. I love you, son, and I'll talk to you later."
Tyler didn't know what that meant. He scrambled to look up what it could mean and got a cold shiver up his spine. Shortly thereafter, the biopsy came back as Stage 4 oral cancer that started in his jaw and had already metastasized into his neck.
"I was like, 'Damn it,'" Tyler said. "The thing is, he smoked since he was a little kid. So we were hoping for the best, but accepting the worst and unfortunately the worst is what happened."
Brad didn't want his diagnosis to be a distraction to Tyler heading into his final season at Northwestern. He and Bonnie tried their best to protect their children from it, but the first surgery to remove the tumor greatly affected Brad's speech.
Looking to give him a boost in morale, Tyler asked Brad, "If there's one thing I could get you, what would it be?" Brad's reply was a Northwestern football helmet.
The Wildcats did the Lancasters one better – they had the entire football team sign a helmet, offense in purple and defense in black, with Tyler's signature right in front with the inscription "Go Cats!"
Tyler and Hannah surprised Brad with the helmet on Father's Day by having Hannah initially pretend to give him a hug before handing Brad his real present instead. He was euphoric.
"I thought he was going to pass out," said Bonnie, who later posted the video on social media at Tyler's behest.
On the field, Tyler did his best to focus on the task at hand. Before his senior season, he was voted by his teammates to wear the prestigious No. 1 jersey, given to the player who embodies the values and character of the Northwestern football program.
And Brad made it a point to attend every game he physically could that year. There were times he'd come straight from the hospital to Ryan Field.
Tyler had a strong year, and despite everything going on back in Romeoville, he'd still invite defensive linemen over to the apartment to study the playbook and answer any questions the underclassmen might have.
Individually, Tyler had the best season of his five years at Northwestern with career highs in tackles (40), tackles for loss (9½) and sacks (two). There was no question in Megan's mind what was fueling Tyler's internal fire.
"He really thought every game might be the last one his dad sees, so 'I really want to play the best for him and I want him to be proud of me,'" said Megan, paraphrasing Tyler's thoughts. "'Because when that time does come, I want him to know I did this for him.' Instead of letting it drag him down, I think he kind of used it to motivate him."
Chemotherapy and radiation treatments compromised Brad's immune system and left him susceptible to illness sitting in the stands. So Northwestern petitioned the NCAA to allow the Lancasters to watch games from the press box, which it approved.
From that point on, it became Brad's goal to walk with Tyler on senior day – and he did through rain and sleet prior to Northwestern's 39-0 win over Minnesota on Nov. 18, 2017.
"He went through hell but he was happy to have that final year and I think he would do it again," said Bonnie, pausing to hold off tears. "Because he got to have that closure with Tyler and Hannah and me and with his brothers and his sisters and his friends. That year was both tragic and special."
---
---
One last trip
The Music City Bowl was the Lancaster family at its finest.
Despite failing health, Brad was bound and determined to watch his son's final collegiate game and most of the neighborhood came along for the ride.
A 9-3 regular season earned Northwestern the trip to Nashville, where the Wildcats squeezed out a 24-23 win over Kentucky to earn back-to-back bowl victories for the first time in program history.
Brad, wrapped in a Northwestern blanket, had tears in his eyes after the game prior to joining the team in the locker room to celebrate with his son. Tyler's college career was over and dad was there to see it – against all odds.
"He handled the most brutal death, cancer, like a champ," Bonnie said. "No way could I have ever handled it like that. Brad handled it like a champ, so that's where Tyler learned."
Less than four weeks later, as Tyler began shifting his focus to preparing for the NFL Draft, his phone lit up with four missed calls from his mom around 4 a.m. He already knew what had happened.
He called his mom back, texted his trainer to tell him he wouldn't make it to workouts that day and woke Megan up to tell her Dad had passed away. They sat for a moment before Tyler got in his car to be there for his mom and sister.
"That whole week was really hard for him," Megan said. "Because, although you are expecting it, once it happens it's a completely different story."
The family held a celebration of Brad's life at a Creative Arts Center in Romeoville and the entire community turned out for the event. Pat Fitzgerald – whom Brad viewed like a "celebrity" – attended with several of Northwestern's coaches and more than half of the players on the football team.
People were stacked three or four rows deep at the back the room to offer their condolences and share a memory of Brad.
In the months that followed, one coping mechanism Megan shared with Tyler was how her mom once saved a voicemail of her dad before he passed away. Tyler flipped through his phone and found an old message his dad left after a Northwestern away game he wasn't able to attend, saying, "I am so proud of you. I love you. You did amazing. You were awesome."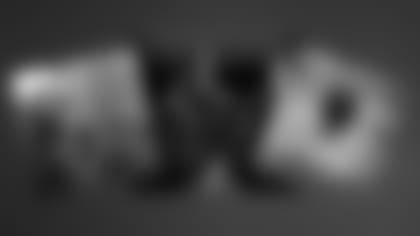 Tyler probably learned more about his dad during that final year than any others that came before it. He reflected and prayed a lot in the days and weeks that followed the funeral. The pain had stopped, and in some ways, it felt like a bond between father and son had been completed.
"After he was gone, I started to realize he meant more to me – and a lot of it was subconscious – than I thought," Tyler said. "Which is kind of emotional but it's also incredible. He had more of an impact in my life than I had believed up until then, which is really cool."
---
---
'BDL'
The tiger rests on Tyler Lancaster's right bicep, a modernized version of the same tattoo Brad once had on his shoulder. It serves as a daily reminder of his dad.
Brad and Bonnie signed off on Tyler's first tattoo when he was 17 – a cross and the words "Through He Who Gives Me Strength" underneath, but Tyler had long desired to get another.
Brad had a lot of tattoos, including a dragon on his back and jaguar on his triceps, but the tiger made the most sense. After discussing it with Megan and his mom, Tyler had a friend, Martin Garza, handle the design with his father's initials "BDL" written underneath.
The tattoo kicked off a wild 2018 for Tyler, who discovered shortly after his dad's passing that he wouldn't be invited to the NFL Scouting Combine in Indianapolis.
Disappointed but not demoralized, Tyler put everything into his Northwestern pro day on March 14. Despite good numbers – a 4.43-second time in the short shuttle and 36 bench reps – Tyler still went undrafted due to lingering questions about whether he was an offensive lineman or defensive lineman.
Tyler felt confident he was the latter and so did the Packers, who invited him to a pre-draft workout and signed him as a college free agent immediately after the draft concluded.
It's kind of funny looking back on it now. Brad was a lifelong Chicago Bears fan like most in the area. Tyler, though, never really had a strong allegiance to any particular team.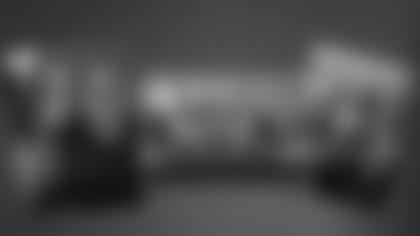 Once it became apparent Tyler had the potential to possibly play in the NFL, Brad told his son: "I'm 100 percent going to be a fan of whatever team you're on."
"He made that clear to me. His allegiances can switch just like that," said Tyler, snapping his fingers for effect. "'If Tyler made the NFL, I don't give a hoot what team he's on, that's my team. I'm getting all the gear. I'm getting the jerseys.'"
Tyler started his rookie season on the Packers' practice squad but was elevated to the 53-man roster in early October. By the end of the year, he was an entrenched starter on the D-line.
"You just want it so bad for him. He's put his heart and soul into everything. He's the epitome of the kid who has all the odds against him." Megan Ruzicka
This year, Tyler has started five of the eight games he's played in. Last Sunday night, he made one of the biggest plays of his football career, forcing and recovering a fumble by Kansas City running back LeSean McCoy.
The turnover gave the Packers the ball back at the KC 27-yard line and was essential to Green Bay's 31-24 victory. Mom was watching from Romeoville, while Megan, currently wrapping up her master's in statistics at the University of North Carolina, cried at the sight of Tyler running to the end zone with the ball and leading the Packers' D-Train celebration.
Once in a while, Tyler will mention how lucky he is to reach this level. His mom and fiancé always push back at that notion – because he really hasn't been. Tyler has had to work for every single thing in his life – from his scholarship to the No. 1 jersey at Northwestern to now his place on the Packers' roster.
Over the past year, Megan has seen Tyler turn a corner in his rhetoric. No longer the quiet kid with the hoodie on in math class, Tyler made Megan tear up the first time she finally heard him say, "I deserve to be in the NFL."
"Seven years ago when we first started dating he never would have thought that," Megan said. "You just want it so bad for him. He's put his heart and soul into everything. He's the epitome of the kid who has all the odds against him, so you want to root for him. … I just think he has gained a lot of confidence in himself and I think that's the thing I am most proud of."
---
---
The genuine article
Two years later, Tyler and his family are still healing but he's as proud as he's ever to be a Lancaster.
He's proud of his mom for her continued strength and support, and proud of Hannah for the passion she's displayed working towards her degree in social work at Lewis University.
And he's thankful for Megan being his light through many dark nights. This past summer, the two budgeted for a vacation to Hawaii, where Tyler proposed to her near the end of the trip.
Inside the Lancaster household, the roles haven't really changed. Yes, Tyler bought his mom a new set of tires for her car, and a new furnace and air-conditioning unit for the house, but that's kind of who he's always been.
"Lanny, I can honestly tell you – and he's always been this way – is one of the most genuine people I've ever had the privilege of knowing." Danny Vitale
During his short time with the Packers, Lancaster has been an ambassador for the team at children's hospitals and other community events. It's no different than the visits he made while at Northwestern, though his dad's illness has given him a greater sense of purpose.
To those who know him best, he's still Tyler – the big kid with a huge heart.
"He has a lot of things he wants to take care of with his mom and he knows (football) won't last forever," Romeli said. "For a guy who has potential to do so many things, his mind is always on the future."
When former Northwestern teammate Danny Vitale signed to the Packers' practice squad last year, Tyler invited him to come live with him. After they both made the team again this year, Tyler didn't bat an eye when Vitale asked if he could bring his red Labrador retriever to Green Bay to live with them.
"Lanny, I can honestly tell you – and he's always been this way – is one of the most genuine people I've ever had the privilege of knowing," Vitale said. "If you're around him on a daily basis, he doesn't change."
The Lancasters pride themselves on their strength, resolve and camaraderie. In August, more than 60 of Tyler's closest family, friends and neighbors turned out for the Packers' annual Family Night practice to support the kid everyone loves.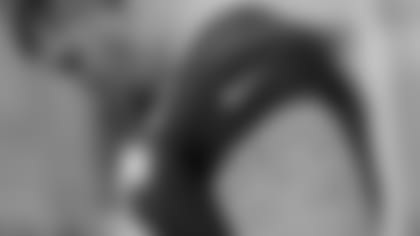 There still are times when Tyler misses his dad. After all, he is only 24. It's natural for his eyes to well up anytime a Beatles song comes on the radio. It's the primary reason he's yet to see the movie "Yesterday" just quite yet.
But as he points to the sky and gazes out into the Lambeau crowd, Tyler knows his mom is there to support him just like she and Hannah did when he was playing sports as a child.
Although his dad isn't with them, Tyler can feel Brad's presence. The words "I'm proud of you, son" echo in his head – today, tomorrow and forever.
For the rest of his life, he'll always remember his "why."
"I think about him all the time," Lancaster said. "I try to imagine what he would say, how excited he would be, how he would react to what I am doing. I think it would be full of love. And seeing that idea of him in my head definitely pushes me forward.
"He is definitely here with me through it all. And I can't thank him enough for everything he has done so far and for how he is continuing to affect me today."