GREEN BAY – Noah Pauley's bags had barely hit the floor as the 2022 NFL Draft was about to get underway last month.
Returning home from a recruiting trip in Texas, the North Dakota State receivers coach made it a point to be in front of his television to see where his pupil, Christian Watson, would get selected.
The 17-time national champion Bison have enjoyed unrivaled success since joining the NCAA Division I Football Championship Subdivision in 2004, developing a pair of top five quarterbacks (Trey Lance and Carson Wentz) in the last six years alone.
Now, it was Watson's time.
While the prototypical size, speed and explosive plays made the 6-foot-4, 208-pound receiver an enticing pick, Watson's affable personality is what endeared him to the Bison's locker room, fan base and even Pauley's own daughters, Ada and Lena.
"He means so much to myself, my wife, my two little girls," Pauley said. "They're his biggest fans."
Watson was an easy guy for anyone to root for in Fargo. He was an under-recruited prospect who turned into a big-play machine, averaging 20.4 yards per catch during his college career.
But to the Pauley family, Watson's impact goes beyond what he did on the field. It's how he treats people and leads by example. There's no shift in his personality. Watson handles adversity and adulation with the same smile and even-keeled response.
Pauley arrived at NDSU during Watson's redshirt sophomore year. In their three seasons together, the young playmaker redefined what it meant to play receiver in the FCS. He lined up everywhere. He caught nearly everything. He returned kickoffs, and was a willing and physical blocker.
That work ethic, coupled with impressive showings at the Senior Bowl and NFL Scouting Combine, made it a certainty Watson would become the first Bison receiver to be drafted in 37 years.
The only question was when and where?
Pauley had his own rooting interest. Despite being a native of Duluth, Minn., Pauley actually grew up a Packers fan after watching games at his friend's house as a kid.
Keenly aware of Green Bay's need of receiving help after Davante Adams' trade to Las Vegas, Pauley kept his fingers crossed Watson might get a chance with the Packers.
On Day 2, after Green Bay traded up to No. 34, Watson did.
"When we heard his name, I threw my daughter in the air," said Pauley with a laugh. "We were all celebrating."
Watson's path from Tampa, Fla., to Green Bay is one of perseverance and loyalty. A hidden gem North Dakota State feared big-time FBS schools would discover in the 11th hour, Watson never looked back once he gave his word to the Bison.
In a day and age when so many are focused on what's next, Watson stayed true to himself, his family and his team. It's propelled him from Plant High School in Tampa to the National Football League.
"I tell myself all the time all I need is one opportunity," said Watson during rookie minicamp earlier this month. "I had one opportunity going to college and … I have this opportunity now. All I needed was the opportunity."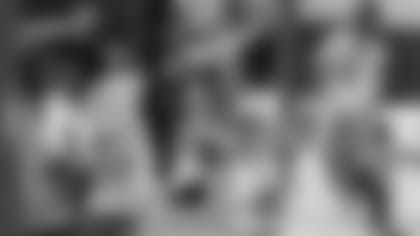 ---
---
'There is no way you're going to get him up here'
Nearly every college football coach knows the drill: Keep your eyes on Florida, even if it's not your territory. A native of Tarpon Springs, Atif Austin lived by that on the recruiting trail.
While Austin's home state is a football hotbed, there still are prospects every year who fly under the radar of the Power 5 conferences. The trick, especially for FCS programs like North Dakota State, is identifying them.
In Watson's case, a conversation between Austin and Plant High School coach Robert Weiner laid the first brick in the future Packers receiver's path from Florida to Fargo.
"I told him, 'We're not trying to come down here and find the guys who have five and six offers. I'm looking for that tweener,'" Austin said. "That guy that people are probably looking at who has a little more developing to do. He told me, 'I have a guy.' That was Christian."
The four-time state champion Panthers have produced their fair share of Division I and NFL talent over the years. The reputation was well-earned and born out of competition, especially at receiver.
Watson was a natural athlete but a bit young and undersized when he started high school, hovering around 5-foot-9 and 140 pounds as a 14-year-old freshman. Meanwhile, Plant was stacked with receiver talent, including future Indiana recruit Whop Philyor.
Watson had the genes, though. His father, Tim, was a 1993 sixth-round pick by the Packers who played five seasons in the NFL, while his older brother, Tre, was an All-Big Ten linebacker at Illinois and Maryland.
"I grew four inches and put on 20 pounds in a matter of four or five months at the end of my junior season. I definitely shot up out of nowhere." Packers WR Christian Watson
Like his older brother, Watson hit a growth spurt midway through high school. He sprouted several inches as a junior and put on the weight to match. On Plant's football roster, Watson was listed at 5-foot-11, 145 pounds as a junior in 2016. The next fall? He came in at 6-2, 175.
The maturation was so rapid Austin recalls a phone conversation he had with Watson's mom, Christa, where she mentioned how "every time he sleeps, it's like he gets a little bit taller."
"It was one big growth spurt," said Watson during rookie minicamp earlier this month. "I grew four inches and put on 20 pounds in a matter of four or five months at the end of my junior season. I definitely shot up out of nowhere."
Austin met Watson in the midst of his transformation, traveling down to Tampa to attend a Plant practice. After lightning delayed a night session, Austin saw the same kid Weiner advertised – an athletic receiver with an unrelenting work ethic.
What stood out the most to Austin was how Watson set the tone during individual drills and was all over the field in team periods. He took video of the practice and brought it back up to NDSU with him, along with the few cutups Watson had at that time.
"Everybody in the room saw it. To the point where they were like there's no way you're going to get this kid up here." Former North Dakota State receivers coach Atif Austin
Austin sat down with offensive coordinator Tim Polasek, quarterbacks coach Randy Hedberg, offensive line coach Conor Riley and presented his findings from his recruiting trip.
Austin purposely placed his presentation on Watson within the receivers report, not wanting to influence his fellow coaches. Once the clips started rolling, however, the Bison's staff agreed this kid needed to be their primary target at receiver. He was that good.
"Everybody in the room saw it," Austin said. "To the point where they were like there's no way you're going to get this kid up here. There is no way you're going to get him up here. I was telling everybody, 'Yes, I'm going to get him up here.'"
---
---
'That kid could play at any school in the country'
Austin did what he said he was going to do. North Dakota State offered Watson a scholarship and things quickly fell into place.
Austin traveled to Tampa with Bisons head coach Chris Kleiman and the two did an in-house visit with Watson and his family. To this day, Austin commends Christa on the meal she prepared.
Watson and his dad also traveled up to Fargo for an on-campus visit. In July 2016, just before his senior year at Plant, Watson made a verbal commitment to play for the Bison.
There were still some sleepless nights for Austin, though. A taller and sturdier Watson began making more plays as a senior on a 13-1 Plant squad that finished state runner-up. He averaged 17.1 yards per catch with eight receiving touchdowns.
"Going through his senior year, I was like somebody is going to find this kid and try to get on him before we sign him," Austin said. "I was thinking I could potentially lose him. That's how well he was playing. In my mind, at the end of the year, a new staff was going to be looking for talent and where are they going to go? Plant High School."
Watson didn't let that happen. He told his high school coaches to inform anyone who might call that his college recruitment was closed. He'd already made up his mind.
Austin coached Watson as a redshirt freshman before joining the New England Patriots' staff in 2018. Kleiman tabbed Jason Ray as the Bison's new receivers coach before the two departed for Kansas State following an undefeated 15-0 season.
Defensive coordinator Matt Entz was promoted to head coach in 2019 and brought in Pauley from Minnesota-Duluth to coach the receivers. Watson was on to his third position coach in three years and still coming into his own, having caught just nine passes for 165 yards in his first collegiate season.
Pauley didn't know much about his new receiver when he stepped on campus but could tell Watson had serious talent. The receiver's commitment to NDSU spoke volumes, as well.
"He didn't play a ton that 2018 season, pretty sparingly, but he had a couple big catches," Pauley said. "The coaches who were here before said, 'Hey, I think this kid has a real chance, but he has a really small sample size of stuff we've done with him.'"
The 2019 season was a revelation. Watson stepped into the big-play role that had been vacated by 1,000-yard receiver Darrius Shepherd, who caught on for part of two seasons with the Packers after originally coming to Green Bay on a tryout.
Watson, now closer to that 6-4 range, led all North Dakota State receivers with 34 catches for 732 yards (21.5 yards per reception) and six touchdowns as a redshirt sophomore, while also producing one of Pauley's all-time favorite memories.
In one of his first big highlights with the Bison, Watson came off a slot fade to high-point a pass from Lance in the back of the end zone for a 19-yard touchdown during a 46-14 rout of No. 10-ranked Northern Iowa.
As a junior, Watson was named first-team FCS All-America as a kickoff returner. He brought back two of his 10 kickoffs for touchdowns in 2020, while averaging 33.8 yards per return.
"I believe that kid could play at any school in the country." North Dakota State receivers coach Noah Pauley
However, it was Pauley's third and final year working with Watson that he'll remember the most fondly. A part of that was Watson's maturation as a route-runner and pass-catcher, as he set career highs with 43 receptions for 801 yards and seven TDs.
But it also had to do with how seriously Watson took direction from Pauley and the coaching staff in an effort to improve his blocking going into his senior year. That emphasis was seen in NDSU's opener against Albany, where Watson blocked three players to spring running back Dominic Gonnella for a 75-yard TD run to start the second half.
Even as Watson's profile rose, he remained the same humble receiver who jumped at his first college offer. While the NCAA transfer portal has made it easier for a prolific FCS performer to jump ship, Watson saw his commitment through to the very end.
"I believe that kid could play at any school in the country," Pauley said. "If his goal was to go catch 100 footballs, he would've been gone. He knew he may have to block 40 times in a game and maybe he'd get three-to-seven touches a game and what he did with those touches was up to him. I think that shows a ton of loyalty, a high-character kid."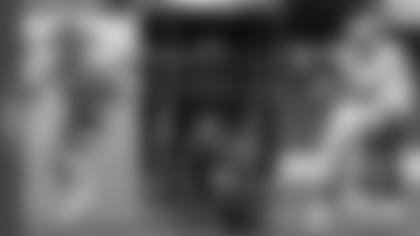 ---
---
'It's in his DNA'
The final two hurdles for Watson were the Senior Bowl and NFL Scouting Combine, checkpoints that would weigh on the minds of scouts as they projected whether the FCS standout could sustain his production against tougher competition.
Watson drew rave reviews from his performance in Mobile, Ala., even earning top receiver honors on the National team (as voted on by the cornerbacks at the Senior Bowl).
In Indianapolis, Watson put on a performance for the ages. He not only clocked a 4.36 official time in the 40-yard dash but also leapt 11 feet, 4 inches in the broad jump, the best distance of any 2022 combine participant.
Watching on from Lucas Oil Stadium, Pauley was grinning from ear-to-ear.
"Everyone was in the 9s and the 10s and then he's one of the last guys to go and goes 11-4," Pauley said. "I'm like, 'Whoa, this is going to be a fun day.'"
Draft night was fun, too, in the Pauley house. His wife, Hannah, texted with Watson's mom throughout the evening. Once Christian was selected, Christa forwarded the video of her son reacting to his name being called. It brought a wave of emotions.
"I said (to Noah Pauley), 'Who would've ever thought in your head, you're both in the building together at this time.'" Packers receivers coach/pass game coordinator Jason Vrable
It's fitting Watson's NFL career begins with Pauley coaching him one last time. The North Dakota State receivers coach is one of 12 coaches in Green Bay as part of the Bill Walsh Diversity Coaching Fellowship.
At the beginning of last week, Packers receivers coach Jason Vrable playfully told Pauley and Watson to take a picture together at Lambeau to send back to NDSU's football team.
"This is awesome, man. They're sitting in the room together," Vrable said. "I said (to Pauley), 'Who would've ever thought in your head, you're both in the building together at this time.'"
Vrable then jokingly said to Watson, "Two more weeks of dealing with this dude," while pointing his thumb at Pauley. Watson just smiled, before interjecting: "Nah, I love him. That's my guy."
Austin, now a running backs coach at Northern Iowa, has enjoyed watching Watson's development from afar and remains one of the receiver's biggest fans.
Last October, the two crossed paths when the Panthers hosted NDSU. Watson caught five passes for 163 yards, including an 85-yard touchdown, en route to a 34-20 victory.
"To see how he kept it rolling and exploded on the scene and made it his own going into his senior year, I couldn't be more proud to see how everything turned out for him," Austin said. "I always thought when I was working with him that he's going to be a guy who's going to get drafted. He's just turned himself into what he is today through his hard work and effort."
Those attributes have been visible during Watson's short time in Green Bay, with offensive coordinator Adam Stenavich praising the rookie last week for handling "himself the right way" since the day he arrived at rookie minicamp.
"It's in his DNA to not give up on where he is, to find a way to win. He did it at Plant. He did it at NDSU. Now that he's with the Green Bay Packers, I don't see that changing." Atif Austin
Watson is the first to admit he has a lot to learn as he advances to the next level but he's eager to get to work with four-time MVP quarterback Aaron Rodgers, receiver Randall Cobb and all the other returning veterans on offense.
One thing Watson does have a firm grasp on is winning. Plant won 22 of 26 games during his last two years of high school, while North Dakota State nearly won as many national titles (four) as they had losses (five) during Watson's five years.
"There's a lot of guys who are OK with losing and that's never me," Watson said. "I'm truly a competitor in every aspect of my life, and having won so much, it's only prepared me to only seek winning here on out."
Watson leaves behind a legacy of success and loyalty in Fargo. Now, he hopes to fashion the same type of resume in Green Bay. Those who have coached him know the young wideout is willing to put in the work to make his next dream a reality.
"He's going to have a great career with the Green Bay Packers," Austin said. "You look back at his story and his life, everywhere he's gone, he's been a part of a program that's been successful.
"It's in his DNA to not give up on where he is, to find a way to win. He did it at Plant. He did it at NDSU. Now that he's with the Green Bay Packers, I don't see that changing."