If you're a rookie, you ride.
Aaron Jones can still hear Mike McCarthy's proud Pittsburgh accent reverberating in the back of his head, as the former Packers head coach outlined the ground rules for players participating in their first training camp in 2017.
Among the key topics was the tradition of players riding kids' bikes to practice. The 5-foot-9, 208-pound running back had been briefed about the timeless ritual prior to the meeting, but it sounded different coming from the head coach.
"This is a special tradition here that we do," Jones recalls McCarthy telling the roster. "You get to engage with the community. You get to make a kid's day. You never know how far that can go."
Now a Pro Bowl running back and two-time NFL Walter Payton Man of the Year nominee, Jones looks back on his introduction to Green Bay with appreciation and gratitude.
McCarthy's words were indeed prophetic. Never could Jones have predicted how one of the iconic franchise's most celebrated traditions would touch his heart and alter his perspective – not just on football but also life.
But it's there, every day, in the eyes of Carson Vandevelde, who has become more like a little brother than a bike kid.
Jones sees it in the smile of Julianna Pierri, a 15-year-old teenager from Milwaukee who used to ride with Jones and still drives up to see him on his last day of training camp.
And then there's Aaron Jones Jr., his vibrant, fun-loving son mature beyond his three years. Junior's interactions with Carson serve as a daily reminder to Jones of what football is all about.
Because somewhere along the line, a short bike ride to practice went from being a small part of the workday to the reason Jones does what he does. It's difficult to explain but it makes sense.
Thumbing through old photos, Jones is hit with a wave of nostalgia. Six years has felt like six minutes in a bond that's seen Jones at both his highest and lowest.
"Carson puts time into perspective for me because I feel like I'm still in Year 3, just with experience," Jones said. "When I sit back and look at him and see how much he's grown, it's like, 'Wow. It's so wild.'"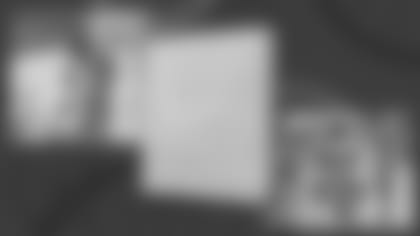 'We kind of picked each other'
Jones was initially told it's up to the player to choose his rider, but in this particular case, it worked out sort of the opposite.
In the beginning, Jones partnered with Pierri, who made the trip to Green Bay with her parents, Pedro and Laura, and three older sisters at the start of camp.
Her siblings all found riders in veterans Damarious Randall, Blake Martinez, and Richard Rodgers. It just so happened Julianna's was a little-known running back drafted in the fifth round of the University of Texas-El Paso named Aaron Jones.
"I would just be happy with literally anybody," said Pierri, now a sophomore at Nicolet High School. "I was just waving at everybody and just hoping somebody would walk up to me. I was just smiling and next thing I know he came up."
Jones and Pierri only had a few rides together due to the distance her family traveled to attend practice, but a bond formed that has carried on through the years.
"He's one of the best players on the team and one of the older players as far as seniority but he hasn't changed." Pedro Pierri, father of former bike kid Julianna Pierri
When Jones did an appearance in 2019 at Discovery World in Milwaukee, the Pierris dropped by. This past July, Pedro and Laura were in attendance when Jones and Yetty Irwan won the American Cornhole League pro-am tournament at Summerfest.
Every time, Jones greets the family with a smile and a hug.
"He's one of the best players on the team and one of the older players as far as seniority but he hasn't changed," said Pedro Pierri, Julianna's father. "He's still the same Aaron, still very humble."
When training camp wrapped up a couple weeks ago, Pierri and her family were there to give Jones and the rest of the team a high five at the end of the final public practice. She also brought a card for Jones, congratulating him on six years of success.
"Just knowing that somebody has love for you that way, it makes you just want to continue to do the good things that you're doing.," Jones said. "It shows that all the good that you're doing doesn't go for naught. You have people who get behind you and support you and love you for doing the right things."
Jones eventually found a permanent rider in Vandevelde, who is a bit of a biking legacy. His older sister, Madison, previously rode with former Packers linebacker Desmond Bishop and running back Eddie Lacy. And occasionally Carson would tag along.
"Some of the players told me, 'You can either pick a new kid or you can stay with the same kid.' I'm like, 'You know what? I like that.' You get to build a relationship with them." Aaron Jones
After Lacy signed with Seattle in 2017, Madison decided the time was right to put her bike away but she floated the idea to her mom, Angie, about bringing Carson to get his own rider.
Angie was reluctant given the time commitment involved with bike riding. As a single mother, Angie used a bulk of her vacation time every summer to transport Madison to the Packers' two-a-day practices.
Carson rode with former Packers running back Devante Mays at first but felt a connection to Jones. Curious if Jones would ride his bike – and much to Angie's surprise – Carson snuck into the post-practice autograph tent one day to get an answer.
"Carson was super shy, but he was like, 'Would you ride my bike tomorrow?' Angie said. "Aaron was like, 'Absolutely.' Ever since then, it's just been an everyday thing."
Jones took it to heart. If the boy was out there and nobody had picked him, he was going to hop on his bike. Sure enough, Jones entered the corral the next day and saw Carson waving him over.
Their first summer together was mostly a feeling out process. Carson was quiet but slowly began opening up. Over time, it went from Jones throwing out all the questions to Carson asking more about the team and Jones' family.
"We kind of picked each other," Jones said. "Some of the players told me, 'You can either pick a new kid or you can stay with the same kid.' I'm like, 'You know what? I like that.' You get to build a relationship with them. So, we just kept riding together every day and he became like a friend."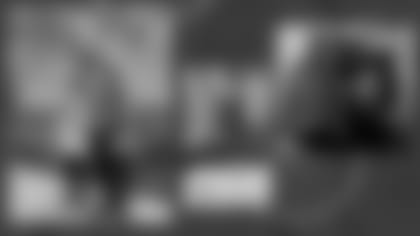 A positive influence
The arrangement was perfect until it wasn't.
A year into their partnership, Carson took his usual spot before practice before noticing a girl he didn't recognize talking to Jones. It turns out Jones' niece was in town to visit and going to ride with him down to practice.
Aaron didn't think it would be a big deal. He invited Carson to ride alongside them, but there was just one problem.
"Carson didn't want to tell him (he) didn't know how to ride a bike," Angie said.
Until that point, Carson had been more of a runner than biker. He devotedly held Jones' helmet and cleats, and patiently waited for him to sign autographs after practice.
Carson did everything except actually ride the bike he was bringing to practice each day. Not wanting to be embarrassed again, Carson did a crash course on bike riding in the days that followed. He wanted to hold his own.
The following year, Angie bought an attachment to put on the back of Carson's bike so the two could ride together. Around that time, Jones became more familiar with Carson, Angie and his extended friends and family, too.
He'd discreetly stop by an RV one of the bike-riding families had set up in the Lambeau parking lot and talk to kids about football and life. Jones also began taking interest in Carson's sports.
He'd come watch him play soccer, basketball, and football. At the height of the COVID-19 pandemic, Jones would show up with a hoodie and mask on and few even knew it was him.
Jones also discovered Carson's dad wasn't really in the picture, a topic he eventually discussed with his own father, Alvin Sr. Aaron wanted to help the best he could, especially after Carson's father became incarcerated in 2019.
"That's why I wanted to fill the void – not a father but a big brother, a male figure in his life," Jones said. "My dad didn't grow up with a dad and listening to him speak on that … I didn't want Carson to have some of those same struggles."
So, Aaron and his twin brother Alvin made Carson their little brother. They played video games together, went bowling, and watched movies. When Jones rushed for four touchdowns in a breakout performance against Dallas in 2019, he surprised Carson and his classmates with a pizza party two days later.
Last year, Aaron and Alvin provided Carson with the biggest surprise of all when they asked Angie if they could take Carson to watch the Milwaukee Bucks play the Golden State Warriors.
Angie agreed, unaware that her son would be sitting courtside. It was a memorable night with a comedic ending. After the game, the Joneses and Carson were invited to the Bucks' locker room...after coach Mike Budenholzer spoke to the team.
Carson didn't get the memo. While Aaron and Alvin waited outside, Carson accidentally followed the team into the locker room and had to hide off to the side until the Joneses were welcomed in. He then got to meet star players Giannis Antetokounmpo and Jrue Holiday.
"Carson came home and that's just something he's talked about forever," Angie said. "Just memories that, as a normal child, you don't get to experience."
Character personified
The pandemic was difficult on multiple fronts.
It began on a positive note when Aaron welcomed a son into the world. The Vandeveldes got to meet Aaron Jr. that first year, but bike riding was shelved due to COVID-19 protocols.
Professionally, Jones was at his peak. He backed up a breakout 19-touchdown season in 2019 with a second consecutive 1,000-yard rushing campaign and another 15 scores.
It was enough to earn Jones a contract extension with the Packers in March 2021. Carson was elated Aaron would be sticking around and Angie was touched when Jones asked for Carson to come meet him at the airport before he headed back to El Paso after signing his new deal.
Like much of the world, however, the Vandeveldes had no idea of everything the Jones family was going through back home.
"I, at that point, didn't know his dad was as sick as he was," Angie said. "For Aaron to leave that impression on Carson, where he came and signed his deal and wanted to see him before he left. We drove out to the airport, in front of Austin Straubel, and shortly after that is when everything happened."
Alvin Jones Sr. was the family's bedrock. He and his wife, Vurgess, were dedicated to the ideals of family and service. Their 50-plus years of combined military service were not only reflected in their children but also Carson, who picked up Aaron's and Alvin's "yes, sir" and "yes, ma'am" retorts.
"I'm always going to be there for him the rest of our lives. It's the bond that we've created." Aaron Jones on Carson Vandevelde
Tragically, less than a month after Aaron signed his extension, Aaron announced on his Instagram story that his father had passed away due to complications from COVID-19.
Angie's heart went out to Aaron, Alvin Jr., Vurgess and the entire Jones family. Then, she snapped back to how Aaron must have felt that day he asked Carson to meet him at the airport.
Despite everything going on in his life, Jones still made it a point to say hi to Carson. His rationale for wanting to see Carson that day came down to him wanting the youngster to know he would be there for him.
Through good and bad, in-season or offseason.
"He's had a hand in it, whether he knows it or not, in helping me get paid and becoming the person that I am," Jones said. "Whenever I'm in town, I want to see him, and I want him to know that I care about him. It's not just an in-football-season thing. I'm always going to be there for him the rest of our lives. It's the bond that we've created."
Carson wasn't sure if he and Aaron would ever ride together at practice. It's sometimes unlikely a player of Jones' celebrity keeps riding past his first five years.
Prior to the bikes going back to the original format in 2022, Carson asked Aaron if he'd still be riding. Jones laughed, "Why wouldn't I?"
After all, a new rider was going to be joining them…Junior.
"Just seeing them together again, it was all smiles," Angie said. "Even though they'd kept in contact in some capacity, it was catching up like they hadn't seen each other for two years."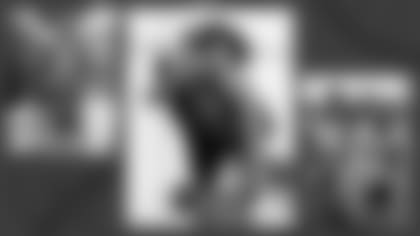 Father & son
Family is a blessing. It's one of the first lessons Alvin and Vurgess Jones ever taught their children, reminding each of them family is always with you no matter the distance.
Aaron enjoyed 26 years with his dad. While a portion of that was interrupted by his military service, Alvin made every moment count with his son. Maybe it's because Alvin didn't grow up with a dad or maybe it's just who he was as a man.
Either way, Jones took solace in Alvin's life well-lived and found similar purpose in Junior, his fiery, energetic, and extroverted son who has yet to meet a person he doesn't like.
Adoring both his dad and football, Junior is a frequent attendee at Packers practices and games. A ball of energy, Junior can often be found dragging his bike to the door during camp.
"He loves practice. That's his thing," Jones said. "Even during the season when it's not open, he's like, 'Daddy, can I come to practice with you?' I'm like, 'Junior, no. We can't have any people in there today.'"
That rule applied on April 17, a shared date between Junior's third birthday and the first day of the Packers' offseason program. Jones didn't want to miss his son's big day but also knew what his attendance met to his employer.
He mentioned it to Head Coach Matt LaFleur, who offered the perfect alternative.
"It was his birthday and I'm like, 'Hey Matt, I'm gonna miss his birthday,'" Jones said. "He was like, 'Bring him in. Bring him to work. I don't care. I want you here. You're one of our leaders.'"
"Junior is older than he really is. Deep down, he's like a kid at heart and he'll play with the best of them. Carson, they teach each other." Angie Vandevelde, mother of bike kid Carson Vandevelde
And so, Junior celebrated his third birthday at Lambeau Field with dad. He sat quietly in the meeting rooms with his Gatorade and watched his iPad with a peanut-butter-and-jelly sandwich while Aaron did his conditioning drills in the Hutson Center.
There is also no bigger fan of the team's bike-riding tradition than Junior, who has since joined his father and Carson down Armed Forces Drive.
Whereas Carson grew up admiring Aaron, Junior has had a similar relationship with Carson, who's eight years his elder. The two are like brothers, playing on the field after practice and even trick-or-treating together last fall.
Everything Carson does, Junior is quick to mimic. If Carson starts doing circles with his bike, Junior is peddling as fast as he can in the same shape behind him.
"Junior is older than he really is," Angie said. "Deep down, he's like a kid at heart and he'll play with the best of them. Carson, they teach each other. They feed off each other."
Seeing Junior bond with Carson has been special for Jones. In addition to developing their own secret handshake, the Aarons went viral last year when they came to a home game dressed in matching overhauls and sombreros.
"I'm even more grateful for it now," Jones said. "Just being able to bring him and allow him to do that and running on the field before practice like a little warm-up. That's special. Something he'll always remember but something I'll never forget."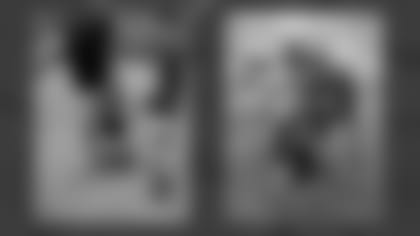 Learning to fish
Aaron LaRae Jones isn't a duck person. Never has been.
Put a hard-charging, 260-pound linebacker with a 4.5 40 in front of Jones and the Pro Bowl running back doesn't flinch. But a mama goose with a gaggle of babies? Where's the nearest exit?
That wasn't an option on this day at Bay Beach, though. Jones and Junior were headed down to the water to go fishing with Carson, Angie, and the rest of the family when a feathered foe appeared in their path.
"I'm already scared as we're walking by them and they just start hissing and moving towards us," said Jones, laughing. "So, I just picked up Junior and we ran straight to Miss Angie. They're looking at me and dying laughing … but that day was so fun."
The Jones' crisis averted, Carson began showing the Aarons how to bait lures, cast lines and remove fish from his hook all by himself. Aaron stood in awe. Carson's bobber was continuously submerged.
With Carson leading the way, Aaron finally had a bite – a four-inch pan fish that might as well have been a blue marlin. He joyously held the fish up like a trophy before tossing it back.
Junior, who was fishing for the first time, caught his first fish that day, though he wasn't keen on taking it off the hook.
"He's a special kid," said Jones of Carson. "They say you teach somebody how to fish, they'll never starve again and it's like, 'Wow, he's teaching me to fish.' You can learn something from everybody, and I learn a lot from Carson."
The best part of wisdom is it goes both ways. As a single mom raising an athletic three-sport athlete, Angie doesn't always know what to tell her son after a rough game or loss.
"You can learn something from everybody, and I learn a lot from Carson." Aaron Jones
That's where Jones' expertise comes in. Gifted with a competitive spirit, Carson also can be hard on himself when he doesn't play the best.
There's one particular soccer game that springs to mind for both Jones and Angie. Carson is used to controlling the pitch and finding the net. On this day, however, Carson barely touched the ball and Jones could tell it was bothering him.
A former soccer player himself, Jones threw his arm around Carson's shoulders and reminded him that scoring three or four goals isn't a requirement to win every game. It's being who your team needs you to be when they need you to be that.
"It's like I can't thank him enough for that because I wasn't in those shoes," Angie said. "Being a single mom all those years, I don't have the right words to say. Aaron's been in all those situations where he can give that feedback to say play's over, move on. Don't let it beat you up."
In a small town that is Green Bay, Carson has also played 7-on-7 football with LaFleur's two boys and some of the other coaches' kids.
While supportive of every sport Carson plays, Jones had some fun outfitting the child with the latest-and-greatest equipment at the local Dick's Sporting Goods, including a helmet visor just like the one Aaron wears on Sundays.
"It's just trying to be a positive role model," Jones said. "So, when he does become a man, he can do it the right way and he's seen it done the right way."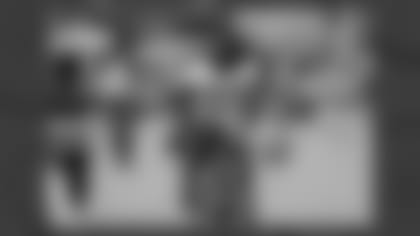 The Packers' heart and soul
The Vandeveldes weren't sure what the future might hold after the 2022 season. Yes, Jones was coming off a career-high 1,121 rushing yards, but football is a business and change is constant.
A sigh of relief washed over the family when reports surfaced in February that Jones had agreed to a contract restructure to remain with the Packers, a sentiment shared by the team's football-hungry fanbase.
Shortly thereafter, the Vandeveldes saw LaFleur at a basketball tournament in Appleton. Having gotten to know Carson a little through youth football, LaFleur asked the youngster how his game went.
Carson delivered the standard "It was good" response like most 11-year-olds before he paused briefly and told LaFleur, "Thank you. … Thank you for keeping Aaron."
"Coach goes, 'Oh no, you tell Aaron I said thank you. We're glad to have him back,'" Angie recalled. "Just hearing that, Carson was appreciative. It was eye-opening to me because (Carson) put the connection together."
Over the past five years, Carson has started to understand how Jones is viewed by his peers. He saw his rockstar status this past summer when the Vandeveldes went down to El Paso for Aaron's and Alvin's charity softball camp and football clinic.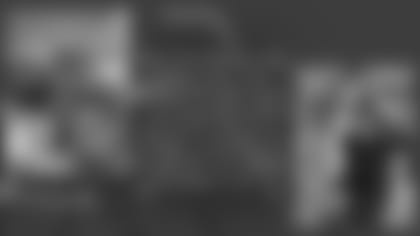 In Green Bay, Jones is an icon. Not only because he's the third all-time leading rusher in Packers history but also due to everything he represents.
Jones has engrained himself in the community like few others before him by simply being who he is and representing everything his parents preached.
"He's an exceptional teammate, exceptional man," LaFleur said at the beginning of training camp. "I go on a soapbox every time I get up here to talk about him because I can't say enough great things about him in terms of his approach, his work ethic, the way he treats his teammates and the way he treats whoever in our building."
Or as General Manager Brian Gutekunst termed it at the end of training camp: "Aaron's the heart and soul of this team."
The lives Jones has touched are difficult to quantify, whether it's through his A&A All The Way Foundation or time spent with fans down at Nitschke Field. Angie and Carson have gotten used to waiting a few extra minutes most days.
"I consider him like one of my own kids," Angie said. "There's times where mom wasn't here and he's like, 'Hey are you busy? Can you take me to the dentist?' Things like that, just watching him grow into who he is never changed who he was deep down.
"Watching him become a Pro Bowl (player), you become more popular, and you become a bigger-name person, but he never changed who he was deep down."
Aaron believes a lot goes back to his relationship with Carson. Recently, the Joneses had Carson and his mom over to their house for a cookout with another player's family.
The question came up, like it often does, about how Jones got to know the family. Jones went into his usual explanation: "That's my bike boy, but now they're just family to me."
"He's an exceptional teammate, exceptional man. I go on a soapbox every time I get up here to talk about him because I can't say enough great things about him." Matt LaFleur, Packers Head Coach
During the holidays recently, Jones asked Angie what Carson would like for a present. Angie was floored. After all the things Jones had done for her child and all the memories they created, Jones was really asking what else Carson might want.
But that's Aaron. That's the Joneses.
Angie knows the day will come when Aaron Jones is no longer the Packers' star running back. One day, her son will dismount his bike for the last time at Lambeau and put it away like his older sister once did. But the moments will remain.
Six years ago, Mike McCarthy once told Aaron Jones and a room full of Packers rookies that "you never know how far" a friendship with a bike kid might go.
No, you really don't. Asked to summarize the friendship he's formed with one of Green Bay's most beloved players, Carson's 60-word response can be condensed to a single word: Family.
"Aaron has been like a big brother to me," Carson explains. "And I have gotten to experience a lot of things that most kids would dream of doing. I love spending time with Junior and being able to be someone he looks up to. He's like a little brother. Family is everything to me and the Jones family is family to me."