It was just a 15-yard completion, but it symbolized so much more.
In the second meeting with the Vikings last year at Minnesota's U.S. Bank Stadium, the Packers had a running play called on second-and-7 in the red zone. But when he got up to the line of scrimmage, quarterback Aaron Rodgers had a different thought.
With Davante Adams alone to his left and the run designed to go right, Rodgers took a quick three-step drop and fired behind Adams' outside shoulder. The two-time Pro Bowl receiver spun in front of two-time Pro Bowl cornerback Xavier Rhodes, snagged the ball near the 5-yard line, kept his feet and reached out for the pylon, beating Rhodes easily for the score.
"I'd never thrown that ball before to anybody on that play, much less a back-shoulder against one of the top corners in the league, on a run solution, in a hostile environment," Rodgers said. "He turned his head at the perfect time, and I put the ball in the right spot.
"It's one of those 'wow' plays that goes back to a conversation we probably had in practice about it, and just trust. I never throw that ball if it's somebody I don't trust."
Rodgers has built different levels of trust with various Green Bay receivers over the years, and the latest connection that keeps growing stronger is with Adams. But the two unquestioned stars of the Packers' offense didn't get to this point overnight. It was a process, day by day, year by year, encompassing everything from talks and text messages to battling injuries and studying film.
Where it goes from here can't be known, but how it was established and annually built upon certainly is, dating back to when Adams was drafted in the second round five years ago.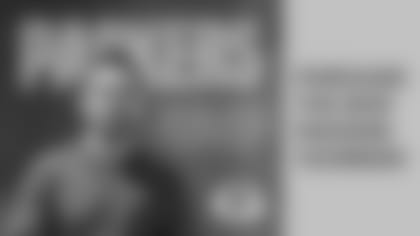 ---
---
2014
One of the first things Adams did when the Packers chose him with the 53rd overall pick was call Rodgers to break the ice. He got the two-time MVP's number from his new position coach but had to leave a message, because Rodgers doesn't answer calls from unknown numbers. That wouldn't be an issue again.
A while later, Rodgers called back. With Adams' phone plugged in to play music for everyone gathered at the household draft party, he had to interrupt the festivities to grab the call.
"Everybody shut up!" Adams said. "Quiet!"
The two don't really remember what was said, but they do remember the tone. Adams' emotions were mixed with tension, having waited longer than he planned to get drafted. Rodgers could sense the excitement and the edge in his voice, and he liked both.
"The thing you love as a quarterback is he's known he belongs since Day 1," Rodgers said. "Any great receiver we've had here, they've made that impression, whether on the phone or in the first practice. You can just tell this guy knows what he's doing. This guy is confident. This guy can play."
It didn't translate to taking the league by storm, not with Jordy Nelson and Randall Cobb ahead of him, as Adams caught more than two passes only three times in his first 11 games (though his first career touchdown was, coincidentally, Rodgers' 200th). Then he broke out in a big home victory over New England with six catches for 121 yards.
Rodgers told reporters after the game he wasn't surprised by the rookie's performance on a big stage. Adams hadn't heard that, but by then their communication was changing.
"What meant the most to me is when I was getting texts after games, and then it obviously became the norm," Adams said. "Hearing that from him, seeing the standard he holds himself to, it kept me going in the right direction."
Adams' involvement in the offense dipped again the final month of the regular season, with Nelson and Cobb putting together career years. Rodgers saw how Adams handled the downs as much as the ups. His belief in the new addition to the receiving corps was affirmed when Adams rose to the occasion again in his first playoff game, with seven catches for 117 yards, including a 46-yard TD, in the NFC Divisional win over the Cowboys.
"It was just about the approach," Rodgers said. "The most impressive thing is after (New England) it wasn't like he was jumping into the starting lineup and getting a bunch of targets. That showed me a lot, because some guys would drop their head and complain about not getting the ball, but this guy never did."
---
---
2015
With Nelson lost for the year to a preseason knee injury, the spotlight quickly turned to Adams, but the year didn't go according to plan. An ankle injury forced him to sit out three games and battle through numerous others without his best weapon – quick feet and explosion at the line of scrimmage. His confidence never wavered, but his numbers did, improving by just 12 catches and 37 yards over his rookie year when everyone was looking for more.
"I hadn't been through that type of adversity as far as being hurt like that constantly throughout a season," Adams said. "I hadn't had that happen in my career in basketball, football, at any level, so I didn't really know how to deal with it and confront it."
All he did know to do was go all-out, regardless of his actual capacity. His quarterback noticed.
"I've always prided myself on toughness, you either have it or you don't, and this dude was out there playing on one leg," Rodgers said. "He doesn't know what that year meant, and I know it was frustrating for him, but for me, it kind of solidified the kind of person that he was and solidified my trust. Because it just said this dude is willing to put his body on the line for the guys. Even though it wasn't the greatest statistical season, I knew this guy was going to be someone you could count on down the line."
---
---
2016
What became the first of three straight double-digit touchdown seasons for Adams was best represented by a Monday night outing in late November at Philadelphia. He caught just five passes in the season-turning victory, but their variety and flair exemplified dominance.
A perfectly timed, 12-yard slant for a TD on the game's opening drive. A stunning, sliding 20-yard TD catch in the back of the end zone, on a ball that floated so deftly past the defender's ear Adams couldn't see it until just before it hit his hands. A 50-yard, contested, over-the-shoulder grab deep downfield. A short pass turned 23-yard catch-and-run that left multiple tacklers flailing.
"That was one of my better games, maybe in my career, as far as overall film," Adams said. "I've caught a lot more balls than that game, but I put a lot of things together, and even if I didn't get the ball, he could see I was in the zone. I was in a spot where I was real confident in my game, doing everything I could."
Rodgers did see, and he's never forgotten. Mention 2016 and Adams and the first words out of Rodgers' mouth are, "Philly, Week 12."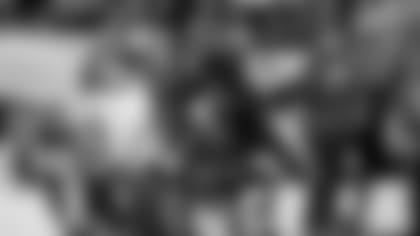 "I text him he's open all the time," Rodgers said. "The media (asks), 'What gives you confidence in 'Tae?' The film. Every time I put on the film, I might be looking left and he's on the right, but he's routing his guy up and he's open. He realized at some point it was going to be his time, and he ran every route to win.
"There's nobody better at the line of scrimmage in the NFL, and he makes plays down the field over the top on guys, which scares the hell out of them, which is why he's able to use his release patterns and create a tremendous amount of separation."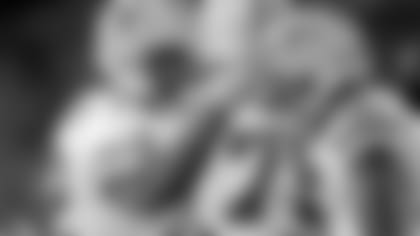 The tour-de-force performance coming when the Packers absolutely needed it, to kick off "run the table" all the way to the NFC title game, also augmented the synergy between the two.
"That was gotta-have-it time," Adams said. "It's a look in his eyes where he's walking around the locker room and it's almost scary a little bit. When you see that, it's contagious, especially for me."
"Run the table" culminated with the walk-off win at Dallas in the divisional round, renowned for Rodgers' last-minute sideline dart on third-and-20 to tight end Jared Cook, setting up the winning field goal. But just as seared in Rodgers' memory is Adams' role on the play.
One series earlier, Adams took a shot to the thigh on a 16-yard slant over the middle. It was the last catch he'd make that day, but not the last impact. Rodgers credits him, in part, for providing the lane he needed to make one of the most remarkable throws of his career.
"On the back side of that route, the 'X' (receiver) was 'Tae on one leg," Rodgers said. "He had to run a clear-out, and if he'd been jogging or taking his time, his guy could have fallen off (to defend Cook instead). To me it says more about his character than any touchdown he's scored in his career. He does the little things.
"The splash plays come out and those are pretty obvious, but the plays that maybe nobody sees or highlights are plays I lock in and I remember."
---
---
2017
Five weeks in, the Packers were back in Dallas, trailing by three and needing to go 75 yards in 73 seconds or less. The drive started and ended with back-shoulder throws to Adams, the 12-yard TD coming one play after a similar missed connection prompted Adams to come back to the huddle telling Rodgers to throw his way again.
"I was sensing he could feel it in me, or see the look on my face that I was ready for it," Adams said. "I wasn't really giving him any other options as far as the confidence I was (showing). If anybody was supposed to make that play, it was going to be me."
Rodgers added that while Adams' words asked for another try, his eyes also called out the QB to make a better throw this time. Rodgers knew that's all it would take.
"The greatest connections I've had, the non-verbal understanding of where the ball needs to be and where it's going to be, I've had it with Jordy, had it with J.J. (James Jones), had it with Randall, and now I've got it with this guy," Rodgers said. "He feels what I'm thinking. He's just an extension of my thoughts on the field, based on the communications we've had over the years – the conversations on the sideline, in the locker room, on the field in practice.
"The greatest ability besides confidence and raw talent is recall. For me that's most important is being able to recall things I've said so I don't have to say them again, so you get in that moment and you feel that instinct based on a previous conversation, and that's the point we've gotten to."
Unfortunately, Rodgers' broken collarbone the following week halted what was building that year. Adams went on to record 46 catches for 543 yards and five TDs in just nine games with backup QB Brett Hundley – not what he likely would have produced with Rodgers, but stats that confirmed his top-dog status.
"He's proved like many of the greats have, it doesn't quite matter who's pulling the trigger when you have the ability and talent," Rodgers said. "You could say it probably helps when I'm out there, but he proved he can do it without an elite quarterback on the field. It's a tribute to his ability, his awareness and his instincts."
---
---
2018 and beyond …
Last year was the true statistical breakout for Adams, with 111 receptions for 1,386 yards and 13 TDs, career highs across the board. But anyone who didn't see it coming wasn't paying attention.
Rodgers termed it "cementing the foundation" of their on-field relationship. Along with the game-tying score late in the fourth quarter against San Francisco and the game-winner in overtime at the New York Jets, the aforementioned TD vs. Minnesota's Rhodes joined, to use Adams' words, the "collection" of evidence the two are forever on "one page."
Adams came up one catch and 133 yards shy of the franchise single-season records held by Sterling Sharpe and Nelson, respectively, but the upcoming season under new Head Coach Matt LaFleur won't be geared toward making up for those close calls. Not explicitly, anyway.
"Those things happen naturally," Rodgers said. "He's like me. We're about winning. If we're winning, he's getting the ball. We're not going to go out and go 13-3 unless this dude's balling out.
"The ball needs to find '17' early and often. Teams are going to try to take him away, and we have to be patient … but the ball has to go to '17' for us to be successful, because he's that dynamic and that important to our winning. He knows it, I know it, Matt knows it, and the team we're playing knows it, too."
Rodgers referenced their chemistry someday reaching what he had with Nelson, when over a full decade together the QB felt he "could throw it blind out there." Adams, five years in, firmly believes that's within reach as his career continues to blossom.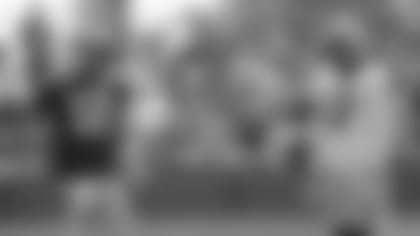 "100 percent. This thing will only get more dangerous," Adams said. "There's always going to be another level no matter what we do, because it's never going to be perfect. It's always going to continue to grow.
"When I got here, I was like 'Oh (shoot), I'm playing with Aaron Rodgers.' But now I'm playing with one of my best friends. That's the way I look at it."
The respect and admiration are clearly mutual, and by carrying himself with confidence and class, Adams has earned them every step of the way.
"He's a good teammate, and there's a lot to that," Rodgers said. "He's a leader in his room, he's a great communicator, and he practices the right way. He shows the young guys how to do it, and then he sets the bar so damn high.
"As a quarterback, that's a dream. We've had a couple guys like that, who embodied that, but with all due respect to everyone who's ever played here with me, we've never had a guy who did all those things and was as talented as '17.'"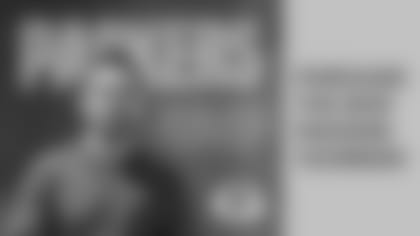 Top marks in Packers history, first 5 seasons
Sterling Sharpe, 1988-92 (80 games) – 389
Davante Adams, 2014-18 (74 games) – 348
Greg Jennings, 2006-10 (75 games) – 322
Randall Cobb, 2011-15 (68 games) – 306
Antonio Freeman, 1995-99 (70 games) – 42
Greg Jennings, 2006-10 (75 games) – 40
Davante Adams, 2014-18 (74 games) – 39
Three players – 36