GREEN BAY – Jon Daniel Runyan Jr. could've been anything he wanted in this world and his father wouldn't have second-guessed him.
There was no checked box on the birth certificate saying he had to play football like Jon Sr., the former Pro Bowl right tackle for the Philadelphia Eagles who played in more than 200 games over 14 NFL seasons.
But Jon Jr. was drawn to the game in way that's still difficult to describe to this day. A self-professed "super fan" from the beginning, he knew every player on the Eagles' roster as a kid – Brian Dawkins, David Akers, Brian Westbrook, Terrell Owens and of course Donovan McNabb.
The locker room was sacred and any chance he had to enter within those walls was welcomed. After home games, Jon Jr. can still remember throwing balls of players' discarded sweaty tape around with Brian Dawkins Jr.
His dad's locker was in the corner with the other offensive linemen. The space was filled with tough and gritty marauders, but Jon Jr. remembers how guys like Tra Thomas made a point to say hello and ask him how he was doing every time he saw the younger Runyan.
"Those are memories I'll always look back on and cherish because that really fed into my love of the game of football," Jon Jr. said. "Just being around that locker room and seeing everything that was happening."
This is where Jon Jr. wanted to be, playing at the game's highest level, and those memories were fresh in his mind when the Packers selected the younger Runyan in the sixth round of last month's NFL Draft, which came nearly 24 years to the day after his father was drafted into the league himself.
Growing up as a Runyan wasn't always easy. His parents, Jon and Loretta, were caring and loving, but whenever people looked at Jon Jr. they expected to see his father, one of the most beloved Eagles of his era whose toughness and conquer-or-be-conquered approach to the game made him as popular with his teammates as he was despised by NFC East foes.
And he was despised, with Jon Sr.'s playstyle drawing the ire of longtime Giants nemesis Michael Strahan, to the point their wives made the two come together to talk during Jon Sr.'s Pro Bowl appearance in 2002.
"You have to build your own legacy. I am who I am but with your abilities and your talents, you have an opportunity to surpass me." Jon Runyan Sr.
Whatever reputation Jon Sr. had on the field, though, was the polar opposite at home. He was quiet, thoughtful and sincere, and those were the traits that rubbed off on his son and two daughters.
Jon Sr. never pushed his children into sports – well, besides signing them up for basketball when they were little. From there, both he and Loretta encouraged them to follow their own paths.
"I've never seen Jon put pressure on Jon Daniel ever. Ever," said Gabe Infante, Jon Jr.'s former head coach at St. Joseph's Preparatory School in North Philadelphia.
"If anything, I've seen him try to alleviate some of that because I think Jon has always been very aware of what it might mean to be his son. And I think he's tried to protect Jon Daniel from that, to some extent. As Jon Daniel has grown, he's welcomed it."
Infante saw his fair share of kids come through St. Joe's program who were the sons of NFL players and coaches. While the Runyans were "model" parents, Infante also knew the burden that still came with being the son of that guy in this city.
The village, as Infante calls it, is what helped Jon Jr. rise above all of it – a supportive home, a group of dedicated coaches and mentors, and his own indomitable work ethic.
"He just made the best of it," Runyan Sr. said. "I told him, 'You have to build your own legacy. I am who I am but with your abilities and your talents, you have an opportunity to surpass me.'"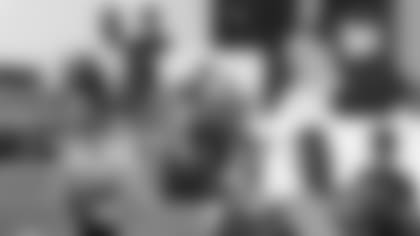 ---
---
No distractions
The conversation happened spontaneously. It wasn't like Infante purposely sat down Jon Jr. in his office to deliver some throwaway, cliché-ridden rallying cry to get his teenage left tackle to run through the nearest wall for him.
This wasn't about football. It was a human moment between coach and player during a break from the everyday football grind early in Jon Jr.'s time at St. Joe's Prep.
Infante, who took St. Joe's from a four-win team his first year to a state champion by the end of Jon Jr.'s high school career, constantly looked to identify and alleviate potential distractions with his players and Jon Jr.'s were quite obvious given his unique football credentials.
"Those comparisons to your father are unfair because you are not your father," Infante told him. "You're your own person so try to be the best that you can be so you don't have to worry about that noise people are making. They're only trying to distract you."
That's the standard Infante created in his program – he wasn't going to judge Jon Jr.'s development based on Jon Sr.'s reputation. Jon Jr. would set his own bar and the coaches would alter those expectations based on that progress alone.
"I'm going to judge him based on the standards we've set here in this program, not on the career of a 15-year NFL veteran." Gabe Infante, Former St. Joseph's Prep football coach
The shadow was there from the beginning but it wasn't his father's doing. An August baby, Jon Jr. was both the youngest – and biggest – kid in his second-grade class. So if he wanted to play tackle football, weight restrictions would require Jon Jr. to play up a few grades in elementary school.
The Runyans thought better of that and placed their son in flag football and basketball until middle school came around. They wanted to stoke his interest in sports, not quash it.
"The kid loved the game," Jon Sr. said. "So I don't want to put him in that situation where he's going to go out there and get hit the wrong way and discourage him."
Jon Jr. wasn't as big as his dad, who eventually grew to be 6-foot-7, 320 pounds in his prime, but he was noticeably more agile and nimble, and it translated to how he played tight end, quarterback, defensive end and safety in youth football.
Jon Sr. figured tight end would be his son's landing spot but Infante had other plans for Jon Jr. after his freshman year at St. Joe's. Based on the structure of the offense, Infante wanted Jon Jr. to play offensive line and help block in an offense that contained two future NFL players: D'Andre Swift and Olamide Zaccheaus.
A great pedigree doesn't ensure instant success and Jon Jr. had to work at learning the position his father had mastered. Rivals tried to use his lineage to egg him on via social media, while Infante constantly was pelted with the same question over and over: "How's Jon Jr. doing?"
"And I'd be like, 'Jon Daniel is 15,'" Infante said. "'He's gawky. He doesn't take a good left step. He's gotta get faster.' And people would just look at me like I was cross-eyed.
"But it's like, he's a kid. I'm going to judge him based on the standards we've set here in this program, not on the career of a 15-year NFL veteran."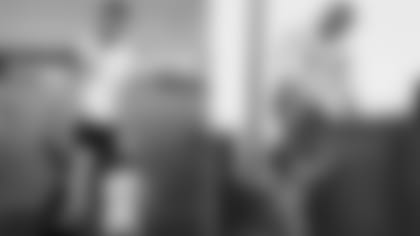 Over time, Jon Jr. not only grew into his place on the O-line but also became a legit weapon at left tackle on back-to-back state championship teams at St. Joe's. He was the linchpin for the offense with his ability to collapse fronts with his footwork and power or crack open the edge with his agility.
His dedication to football and schooling knew no bounds. Jon Jr. got himself to the bus stop each morning for the 13-mile trek into the city. He went to school and practice and then dove back into the books with a tutor once he got home.
This was his routine five days a week every fall.
"He did that stuff every single day and it never fazed him. He never complained," Jon Sr. said. "I paid for (St. Joe's) but frankly the kind of kid I got out of there and then the friends he has … we probably stole from that school from what we got out of it."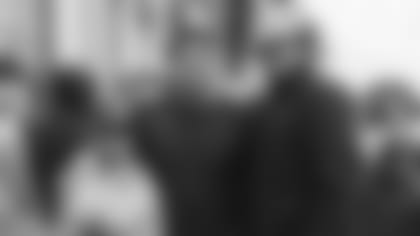 ---
---
Michigan men
Jon Sr. jumped on board as a volunteer coach at St. Joe's, charting line fronts and stunts during games, but he was hands-off regarding his son's personal development other than showing him how to watch film and study opponents.
By this time, Jon Sr. also had his hands full as a New Jersey member of the U.S. House of Representatives. Despite the hectic schedule, he missed only one game of his son's high school career – due to a government shutdown, which forced him to listen to the high school's radio broadcast from his office on Capitol Hill.
On most Fridays, Congress would be out of session by 3 p.m. ET, giving Jon Sr. just enough time to get back to the Philly area for the games.
"We're fortunate enough, I could jump on Amtrak and go from D.C. to Philly and it's less than a two-hour ride," Jon Sr. said. "There would be times I'd go straight to the field, but I got it done."
Jon Jr. had all the makings of a major D-I prospect but his recruiting process was relatively simple. Preferably, he wanted to go to Michigan, where his father played, but anywhere was fine with the Runyans as long as it wasn't Ohio State.
And that was no joke. One year, after St. Joe's football team helped out at an Ohio State football camp, all of the players were granted a photo opportunity with Urban Meyer. Jon Jr. respectively shook the hand of the Buckeyes coach and took the photo, while dressed head to toe in Michigan maize and blue.
"I don't think we ever talked about anything but Michigan," Infante said. "I don't think there was even another school we contemplated."
The Runyans traveled to Ann Arbor for a football camp after Jon Jr.'s sophomore year of high school. Coincidentally, Jon Jr. was introduced on that trip to graduate assistant Adam Stenavich, who is now his position coach with the Packers.
The trip was a homecoming for Jon Sr., whose NFL career contributed to him going 16 years without attending a game at the Big House. Even when he did return, it was a political fundraising event – not leisure – that brought him home.
"If or when I have a son, I hope he looks at me the way Jon Daniel looks at his dad. It's a dynamic of father-son, best-friend, brothers, and I think it's a really neat relationship to watch." Gabe Infante
Brady Hoke, the Wolverines head coach at the time, was an assistant at Michigan during Jon Sr.'s time there and the two struck up a conversation while the various positions split into different groups and played air football during a break from camp.
As Hoke and Jon Sr. watched the linemen together, Jon Jr. snagged a touchdown in the back of the end zone. Two plays later, he picked off a pass and ran it back 30 yards.
"Brady looks at me and he goes, 'Why you got that kid playing offensive line?' I literally turned to Brady Hoke and dropped an F-bomb," Jon Sr. said. "I go, 'You guys told me that same crap when you were recruiting me to come here and had me playing tight end when I got here.'"
Before Michigan's camp was over, Jon Sr. needed to fly back to Washington, D.C., for a vote. Prior to leaving, he joked to Hoke about making it "a permanent arrangement" for the Runyans coming back to Ann Arbor for the next six or seven years.
Not long after, Jon Sr. was taking a shower in his room at the Detroit Westin Airport when his phone rang with a call from an Ann Arbor number.
"I go, 'He either blew his knee out or they're about to offer him a scholarship,'" Jon Sr. said. "I ended up calling back after I got my clothes on and was walking over to the airport. Brady was like, 'We're going to offer him.'"
A week later, with two years of high school remaining, Jon Jr. accepted the scholarship offer to play at his dad's alma mater. One of three offensive linemen in Michigan's incoming 2016 class, Jon Jr. waited his turn for three years before getting his big break as a redshirt junior in 2018.
Jon Jr. started his final two seasons and was honored both years with the Hugh H. Rader Memorial Award, given for being the team's top offensive lineman. His dad previously won the same award in 1994, making the Runyans the first father-son duo in program history to win it.
"If or when I have a son, I hope he looks at me the way Jon Daniel looks at his dad," said Infante, now a running backs coach at Temple. "It's a dynamic of father-son, best-friend, brothers, and I think it's a really neat relationship to watch.
"At the end of the day, I don't think anybody puts more pressure on him than he puts on himself. I think a lot of that has to do with the love that he has for his father."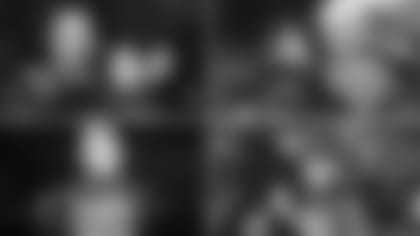 ---
---
Making his own name
Jon Sr. was wearing out a patch of grass in the backyard when the call finally came from Green Bay on the third day of the NFL Draft.
Inside, Jon Jr. and the rest of the family celebrated his accomplishment. While Jon Sr.'s congratulations quickly followed, he reminded his son the work has only just begun.
"I told him, 'I'm very proud of you but all that work you've put in, you gotta double-down on it now," Jon Sr. said. "It isn't the end of it. Because in all reality, for any rookie to get on – unless you're a top-10 pick – you literally gotta make the team twice before you're going to make a really big impact."
Moments later, Jon Jr. was placed on a conference call with Green Bay reporters. Like clockwork, the question is asked of the 6-foot-4, 307-pound offensive lineman what it was like to follow in your dad's footsteps.
"He was one of the biggest resources and probably the most influential person so far in my career. I really don't know if I would've made it this far if it weren't for him." Jon Runyan Jr.
What many don't realize is Jon Jr. cleared that hurdle years ago – from playing high school football in Philadelphia to earning his own opportunities at Michigan. Every step along that journey has prepared him for this moment.
"It was really nice I didn't have that overbearing shadow that I could sense over me, looking over my shoulder all the time," Jon Jr. said. "He let me take it at my own pace. He was always there for constructive criticism. He was one of the biggest resources and probably the most influential person so far in my career. I really don't know if I would've made it this far if it weren't for him."
In some ways, the draft process allowed Jon Sr. to jump back into his own NFL time machine. Strahan, once his biggest on-field nemesis, was one of the first to reach out with an email of congratulations on Jon Jr.'s selection.
As the NFL's Vice President of Policy and Rules administration, Jon Sr. spends his Sundays in the fall hunkered down in the league offices in New York. This fall, he hopes to watch his son begin his own NFL journey.
Jon Jr. has only had one question so far for his dad about life in the NFL – how to fill out his W-4 form – but he knows Jon Sr. and his mom will always be there whenever adversity hits.
Jon Jr. no longer is the kid hanging out around the locker room. Soon, he'll have his own at Lambeau Field. But he knows better than anyone – the name on the back of the jersey doesn't compare to the man under the helmet.
"I feel like even though we do share the same name, I've kind of been able to separate our names from each other," Jon Jr. said. "And people will start trying to look at us as two different people and start to look at me as being Jon Runyan. The only way I can do that is putting a great product out on the field and people taking notice."