Kevin and Nancy Boyle took their seats last Thursday at M&T Bank Stadium alongside two dozen of their closest family and friends, traveling from all parts of the East Coast, to watch their son play against the Baltimore Ravens.
A family tree spanning New Jersey, Pennsylvania, Massachusetts, Connecticut, and Washington, D.C., united in a cascade of Packers apparel and green No. 8 jerseys, with the exception of one, Jeff Nye, who skillfully shaved his chest hair into the numeral design instead.
All in support of Tim Boyle – their son, their brother, their nephew, their cousin and friend who also happens to be the backup quarterback of the Packers.
"They've always been there no matter what, good, bad or ugly," Boyle said. "My family is everything. They really are the best."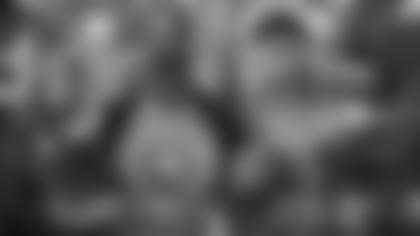 This is more than just parents, aunts and uncles packing a few bags to watch Tim play football, though. It's the embodiment of a lifelong goal Boyle has had to one day play in the NFL – regardless of the circumstances.
Football has been a rollercoaster that's seen Boyle persevere through one of the rockiest careers a college quarterback could endure and somehow come out on the other side of it with his love of the game intact.
Kevin and Nancy have been there for all of it. They cheered their son to three consecutive state championships at Xavier (Conn.) High School from 2010-12 and propped him up after Tim was benched weeks after becoming the first true freshman to start at quarterback for the Huskies in a decade.
In three years at UConn, Tim had three different head coaches and four offensive coordinators. His numbers reflected the turmoil. Kevin and Nancy were there for every game, every quarterback hit and every moment of adversity.
"It was very painful at times for my wife and me," said Kevin Boyle this week. "It was painful to watch the losses, the missed opportunities, the lows of the game and how he had to continue to fight through it. At times, we were his inspiration, and at other times, he was ours."
That's what makes this time special for the Boyles, who made a commitment even before Tim went to college that they were going to attend every game possible – win, lose or draw.
The preseason can be monotonous for veterans, with most already fixated on the regular season. For Tim, these games are critical – to make the Packers' roster once again and to help rewrite his football legacy.
"If you told me as a sophomore at UConn, who is third-string, then backup and then starting, that five years later I'd be sitting next to Aaron Rodgers, I would have told you to get lost," Boyle said. "It's definitely rewarding."
"My family is everything."
---
---
'There will be an uptick'
Football is a game of adversity. It's one of the first things every kid learns the first time he puts on pads. Yet, there was no way to possibly prepare for the situation Boyle was stepping into.
UConn was humbling for Boyle, who began playing football when he was six. Already an established passer by high school, Tim drove with Kevin to camps all across the East Coast – from Syracuse to Temple, Boston College to Florida.
Tim opted to stay in-state after a coaching change at Boston College allowed him to re-open his recruitment. To this day, Boyle remains accountable for what his UConn stat sheet reads: 133-of-275 for 1,237 yards, one touchdown and 13 interceptions in 19 appearances with the Huskies.
Not once, however, does Boyle offer an excuse. Neither does he bring up how he was thrown to the American Athletic Conference wolves as a true freshman in 2013, when the original plan called for him to redshirt that year.
Instead, Boyle smiles while recounting how two of his first four starts came opposite Blake Bortles and UCF, and Teddy Bridgewater-led Louisville in back-to-back weeks. UConn lost those games by a combined score of 93-27, which came near the end of the team's nine-game losing streak.
"We had to try to find the positives, keep him motivated," Kevin said. "Tell him, 'Things will get better. There will be an uptick, Tim. You'll get an opportunity. The rollercoaster can't be on the bottom. It'll go back up again.' We kept saying stuff like that to motivate him. I was always there to give him a hug at the end of the game."
Boyle, to his credit, tried to make it work despite being in and out of the lineup over the next two years. He contemplated transferring after his sophomore season but stuck it out.
His dedication created one highlight-reel moment in 2015, when Boyle entered a game in the first quarter against then-undefeated Houston and led the Huskies to a 20-17 victory. The upset made UConn bowl-eligible for the first time in five years.
It was a brief reprieve. By the St. Petersburg Bowl, Boyle was again on the bench. Once the season ended, he spoke with his parents and finally decided to transfer to Eastern Kentucky.
"They probably had their opinions on (UConn), but they were consistent," said Boyle of his parents. "Their love for me shined through that. That's what, as parents, should happen naturally, but when I tell you there were some negatives where it was me just not in a good place, they were there to pick me up no matter what."
Anointed the starting quarterback after sitting out the 2016 season due to transfer rules, Boyle had a good enough year at EKU to get NFL scouts buzzing. A solid pro day put him on the radar of the Packers, who made the 6-foot-4, 232-pound quarterback one of their 30 official team visits.
Boyle went undrafted but signed with Green Bay to compete for a spot behind the two-time MVP Rodgers. Boyle's family was floored. He was on the doorstep of his dream.
"When I first got here, I'm playing with Aaron Rodgers. That's a little intimidating at first," Boyle said. "But then you realize he's a regular guy. He puts his pants on the same way I do every morning. He comes in, I sit right next to him and say good morning every morning."
"The rollercoaster can't be on the bottom. It'll go back up again."
---
---
Rebuilding confidence
Boyle's size, arm strength and willingness to stand tall in the pocket immediately stood out to the coaches and scouts during his first summer in Green Bay.
Boyle stuck and earned a spot on the Packers' 53-man roster for the entire season. As the third-string QB, Boyle's responsibilities ranged from running the scout offense to assisting Rodgers and DeShone Kizer in their weekly preparation.
Learning from Rodgers has been something Boyle credits most for his development. Since he walked in the door, Boyle has taken notes on how Rodgers attacks meetings, followed his every move in practice and even listened in on the starting quarterback's weekly media scrums.
"When you're around a dude who throws like Aaron, I'll feel myself in the pocket, and Aaron does some funky stuff with his arm angles, and I feel myself doing that," Boyle said. "I obviously have my own style and my own rhythm but being around him has really improved my game both physically and mentally.
"From last year to this year, I feel more comfortable. I feel like I belong. My confidence is on the rise."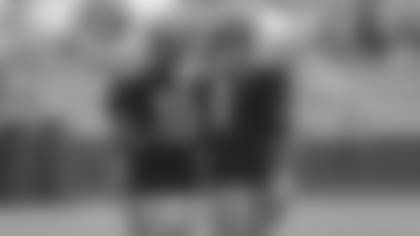 As time passed, Boyle's dry humor and personality started to surface, especially after Green Bay's opener against Chicago last September. It was in that game Rodgers returned from a knee injury to lead an historic come-from-behind victory over the Bears, 24-23, to open the Packers' 100th season.
The next day in the meeting room, Boyle donned an authentic No. 12 jersey, which brought a smile to Rodgers' face. Later in the year, when the quarterbacks wanted to spruce up their position room for the holidays, Boyle went all-out with a Christmas tree, decorations and music.
"Tim really opened up I think throughout the year last year and I saw him kind of grow up a little bit and be more comfortable kind of being himself and speaking up and having questions and asking them in the room," Rodgers said.
"If you watched practice, the confidence was growing and he was making a ton of plays on the scout team throughout the season and especially toward the end of the year."
With his first NFL season behind him, Boyle surprised Kevin and Nancy with a trip to Hawaii last June, a small token of appreciation for driving him around to youth football and 7-on-7 camps. He went so far as to call both of their bosses to clear their calendars for a week.
About a month out from the trip, Boyle found the perfect way to spring the news on his parents.
"He said something along the lines of 'You guys have plans to go to Hawaii, don't you?'" Kevin recalled. "I was like, 'Yeah, I think we were thinking about going in a year or two, and Tim says, 'No, you're going now.' I'm like, 'What do you mean?' He says, 'Surprise,' and he gives us the tickets."
---
---
A new chapter
The last thing Boyle wants to hear is that he's made it. He hasn't made it. He'll be the first to point out Tim Boyle has no official stats on his NFL.com player page.
He hopes to someday change that, though.
While it's never been Boyle's focus to avenge a disappointing college career, he feels his path to the pros is proof of his family's motto: "If you do the right things, something good is going to happen."
Boyle uses his hand to illustrate where his journey– from sky high in high school to bottoming out in college and now feeling like he's back on that uptick his parents frequently discussed.
Boyle not only is trying to maintain his hold on a roster spot this summer, but he's also in a down-to-the-wire competition with Kizer for the privilege of backing up Rodgers. Every training camp has its share of good days and bad days, but what stands out most about Boyle to his receivers is how even-keeled he remains at all times.
"He's very detailed and has a very professional mindset about how he attacks it," receiver Allen Lazard said. "He's confident when he's playing. As a receiver, that's huge knowing your quarterback is confident. You can trust he's going to put you in a position to be successful."
As Boyle walked back to the visiting locker room in Baltimore after warmups last Thursday, he stopped to embrace his parents and the rest of his family. He even managed to find a Sharpie to sign his cousin's No. 8-embroidered stomach.
To this day, Kevin and Nancy live and die with every pass their son throws. In Baltimore, they cheered Tim on as he played the better part of two quarters and led a seven-play, 84-yard touchdown drive that ended with a 7-yard TD pass to Darrius Shepherd in the third quarter.
The UConn chapter could have ended Boyle's football career before it ever truly started. Instead, it's what motivates Tim to make "my last name mean something" in NFL circles.
"You ask UConn fans and say the name, 'Tim Boyle,' it's probably not a positive thought," Tim said. "There's no doubt I was accountable for some of the mistakes I've made, but to bounce back and have the resiliency to make the team last year and put myself in a position to do it this year, it's rewarding. That's fun. This is why I play football."
During one of their recent trips to Green Bay, Kevin and Nancy walked with Tim down the tunnel at Lambeau Field in pregame. A group of fans alternated screams of "Tim!" and "Boyle!"
While Tim signed autographs, one of the on-field volunteers asked Kevin and Nancy if they were Tim's parents. After answering yes, the volunteer said: "Let me tell you about Tim," before going on and on about the man they raised.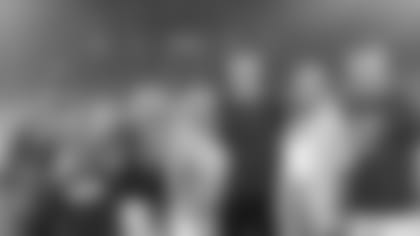 The Boyles plan to be in attendance for next week's preseason finale against the Kansas City Chiefs with another group of family members.
Seeing how far his son has come brings an immediate smile to Kevin's face, and not because his son is an NFL quarterback. His pride comes from how Tim didn't allow adversity to define him as a quarterback or a person.
And regardless of how the final week of training camp unfolds, Kevin and Nancy will again be waiting to greet their son with open and extended arms – like they always have.
"As a dad, you kind of tear up and say, 'Wow, he made it.' He made it to the level he wanted to make it to," Kevin Boyle said. "It's everything he wanted and you had a little hand to play in it as a dad. It's overwhelming with emotions. We're just so proud of him and so happy for him."