Packers fans are invited to attend the free online Packers Virtual Draft Party, presented by Miller Lite, at 7 p.m. on Wednesday, April 26, the evening before the first day of the 2023 NFL Draft.
The party will take place entirely virtually and fans can tune in by visiting packers.com or by following the Packers' official Twitter, Facebook and YouTube accounts.
The event will feature the radio voice of the Packers, Wayne Larrivee, previewing the draft and discussing the upcoming football season. Packers players and 2022 NFL Draft choices Tariq Carpenter, Samori Toure and Devonte Wyatt are scheduled to be in attendance and take part in a question-and-answer session.
Fans can also celebrate the NFL Draft by entering to win Miller Lite Packers Prize Packs through Packers Perks throughout the month of April. Fans can sign up for the Packers Perks program online or through the Packers app.
Packers Virtual Draft Party Survey
We want to hear from you! Take the survey and be entered into the drawing for a chance to win a 2023 Packers Draft Prize Package. Winners will be posted on packers.com/survey.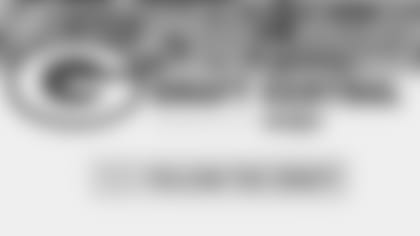 Packers Draft Central | Recap the 2023 NFL Draft
Follow packers.com's coverage of the 2023 NFL Draft