GREEN BAY – On the eve of his 12th NFL season, Randall Cobb jogged out on Ray Nitschke Field Tuesday and took his place at the front of the receiver line.
The Packers' sixth all-time leading pass-catcher knows the unique role he has among a sea of young wideouts following Davante Adams' trade to the Las Vegas Raiders in March.
Standing behind Cobb at organized team activities were a collection of talented, but young receivers, that included rookies Christian Watson, Romeo Doubs and Samori Toure, and 2021 third-round pick Amari Rodgers.
A veteran of 142 NFL regular-season games, Cobb is the last active receiver of the six who were featured with quarterback Aaron Rodgers on the famed 2011 cover of Sports Illustrated, which documented Green Bay's historically prolific offense.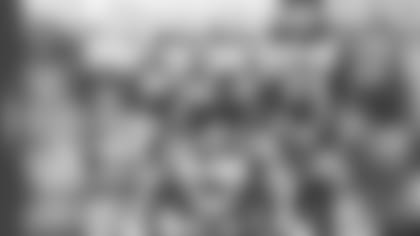 As the first player born in the 1990s drafted into the NFL, Cobb spent his early years studying behind the likes of Greg Jennings, Donald Driver, James Jones and an ascending Jordy Nelson.
Now in the homestretch of a Pro Bowl career that's seen Cobb catch 591 passes for 7,168 yards, the 31-year-old veteran relishes paying it forward to the next generation of wideouts.
"I make sure I come out and continue to push myself and work hard and to make sure that I'm creating the standard," Cobb said. "I think that's the most important thing for myself and why I'm here is to create that standard for (the) young guys who are coming in, so they know what's expected and how we do things."
The veteran cap comfortably fits Cobb, who returned to the Packers last July in a trade with the Houston Texans. The second run in Green Bay not only reunited Cobb with Aaron Rodgers but also Amari Rodgers, whom he's known since he was child.
This spring, Cobb has enjoyed getting to know the incoming rookies better. After the NFL Draft, he reached out to Doubs to offer his congratulations and give the Packers' fourth-round pick his phone number. Doubs called it a "surreal" moment, as he grew up watching Cobb's film.
Cobb also has spent time during OTAs with Watson, the North Dakota State standout who joined the Packers' fabled fraternity of second-round receivers last month when Green Bay traded up to draft him 34th overall.
The 6-foot-5, 208-pound receiver tested off the charts at the NFL Scouting Combine, running a 4.36 time in the 40 with an 11-foot-4 broad jump that led all participants in Indianapolis.
Cobb can see the potential, but also made sure to remind the rookie during their ride down to practice on Tuesday that the NFL "is a process" and "it's not going to happen overnight."
"He has the total package," Cobb said. "Just being around him for the past week and seeing some of the things he can do. He has all the tools. … It's about refining those tools. It takes time."
Watson appreciates every nugget Cobb has passed along, knowing what the veteran has accomplished during his 11 NFL seasons and the lessons that can be gleaned from such longevity.
As the Packers get ready to welcome a slew of new receivers into the offense, Watson and the rest of the rookie class couldn't ask for a better mentor than Cobb to help streamline the process.
"Just looking at our install tape, you'll see a lot of '18' on there," Watson said. "There's definitely a lot to learn from him. Even away from the technicalities of routes, just his knowledge of this playbook, there's a lot of stuff I can pick his brain and learn from him."
Cobb admits "time is dwindling" and he doesn't know how much longer he'll continue playing. Since his trade back to Green Bay, Cobb has spoken to many of his former teammates who have since retired from the NFL and it's given him a greater appreciation for the here-and-now.
Acknowledging that reality has made Cobb savor each day just a little bit more, but there still is business to attend to. Cobb is chasing a Super Bowl ring and a storybook ending to a football career that has been filled with triumph over adversity. 
"I'm so grateful for the time that I've had, and I have now, and I just relish the moment, take it all in because this is going on Year 12 for me," Cobb said. "I'm going to enjoy every moment of it and enjoy the golden years because these are going the glory days that people always look back on."