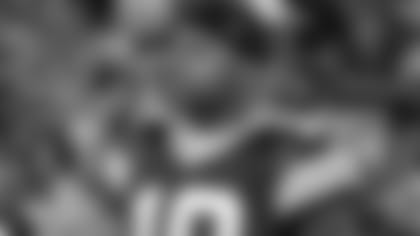 WR Randall Cobb
Vic, I appreciate the long-term historical answers you give in these columns. I'm among the many fans who started following Green Bay and the NFL in the last 25 years, the passing era, and don't know much about what led up to the passing era. Please keep providing such insights for us. We love you for that.
Dustin from Jacksonville, FL
Fifty years ago, the Packers had just finished a one-loss championship season, beating the Giants for their second title in a row. Jim Taylor was the league MVP; you may have heard of him. Only the year before, the Packers equipment manager, Dad Braisher, designed the G that is still worn on the Packers helmets. Fifty years ago, the Packers were cementing their identity, which is still a fundamental part of the team's mystique today, but none of that is important because it doesn't translate into fantasy points today.
Fifty years ago, the Beatles released their first album, Coke introduced its first diet drink (Tab), zip codes were invented, President Kennedy was assassinated and the Pro Football Hall of Fame opened.
Assuming Peyton Manning doesn't win another Super Bowl, who is the better player, Peyton or Eli?
As it stands right now, Peyton is the better quarterback and Eli is the better postseason quarterback. Which would you rather have, the stats or the rings?
Vic, it's going to be a long couple of months until training camp and the preseason; feels like nothing to do now besides speculate. Is there anything I can do to fill the time?
Yeah, learn about the history of professional football.
Vic, I love when you answer a question with a story. I would like to know more about the things that happen behind the scenes in football. The stuff you never hear about. Can you recommend any books that share these types of stories?
Read "The League," by David Harris.
Any memories of Chuck Muncie?
I have long considered Muncie and James Brooks to be two of the most underrated running backs in the game, at least during the years I've covered it. Muncie was a monster. He was a big, elusive, talented back that would've been of Hall of Fame caliber had he played on a team that made him their featured player. Instead, he played on the "Air Coryell" Chargers, which featured the pass. Muncie was a mysterious guy. He's from the area where I grew up, so I knew about his esteemed football-playing family. His brother also played in the NFL, but few people know that because they spelled their last name differently. Nelson Munsey played six years in the league as a defensive back for the Colts. Chuck Muncie could do it all: run with power, break the big one and catch the ball out of the backfield.
Michael from Rapid City, SD
Who began or what began your love for football?
At a very young age, I happened to wander upon a high school football practice in my hometown, and that's the day I fell in love with football. The star of that team was a running back named McKinley Combs, and he was the coolest dude I have ever seen. The hit song back then was Bobby Darin's "Mack the Knife," every high school band played it, and it was as though Darin wrote it with Combs in mind. A few years prior to Cookie Gilchrist's death, Gilchrist told me in an e-mail that Combs was his cousin. I played with McKinley's brother, Tyrone. To this day, when I hear someone describe somebody as a cool dude, I think of McKinley Combs. He's why I fell in love with football.
Douglas from Milwaukee, WI
What is your favorite NFL stadium based on nostalgia and modernism and why?
Before he died, Pete Rozelle predicted that stadiums would drive the game in the next era of the NFL, and Pete was right on the mark. We've gone through an explosion of stadium construction over the last 15-20 years, and all of them are fantastic. When I started covering the game, the NFL was still playing in baseball parks that converted to football. I remember covering games at Metropolitan Stadium in Minnesota and when I look back on those games, it's difficult to imagine that an NFL game would ever be played in something as awful as that stadium was for football. I love the way Lambeau Field has married new and old. I love the view out the open end of Heinz Field. I love the sightlines at "The Linc" and at the one in Baltimore. I love the view from the press box in Nashville. I even love the new domes, because they found a way to make it feel as though you're not in a closet. I love them all. Why not? I began watching football from behind poles.
Cobb says he has yet to peak. How do you feel about that?
He's only two years in the league; of course he hasn't peaked, and neither has Mike McCarthy's scheme for Cobb. He's going to become one of the most featured offensive players in the game. Cobb can have the ball put into his hands in many ways, and the party's just beginning when the ball is put into his hands.
First, I love your column. Someone wrote that a notable running game is necessary, but every run is one less pass for one of the best quarterbacks in the league. The way we should be looking at it is, every failed third-and-one conversion is potentially three fewer passes for one of the best quarterbacks in the game.
Every running play is one fewer time the quarterback will be subjected to the possibility of a sack or being hit. I don't care about attempts, I care about titles. I want my quarterback under center for the most important drive of the season, and I want his career to be as long and as injury-free as possible.
David from Scottsdale, AZ
Who, in your mind, has done the best on-air play by play? I loved Ray Scott in the '60s.
Pat Summerall was very good, and I loved to watch Packers games to hear Ray Scott because I grew up listening to Scott do the play-by-play for Pitt football and Duquesne basketball. The first time I heard Scott do a Packers game, I said to my dad, "Hey, that's the Pitt guy." Scott drew me to Packers games.
Gary from Chippewa Falls, WI
Has a quarterback ever played special teams to make the final roster?
Jim Jensen of the Dolphins. He was the No. 3 quarterback behind Dan Marino and Don Strock. Jensen also played some tight end and running back, and he played on virtually all of the Dolphins' special teams.
How can Cobb even be in the Thompson best-draft-pick-ever conversation when Thompson picked Rodgers?
Don't translate everything so literally. Find the real meaning in what was said. In this case, the best draft pick Ted Thompson ever made is saying Randall Cobb will be remembered as the best draft pick Thompson ever made, which speaks volumes about Aaron Rodgers' opinion of Cobb. He's a star, folks. I covered the Packers' Tailgate Tour stops yesterday and Cobb was the star of the show everywhere the Tour stopped.
Spencer from Littleton, CO
Speaking of two-gappers, in the 2010 NFC title game against the Bears, why was B.J. Raji dropped back so far in coverage that he was able to make that interception? I mean, wouldn't you want a guy like him to always be pressuring the offensive line?
Raji was executing the zone-blitz, which often replaces a rushing lineman with a blitzing defensive back and drops the lineman into coverage. Surprise! Did Dom Capers ever get full credit for calling that play then?
Vic, you've worked with three NFL franchises. Who have been your favorite interviews with each franchise and why?
Joe Greene in Pittsburgh, because he spoke of football philosophically and genuinely enjoyed the conversation. A tie between Tony Boselli and Fred Taylor in Jacksonville; Tony because he had great analytical skills and he would share them with you, and Fred because he spoke the blunt truth, even when he shouldn't have. Aaron Rodgers in Green Bay because what he doesn't say is almost as important as what he says. I've learned to be able to read him. I enjoy his postgame press conferences.
Patrick from Lakewood, IL
The Turk in action? Please explain what this means.
The first time I ever saw the Turk in action was the day Tony Dungy was traded to the 49ers. In those days, reporters roamed the halls of the players' dormitory. Imagine that. Well, we were interviewing Tony about the trade in the hallway outside his room when I heard Bill Nunn, the super scout who was also the Turk, knock on the door of kicker Roy Gerela. Nunn spoke these words: "Roy, Coach Noll wants to see you. Bring your playbook." I was stunned. They really do say that, I thought to myself. Yeah, they do. It's code for you've been cut, and it gives a player a chance to deal with the news and prepare for his conversation with the coach, instead of having the bomb dropped on him then. It's a tough game for tough guys. Nobody gets babied in this game.
Patrick from Watervliet, NY
I think Charles Woodson would be upset with your answer about his future.
I don't agree. I think Charles would be flattered to learn of my opinion of him. I think Charles is a level-headed man who accepted his fate in Green Bay with dignity and aplomb. He knows it's a young man's game. I understand why players want to play as long as possible. They've dedicated their lives to the game and they need to maximize their gain from it, but I hope he isn't thinking he has to do anything more to cement his reputation. He doesn't need to intercept one more pass. He's in the Hall of Fame. First ballot; done.
Why is left tackle the premier position on the offensive line?
It's because right defensive end in a 4-3 and right outside linebacker in a 3-4 are the premier positions on those defenses.
How do the Packers draft one player from Illinois State and pick up two more from ISU? Isn't it odd to get three players from such a small school?
You find football players where you find football players.
I loved your account of the Tailgate Tour. It sounded winsome.
It was winsome, and I enjoyed it. I enjoyed the scene at the Denmark High School football field. I stood there and looked across the plowed fields that seemed to go on forever, and I wondered what it must be like to grow up in a place this idyllic. The Packers are the team of idyllic, and I like that. Frankly, I needed some of this.