GREEN BAY – It was supposed to be the type of play that propels an individual's season in a positive fashion.
Unfortunately, that wasn't the case for Robert Tonyan, but his forward progress has resumed with a strong start to training camp in 2020.
"Now that I'm fully healthy, I'm ready to go," Tonyan said after Wednesday's practice, another solid day of work in an intriguing competition amongst several young tight ends in the Packers' offense. "Never felt better."
It's showing with the consistent plays and reliable hands on display in the early stages of camp. Many thought this is where Tonyan's game was headed last October.
When he made a leaping, tip-toeing, highlight-reel sideline catch for a 23-yard gain at Dallas, it helped set up a first-quarter touchdown and marked Tonyan's second reception of 20-plus yards in the season's first five games.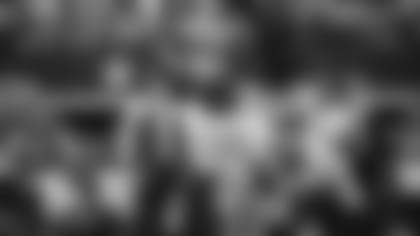 The problem was as his 6-5, 237-pound frame crashed to the AT&T Stadium turf, something didn't feel right. He thought he just landed awkwardly on his tailbone and tried to keep playing, but soon felt his leg "dragging."
Little did he know he had hurt his hip rather significantly, and the injury kept him out the next five games and limited him the rest of the season. He then needed core-muscle surgery in the offseason.
That's all behind him now, and for a player who's gone from high school quarterback to small-college wide receiver (at Indiana State) to undrafted tight end released by his first NFL team (Detroit) to a practice-squadder in Green Bay looking for another chance, he simply chalked the last 10 months up to another obstacle he's had to overcome, no regrets or pity necessary.
"Definitely last year I was down because I've never missed a game in my life," he said. "I've never been injured.
"I've been through so much adversity in my life, just it is what it is. I mean, it's literally 90 percent of how you react to it."
So once he got past the surgery, he kept plowing ahead. During the pandemic-limited offseason, he worked out in Nashville with teammate Oren Burks and San Francisco 49ers tight end George Kittle, the preeminent player at the position in the league right now.
The two have shared an agent since entering the NFL three years ago, and they share a hairstyle now as well. Tonyan in no way compares himself to the All-Pro Kittle, but he takes competing with him in workouts seriously and makes the most of it.
He has the same approach to the mentorship of Packers veteran tight end Marcedes Lewis, who Tonyan said has been a valuable source of encouragement on and off the field. He appreciates how a polished pro like Lewis provides an example of how to both execute on the field and carry oneself as a teammate in the locker room.
"He just wants me to be the best me … being the big brother that he is," Tonyan said.
Lewis has several young tight ends under his wing, with second-year pro Jace Sternberger, rookie third-round pick Josiah Deguara, and undrafted prospect Evan Baylis all competing for snaps in Head Coach Matt LaFleur's offense.
LaFleur likes the flexibility and multiple personnel groupings a stable of tight ends allows, but outside of Lewis' 15 years in the league, the other four have combined for just 42 games of NFL experience (including playoffs).
Both Tonyan and Sternberger missed large chunks of the season last year, and Tonyan appeared headed for a larger role with Sternberger out for the first half of 2019, until the spectacular catch and subsequent injury.
"I think he was making his way," LaFleur said. "Anytime you get a young player that hasn't had a ton of experience and you take him out for a while, yeah, it totally sets you back. To his credit he showed a lot of toughness in being able to come back."
Tonyan caught his second touchdown pass in early December last year – his first was his first NFL reception on an Aaron Rodgers scramble-bomb at Seattle in 2018 – but his overall production post-injury fell off the pace. He had four catches for 66 yards through five games last year and just six grabs for 34 yards in eight games after that, through the postseason.
Opportunity abounds for the Packers' tight ends with the team having moved on from Jimmy Graham, and Tonyan believes he can answer the call. He senses others, like Lewis and LaFleur, believe in him, too.
"We're just really excited to have him healthy," LaFleur said. "I can tell he's really worked hard this offseason. He was down in Nashville and busting his butt on a daily basis, and I think it's going to pay off for him."
Snapshots from the Green Bay Packers' training-camp practice on Aug. 19, 2020, at Ray Nitschke Field.