Vic, Michael from Elizabethtown, KY, asked you a question about the recent investigation involving Colin Kaepernick. He said you can't have dumb athletes playing QB in the NFL. He may be right, but I just read an article on ESPN about Kaepernick scoring a 37 on his Wonderlic test, which is apparently pretty high.
I didn't like the things Michael insinuated. I sensed a conviction. It reminded me of one of the best investigative reporting stories I ever read. It was done by a reporter sent to Milledgeville, Ga., to investigate why the district attorney didn't charge Ben Roethlisberger in the alleged sexual assault case. This was long after it had been decided no charges would be filed and America had decided Roethlisberger had bought the woman's silence. What the investigator revealed was that the DA didn't press charges because DNA tests provided no link to Roethlisberger. The reporter explained that not a nanogram of Roethlisberger's DNA was found on the woman. The reporter then went on to explain that a raisin weighs about one gram, and if that raisin represents Roethlisberger's DNA and it was cut into a billion pieces, they didn't find one of those pieces on the woman. The DA, of course, never revealed that information. Why are we so quick to convict?
Anthony from Saint Francis, WI
Vic, I love football. I love watching it, reading about it, analyzing it, looking at salary caps, statistics, drafts; everything about it, I love. The only thing I don't love is every day I look up football news and read that somebody got arrested, and I feel as if it's getting worse. Do you see this being an area that the NFL plans on focusing its attention? This culture needs to change as much as the safety culture is changing.
This game is loaded with good men. Loaded with them! But it's always had an element that will be linked to nefarious behavior and that won't change because football is part of the fabric of our culture and our culture will always have an element that will be linked to nefarious behavior. I don't seek goodness in football. I seek hard-edged competitiveness and I understand that hard-edged people often live on the edge. I covered a cornerback, Deon Figures, who was from Compton, Calif., and who lost six family members and friends to violence in a one-year period. Imagine growing up in that environment, but it was Deon who took Tim McKyer home and sat up with him all night when there was concern for McKyer's safety. I covered a wide receiver who slept in a box in the street. His mother stole his money to buy drugs, but that player might be the kindest, most polite player I've ever covered. I remember a player who was cut from training camp but didn't leave. He found ways to avoid detection and continued to live there and eat in the cafeteria. When he was finally found out and asked why he hadn't left, he said he had nowhere to go. A lot of the guys for whom you cheer on Sunday come from backgrounds you can't imagine. To expect them to be just like us is ridiculous.
Football used to be done in January and then you didn't hear about it until a quick blip in your local newspaper on who they drafted and then again in July when your local paper started covering training camp. So, regardless of your view (positive or negative) of Mel Kiper, he basically can be credited with turning the NFL into a year-round sport.
That's right. What Kiper says is of no consequence. That we're watching and listening is what's important.
Vic, I remember before the 2013 season you were not a believer in Russell Wilson because of his limited size. Then you got lucky and were on vacation the week after the Super Bowl so you didn't have to eat crow in this column. How has your opinion of him changed, if at all?
It hasn't changed. He's a winner. He's proven that to be true at every one of his stops. I still believe he is limited physically, and when the day comes that he's a $12 million cap hit instead of a $681,000 cap hit, the Seahawks will not be able to support him with the defense they've put around him, and he'll have to carry a larger load. Can he? The Seahawks were No. 26 in passing last year, but they were No. 1 in total defense and pass defense.
Vic, thanks for a great column. Twenty-three years reporting on Pittsburgh and 16 on Jacksonville and now on the Packers. Why the move from one team to the other?
Fans have a great advantage: They can pick their team. The rest of us don't have that advantage. You go where your job is and you learn to love every stop. I think it's made me a better person and it's allowed me to enjoy the game more fully.
Jim from Fairview Heights, IL
It's pick 21 and the draft gods are smiling. C.J. Mosley and Clinton-Dix are both available. Which one would you choose?
Vic, all this talk about size and players who play beyond their size being prone to injury: Would Jack Lambert be big enough to play linebacker in today's NFL? As it was, he played hard and had a long career.
Lambert played in the two-gap era. Every team played two-gap technique, even 4-3 defenses. Joe Greene's and Ernie Holmes' job was to keep the blockers off Lambert and let him run to the ball. The middle linebacker was the star of the defense in those days. Those days are gone. In today's gap-control era, 4-3 defenses are all about penetrate-and-disrupt with the tackles. The 3-4 defenses still two-gap, but there aren't enough linemen to keep the blockers off the linebackers, so the inside guys have to be able to take on guards and shed them. At 6-4, 220, and based on how awful Lambert was in Oklahoma drills against Mike Webster, I doubt Lambert would play middle linebacker in today's 4-3 scheme, but I think he'd be perfectly suited for strong side linebacker. He was outstanding in coverage and I think he'd set an edge like nobody could; he was a defensive end in college. Great players are great players in any era, and Lambert was a great player.
Dan from Chippewa Falls, WI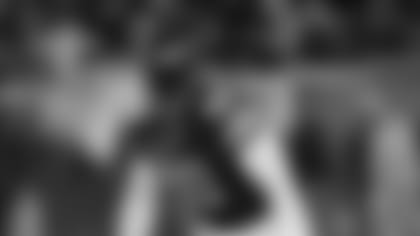 Julius Peppers
I think we just found out how Peppers is going to be used with the release of his jersey number. Does the Mike Neal project ring a bell? Capers got a new toy to play with when Peppers signed.
Mike McCarthy made it abundantly clear a couple of weeks ago at the NFL Annual Meeting that Julius Peppers would be used as a linebacker at the "Elephant" position. He's also going to be used with his hand on the ground. He'll be up, he'll be down and I suspect there will be times when his hand is down that he'll drop into coverage in Coach Capers' zone-blitz scheme. That's where I think Peppers is going to be especially effective.
Nick from Ottawa, Ontario
Vic, I am curious what you think about Austin Seferian-Jenkins. At 6-5, 262, he could be a great addition to the offense. I wouldn't mind seeing the Packers target him in the second or third round, rather than trading picks to move up for Ebron in the first.
Seferian-Jenkins is a real wild card in this draft. No one's quite sure where he fits because he comes with a lot of issues. Tony Pauline told me this morning, "Second round. Great physical beast but was called out by his coach for crappy practice habits, has a prior DUI and has not run prior to the draft due to a stress fracture in his foot." So, Nick, do you feel lucky? Would you stake your career to those circumstances? It's not as much fun when you have to put your name on it.
Vic, what is the most scared you have been watching a game?
My only fear is for getting the story done fast and right. I guess I had fear in Seattle. I had the top of the story written and I was ready to hit the send button when you know what happened. Then I had to rewrite the whole top of the story and still get downstairs quickly enough to not miss the Mike McCarthy interview, but making matters worse, I knew they had to get the teams to line up and kick the point before I could put a final score in the story. I guess I was afraid but I was too busy to know it.
Andrew from Bowling Green, OH
Vic, are you as excited for the FIFA World Cup as I am? Great teams competing to be the true world champions of a sport.
I saw that the Pope is a big soccer fan, which only goes to prove that even the Pope can make a mistake.
Dan from Sao Paulo, Brazil
Vic, what do you (and Tony) think about this year's running back crop?
I haven't given it a lot of attention, for the obvious reason, but I know it's weak. Be that as it may, there's a guy in the running back class I like. His name is Terrance West of Towson State. He's a short, thick power runner, which is my kind of back. I saw him in one of those games nobody watches. He's too good to be a sleeper, but I doubt that many people know much about him.
Vic, are you willing to tell us about any of your real meaningful memorabilia?
I have a number placard from Three Rivers Stadium. I sat at that number, 37, in the press box for most of the years I covered the Steelers. In the last game in Three Rivers history, a couple of my friends scraped off the placard and sent it to me. Fred Taylor came to my office after he had topped the 10,000-yard rushing mark and autographed a picture for me. It's what he wrote that matters most. Fred and I are probably the least likely player and reporter to bond as we did, but we did. When I wanted the truth, which was always, I went to Fred's locker. From my short time covering the Packers, I have a plaque from 2011 that commemorates Packers.com for having been the most visited website in the league. There's a lot more, including a picture of Forbes Field with Bill Mazeroski's autograph on the leftfield wall.
Kerry from Atlantic City, NJ
I watched my 11-year-old son get waffled last night in his first experience at the checking level of ice hockey. Reminded me of the first time I got laid out at a football game at about the same age. All I kept thinking of was what my dad told me, shake it off and get back up; it doesn't matter how often you get knocked down, all that matters is that you get back up. My son got back up and went back in and kept fighting. Proud of him.
I feel your pride and I'm happy for both of you. Where do we draw the line? That's the issue now. Is the concentration on safety going to cost us this magic moment? I remember my magic moment. I was in ninth grade and I was wearing one of those stupid Ohio State padded helmets that made that awful thud sound, like a watermelon falling on cement. I was out on my feet but I felt this incredible need to keep going. I remember feeling as though everybody was looking at me, waiting for me to fall so they could laugh at me. Those days are over, but where's the line between toughness and safety? Where do we draw it?
Who has the tools to be a better pro: Dezmen Southward, Jared Abbrederis or Chris Borland?
Based on the strength of his pro-day workout, it would seem that Southward has the best tools, but where do you find a better football player than Borland?
Vic, lots of talk about centers lately. To your Wisconsin fan base, what's your favorite Mike Webster story? With his well-published issues it would be great to hear something good.
It was after Super Bowl XIII. The league had set up player interview podiums under the end zone grandstand at the Orange Bowl. I was standing at the back of a crowd of reporters at one podium when all of a sudden I felt myself moving through the crowd to the front. It was Mike. He had hooked his arm in mine and began moving me to the front of the crowd as he moved toward the podium. Imagine my pain as I read "League of Denial." I wept. I didn't know it had gotten that bad.