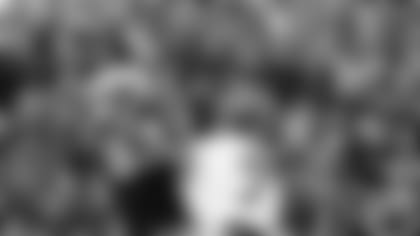 Notre Dame TE Tyler Eifert
GREEN BAY—As this process turned into its final phase, when the NFL's 32 teams convened in Mobile for the Senior Bowl, the word was that this was a bad draft class. The word was that it was a bad year to have the top pick because there wasn't a quarterback worthy of that selection.
Three months later, there's still no quarterback, but what was thought to be a weak overall class has turned into something a lot better, and certainly a lot juicier. The draft class from which the NFL will pick over the next three days is loaded with intrigue. What we're likely to witness, beginning tonight, is a great divergence of opinion.
Bill Polian is calling this a "tough guy draft," because it's full of meat-and-potatoes players. I'm calling it an "upside-down draft," because several of the players that were thought to be at the top of the first round have fallen to the bottom of the round or maybe even out of it.
Damontre Moore of Texas A&M is a perfect example. His name had been linked to the Jaguars with the second overall pick. After the combine, Moore went into free fall.
"I'll be surprised if Moore isn't available at 26. Not a great athlete but he's a great football player. If the light goes on, he's going to be a good pro football player," draft guru Tony Pauline said as he rode the train into midtown Manhattan.
Think about that. Moore available for the Packers to draft? It would've been unthinkable a few months ago.
Here's another one: John Jenkins. He put on an eye-popping show of power and athleticism at the Senior Bowl, but he did something else at the Senior Bowl: He weighed in at 359 pounds, and it hurt him big time because no one is questioning Jenkins' ability, they're questioning his dedication.
"World of potential, but the fact he was 359 pounds at the Senior Bowl is hurting him. I'll be surprised if he's not there for the Packers," Pauline said.
Jenkins available to the Packers? If you ascribe to George Young's "Planet Theory," that there are only so many people on the planet that big and when you have a chance to take one, you take him, then it's unthinkable that Jenkins could fall that far.
Georgia's Jarvis Jones, one of the draft's premier pass rushers and a perfect fit for Dom Capers' 3-4 defense, has also fallen.
"I think Jones has the medical and didn't work out well, plus, some people think he's one-dimensional, but I would be shocked if he's still available at 26," Pauline said of Jones, who began to fall at the combine on reports of a neck injury.
For some to fall, others must rise and Pauline believes a fast-rising crop of cornerbacks will represent the best value group available when the Packers go on the clock. Pauline likes Washington cornerback Desmond Trufant and fast-rising Boise corner Phillip Taylor as top-of-the-board prospects at pick 26. Of course, Pauline's board isn't Ted Thompson's.
"You're going to have some good running backs there: Eddie Lacy and Jonathan Franklin. No receiver unless Tyler Eifert slides. I don't think he will. He'd be good value. Cordarelle Patterson could slip that far. If he does, it's because of a major red flag. No offensive lineman, unless they want to reach for Justin Pugh of Syracuse. Jonathan Hankins could be good value. Twenty-six might still be a bit early for Jesse Williams. There'll be better cornerbacks on the board," Pauline added.
Eifert has become somewhat of a darling-of-the-media selection. He's the big, soft-hands tight end Mike McCarthy loves. Patterson, the Tennessee wide receiver, is pure size and speed, but do the Packers really need a wide receiver? Hey, it's an offensive game.
This draft seems to be all about who falls how far. DT Star Lotulelei was falling due to heart concerns, but he's checked out OK recently and Pauline doesn't believe Lotulelei will fall much beneath the top 10 picks.
As the final hours tick off to the start of the draft, nobody knows for sure how this draft will fall. That would seem to be this draft's identity, that it's one of the most difficult drafts to get a handle on in recent years. If that's true, it could turn out to be a very good year to sit and wait for someone you thought would be gone to fall right into your lap.
It's a strategy that worked for the Packers in 2005. Additional pre-draft coverage