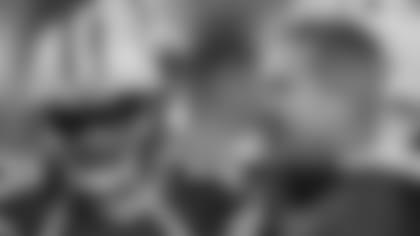 WR Randall Cobb & Shawn Slocum
GREEN BAY—Whether the Packers' new return man is already in house or on his way to Green Bay during the bye week remained uncertain as of Monday afternoon.
Neither Head Coach Mike McCarthy nor Special Teams Coordinator Shawn Slocum committed one way or the other following the release of Jeremy Ross earlier in the day.
"The roster is a constant conversation," McCarthy said. "We always have an idea."
The in-house ideas could include receiver Randall Cobb re-assuming the return duties full-time and/or a couple of rookie draft picks taking over. Cornerback Micah Hyde and running back Johnathan Franklin got brief auditions for the punt-return and kick-return roles, respectively, in the preseason and have been listed behind Ross and Cobb on the depth chart since training camp ended.
"We'll put someone out there that can function and do the job the right way," Slocum said. "Randall has always been part of the mix and that hasn't changed."
What also didn't change, unfortunately, were Ross' ball-security issues. In his eight games with the team, dating back to Week 15 of last season, Ross mishandled the ball three times – trying to catch a backwards pass from Cobb on a trick play at Chicago, fielding a punt in San Francisco in the playoffs, and running up to catch a short kickoff on Sunday in Cincinnati.
All three miscues led to pivotal scores for the opposition.
"What happened to him yesterday was unfortunate, but we've got to be better than that," said Slocum, who absolved the other return-unit members of any responsibility for catching the shorter kick, saying it was Ross' play all the way. "I thought he made a delayed decision to go play the ball, and he missed the catch."
An equally game-changing decision came on fourth-and-short with four minutes left from the Bengals' 30-yard line and the Packers trying to build on a three-point lead. Saying he "had plenty of time to think about it," McCarthy didn't second-guess his choice to go for the first down, nor his call for a handoff to Franklin.
McCarthy said it was a "solid call," and Offensive Coordinator Tom Clements didn't have a problem with Franklin trying to go airborne to convert.
"It's not a called leap; it just depends on how the front plays it," Clements said. "Usually they try to stay low, and that's usually a good option."
It wasn't in this case, as Franklin fumbled and the Bengals returned it for the game-winning touchdown, sending the Packers into their bye week to lick their literal and figurative wounds.
Already banged up in the secondary and at running back, the Packers lost tight end Jermichael Finley, linebacker Clay Matthews and running backs James Starks and Franklin to injuries during the game and couldn't overcome it.
McCarthy briefly compared what unfolded in Cincinnati to the game at Washington in 2010, when an injury-depleted team saw a handful of additional players go down while a potential last-second, game-winning field goal clanked off the upright and a turnover in overtime doomed the Packers to defeat.
Considering the next game three years ago was another overtime loss, to Miami – one of only two regular-season losses at Lambeau Field dating back to mid-2009 – the timing of the bye week probably couldn't be better despite its early slot.
"We've been without some guys here," Defensive Coordinator Dom Capers said. "We've had some hamstring issues, and how with Clay's situation, so hopefully it comes at a good time for us. We have to make the most of it, get ready to go out there and get ready for the Lions."
None of the coaches who spoke to the media on Monday were making predictions as to whether any injured players would return for Week 5 vs. Detroit.
Whether or not the team's health changes over the bye, its 1-2 record won't, and it didn't make McCarthy feel any better to know that only five teams in the NFC – one less than the number of eventual playoff qualifiers – were above .500 through three weeks.
"No, it's not encouraging, because I don't pay any attention to it," McCarthy said. "Let's be honest, to worry about the race Week 3, I think that's wasted focus. We're really focusing on the things we need to do better to win games.
"That's one of the last things I told our team. It's not OK that we're 1-2, by no means, but let's be realistic. We've played three games. … Our focus is about being 1-0. That's all we're really concerned about, and we'll get after that when these guys get back."