Peter from Providence, RI
Guys, based on what we've seen so far (very small sample size), does the postseason race come down to at Atlanta, at Dallas, and at Carolina? If this team holds serve at home the way they have historically, I see those as huge games for home field in January.
You're going to make me do this in Week 2 already? Just beat the Falcons.
The 2009 N.Y. Giants spoiled the Cowboys' first game ever at Jerry World by beating them. No reason the Packers can't do the same to the team that kept us out of the Super Bowl last year. You think that NFC title game still bothers the Packers?
Of course it does, but any lingering emotion must be used to enhance focus, not create distraction. There's a fine line.
Do you think the Packers' secondary is better prepared to stop the Atlanta offense this year?
No one's going to stop that group, they're awfully good. But contain them to give the offense a chance to win it? Yeah, they're better equipped. Randall and Rollins are healthy. House has more experience at corner than anyone the Packers had after Week 1 last year. The No. 1 corner from the NFC title game is no longer on the team. It's clearly a different unit.
Scott from Norton Shores, MI
Can you give us an Insider educated guess as to why they would release Gunter instead of one of the other two CBs they deactivated for last Sunday's game?
Draft-and-develop teams are always weighing experience vs. potential this deep in the depth chart. They have their eye on the ceilings of their young players. I suspect that's a factor here. There's rarely a perfect answer. Gunter deserves a ton of credit for what he did for this defense last year.
Mike, I'm so glad WYMM is back. All this offseason I talked about how excited I was for the new TEs as pass catchers, but seeing them taking on blocking roles like they did was awesome. Plus since there's no sound on WYMM anymore I can read it in class without anyone knowing!
Hopefully the short video clips are an improvement over last year's GIFs. I'm not taking responsibility for your grades, though.
Tyler from Fitz Creek, AK
I'm not one of those people wondering where Matthews was. On the biggest play of the game (in my opinion) Matthews was eating up two blockers. The free guard on the right side was staring at Matthews the whole play. Matthews got by the right tackle and took on the guard. Meanwhile Daniels got the strip-sack. If the rest of the defensive line can keep up this play I expect more one-on-one opportunities for Matthews and if he doesn't produce then I will start wondering what's up. If one guy can take up two players that's enough for me. I don't care what the stats are. That's my WYMM.
I'm not in a position to hire, but thanks anyway.
When Allison gets back this week do you think that will open up the passing game more and free up Adams?
Depends on the game plan. The Packers went with four wide receivers only a half-dozen times or so against Seattle. Davis was the fourth for Week 1. Either way, it'll hinge on how often McCarthy wants to remove a tight end or running back from the field. You can't have both out there if you go four-wide.
Did the preseason doubters who wondered where Randall Cobb was get their answer?
It's a matchup league. It's a week-to-week league. It's about staying healthy. I'll leave the ball distribution to Rodgers and McCarthy.
Insiders, so the defense did great against a Seattle O-line that is OK. What now is the difference in experience in the Atlanta O-line they face?
All but one member of the Falcons' first unit is in at least his fourth year as an NFL starter. Picking up a polished veteran in Alex Mack to take over at center last year seemed to stabilize everything. It's a seasoned – and as Larry would say, salty – bunch.
Margeaux from Tallahassee, FL
Everyone is excited about our D but that was Seattle on grass. Up next is Atlanta on turf. We may be singing their praises again if we hold them to 24. What will it take to do that, and will it result in a W?
I'd take my chances with that number and Rodgers. I think it's about limiting the explosive plays. The Bears held them to 23 points, but the 88-yard TD pass to the tight end was a killer. It damaged a lot of good work.
Can you at least hint at what the "Cheerios line" is?
Regarding his attitude, Daniels made reference last year to playing like someone confused his cereal bowl for a urinal.
Insiders, how often was Capers mentioned in the postgame emails?
Very little. The fans can't praise a man they're going to want fired again once the other team scores a touchdown. That would be hypocritical.
I can't be the only one asking this question. Did TT make a huge mistake by not drafting T.J. Watt? He is playing and making an immediate impact with the Steelers. How many rookies have an interception in their first NFL game? Your thoughts?
No, you're not the only one asking, but how many times do I have to say the referendum on the 2017 draft will not be held after one season, let alone one game, and against the Browns, no less? Congrats to Watt, I think he's going to be a fun player to watch develop, and I love seeing homegrown guys succeed. But please, we have to let this play out for a while. A long while. The draft is always more about the future than the now.
Did you see Sam Bradford looking like the Sam Bradford that never was? The Vikings are in good hands. It's on. It is so on.
I said all offseason if Minnesota's remake on the offensive line is successful, they'll be the biggest challenger to the Packers in the North. Every team has its areas to fix. Monday night's game was a huge first step for the Vikings up front, with a new center and two new tackles. It looks like they found a new feature back, too.
After seeing top QBs (Brady, Manning…) struggle mightily without their top targets in Week 1, I was reminded of Rogers sans Nelson and the trials of 2015. Add to Nelson being out, Adams and Cobb fighting injuries of their own AND no star at tight end. It is truly amazing the Packers even made the playoffs that year. They even won in the first round and almost beat the Cards in the second. I remember being frustrated at the time. I should have been in awe. Yes or no?
Perspective is everything. Look at the Saints from Monday night with Drew Brees. As Daniel from Copenhagen pointed out, they've made the playoffs once in the last five years. And now their HOF QB is trying to make a go of it with a whole new cast of characters around him.
Hershell from Redfield, AR
What does it take for the Packers to get noticed? Was just reading Frank Schwab's power rankings for Week 2. I know the rankings are subjective and should be taken with a grain of salt, BUT a team that totally dominates one of the best teams in the NFC is ranked behind a team that beats a 1-15 team in the AFC by a field goal. The Steelers are ranked ahead of the Packers and it really bugs me. What also bugs me is how hard it is for the Packers to get the respect they have earned on the field.
Forgive me, but who cares? With all due respect to Frank, whom I know from his days as a reporter in Appleton, and to others who produce power rankings, they're nothing but fodder for clicks and to generate debate. That's all fine and good, but I have no interest. They don't matter. This isn't college football.
Really enjoyed going to the game this past Sunday with my daughter. We enjoyed her first of many trips to Lambeau and the fans around us were tremendous. What surprised me was the amount of Seahawk fans that attended the game. They proudly display No. 12 as some sort of badge of honor crowning them as the best fans in the NFL. You would think they own their team the way they act.
Packers fans would certainly never act like they own the team.
I love watching the games at home but was fortunate enough to be in attendance on Sunday. The perspective from the stands is so much different, and watching Earl Thomas III roam the field was spectacular. He has perfected the safety position. Is there any player you got a new appreciation for from watching in person?
Thomas was exactly that player for me on Sunday, in part because he missed last year's game. The play he made to haul in the nullified interception on the free-play deep ball was phenomenal.
It seems as though every offseason our fans grumble about not doing anything in free agency. I think Week 1 is a good reminder of the importance of re-signing your own free agents. Both Daniels and Perry had big games and we've re-signed each of them the last two seasons. I don't think we would have gotten that kind of production from "new" players, do you?
Draft-and-develop remains the lifeblood.
Mike from Mount Prospect, IL
Gentlemen, I love watching Jordy Nelson slide under vicious hits and then pop back up. He must have some solid baseball skills in his background.
He also has a keen awareness of when defenders are near him and where at all times. You can't teach it.
Herb from Palm Desert, CA
What I enjoy with Rodgers making it so hard for opponents to substitute is that it reminds me of the days before specialization. Some people have called what Rodgers does a gimmick, but I see it as a reminder that teams still need athletic and conditioned defenders.
If the offense substitutes, the defense gets an opportunity to do so. If the offense doesn't, why would it let the other team get who it wants on the field? The specialization age is here to stay and only getting more detailed. Rodgers has mastered a counter strategy that makes perfect sense, as long as the offense is just taking advantage of the moment, not relying on it to succeed.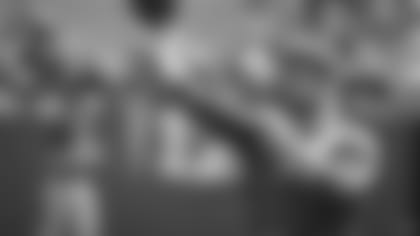 Logan from Sioux Falls, SD
Insiders, I am not a talented writer like you guys but there has to be some sort of awesome headline about Seattle's 12th man and us catching them with 12 men on the field and I haven't seen one yet. Could you help me out?
12th man flag turns yellow at Lambeau
Johnny from Grand Chute, WI
Punter Vogel seemed to have a pretty good first career game, with a peak moment of the 57-yarder to give the Pack some breathing room. How were his hang times? Seemed reasonably good from my couch.
Four of five punts were fair-caught. That works.
Jeff from Buzzards Bay, MA
Mike, hopefully the Packers won't have to deal with this, but, are teams allowed to backdate temporary IR? For instance, if a player is held out for 2-3 weeks and then placed on IR, when does the time for return begin?
The day he's placed on IR. Unlike baseball's disabled list, there's no backdating.
In the Seattle game, there was a free play for Rodgers because Seattle was offside. The pass was intercepted, but it didn't stand. If a Packers penalty had occurred during the play, what would have been the final result? Replay the down or would the interception then count?
Offsetting penalties, replay the down.
Please explain the rule for assessing penalty yards. Why, after a personal foul, was it first-and-10 for the Packers, not first-and-25?
It's hard to explain, but a new series is treated like a new possession in that case. On a dead-ball personal foul after a punt return or interception, it's still first-and-10, not first-and-25. Same principle. If the personal foul is during live action, different story.
How can we get Tony Romo to broadcast one of the Packers games? His insight into what was happening on the field was very cool to see.
Don't quote me on it, but he might be doing next week's game. Packers-Bengals is at 3:25 p.m. CT on CBS.
When the players state they will watch the film and look for things they need to improve on, does the entire team watch the game film together, or do they watch it separately in their respective units? Moreover, is the film broken down into certain plays or segments?
Terry from Springfield, MO
How about the NFC North? Quality opponents played by all, and even though the Bears didn't win, they gave Atlanta all they could handle. It's going to be a grind this season.
The division was 6 yards of Soldier Field turf from an impressive 4-0 mark, but everyone was at home as well. This week the road trips are Atlanta, Giants, Tampa Bay and Pittsburgh. Plenty to prove. But yes, it'll be a grind, regardless.
Chris from Minneapolis, MN
I'm not too old to remember being bullied a bit as a kid, and it was always nice to have someone come in to support you. However, I don't think that Marty's little shove on Wright "sends a message" that will make other defenders think twice about hitting Rodgers when he dives head first in future games.
I agree, it won't. Rodgers has to pick his spots, and he will.
I consider myself an above-average fan when it comes to knowledge of the game, but I'm having trouble with all these formation names. I'm more of a visual learner. Can you make me some flash cards?
Flash cards for the nitro. Ha, good one.