Packers Radio Network Affiliates
Table inside Article

| Station | Market | State | Frequency |
| --- | --- | --- | --- |
| WRLO-FM | Antigo | WI | 105.3 |
| WBEV-FM | Beaver Dam | WI | 95.3 |
| WJMQ-FM | Clintonville | WI | 92.3 |
| WBIZ-FM | Eau Claire | WI | 100.7 |
| WFON-FM | Fond du Lac | WI | 107.1 |
| WYDR-FM | Fox Valley | WI | 94.3 |
| WIXX-FM | Green Bay | WI | 101.1 |
| WRLS-FM | Hayward | WI | 92.3 |
| WNXR-FM | Iron River | WI | 107.3 |
| WJVL-FM | Janesville | WI | 99.9 |
| WRJN-FM | Kenosha | WI | 98.1 |
| WKTY-AM | La Crosse | WI | 580 |
| WKTY-FM | La Crosse | WI | 96.7 |
| WGLR-FM | Lancaster | WI | 97.7 |
| WIBA-AM | Madison | WI | 1310 |
| WIBA-FM | Madison | WI | 101.5 |
| WOMT-AM | Manitowoc | WI | 1240 |
| WOMT-FM | Manitowoc | WI | 107.9 |
| WLST-FM | Marinette | WI | 95.1 |
| WKEB-FM | Medford | WI | 99.3 |
| WRNW-FM | Milwaukee | WI | 97.3 |
| WCCN-FM | Neillsville | WI | 107.5 |
| WCQM-FM | Park Falls | WI | 98.3 |
| WQPC-FM | Prairie du Chien | WI | 94.3 |
| WRJN-AM | Racine | WI | 1400 |
| WRJN-FM | Racine | WI | 99.9 |
| WCYE-FM | Rhinelander | WI | 93.7 |
| WBOO-FM | Reedsburg-Baraboo | WI | 102.9 |
| WJMC-FM | Rice Lake | WI | 96.1 |
| WRCO-FM | Richland Center | WI | 100.9 |
| WEVR-AM | River Falls | WI | 1550 |
| WEVR-FM | River Falls | WI | 106.3 |
| WHBL-AM | Sheboygan | WI | 1330 |
| WCOW-FM | Sparta | WI | 97.1 |
| WSAU-FM | Stevens Point | WI | 99.9 |
| WDSM-AM | Superior | WI | 710 |
| WDUX-FM | Waupaca | WI | 92.7 |
| WSAU-AM | Wausau | WI | 550 |
| WSAU-FM | Wausau | WI | 95.1 |
| WAUH-FM | Wautoma | WI | 102.3 |
| WHTL-FM | Whitehall | WI | 102.3 |
| WGLQ-FM | Escanaba | MI | 97.1 |
| WCUP-FM | Houghton | MI | 105.7 |
| WJNR-FM | Iron Mountain | MI | 101.5 |
| WIMI-FM | Ironwood | MI | 99.7 |
| WUPZ-FM | Marquette | MI | 94.9 |
| WCMP-AM | Pine City | MN | 1350 |
| WFXN-AM | Moline | IL | 1230 |
| KXMR-AM | Bismarck | ND | 710 |
| KQYZ-FM | Emerado | ND | 98.5 |
| KSOO-AM | Sioux Falls | SD | 1000 |
| KSOO-FM | Sioux Falls | SD | 102.3 |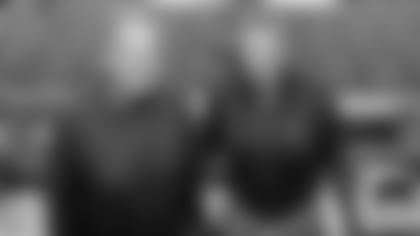 Packers Radio Network
PACKERS GAMEDAY ON THE PACKERS RADIO NETWORK
Packers Preview Pregame (2 hrs before kickoff)
Packers Play-by-Play (in-game)
Packers Playback (15 - 20 minutes after the game)
Packers OT Postgame (2 - 2.5 hrs, following Packers Playback)
Wayne Larrivee and Larry McCarren enter their 25th season of broadcasts together across the Packers Radio Network in 2023. Though both are veteran broadcasters, the two were paired for the first time in 1999 to bring the color and excitement of Green Bay Packers football to fans throughout Wisconsin, Upper Michigan and four other states. They surpassed Jim Irwin and Max McGee for the most regular-season and postseason games broadcast for the Packers with 313 at the 2018 season opener against Chicago.
Larrivee, who grew up as a fan of the Packers in his native Lee, Mass., enters his 46th consecutive year broadcasting NFL games, having joined Green Bay's broadcast team after 14 seasons as the radio voice of the Chicago Bears (1985-98) on WGN and WMAQ Radio in Chicago. Earlier, he had done play-by-play of Kansas City Chiefs games for seven years (1978-84) on KCMO Radio in Kansas City. Known for his thorough preparation and his moderated, yet enthusiastic, call of the action, Larrivee's more-recent credits also include play-by-play for Big Ten Conference football and basketball for the Big Ten Network and NCAA basketball for Westwood One.
Highly decorated, the 68-year-old Larrivee was named Illinois Sportscaster of the Year in 1997 and is a seven-time winner of the Silver Dome Award, presented by the Illinois Broadcasters Association, for best radio football play-by-play. He is also a four-time winner of a Midwest Emmy for Chicago Bulls basketball play-by-play. In May 2011, he was honored as Communicator of the Year by the Wisconsin Chapter of the Public Relations Society of America.
A 1977 graduate of Emerson College in Boston, he received the school's Alumni Achievement Award in June 2005 and was inducted into the Emerson College Hall of Fame in June 2018. In 2012, the college appointed him to its alumni association board of directors. Larrivee also has done play-by-play of Chicago Bulls basketball on WGN-TV from 1991-2008, Chicago Cubs baseball, University of Iowa football, Quad Cities (Iowa) Angels minor league baseball, University of Missouri basketball and Kansas City Kings basketball games. In August 2021, Larrivee was inducted into the Wisconsin Broadcasters Association Hall of Fame.
McCarren first joined the team's broadcasts in 1995, working his first four seasons with Irwin and McGee. Inducted into the Packers Hall of Fame in 1992, he also is a favorite among television viewers in northeast Wisconsin. After 27 years, he retired from Green Bay television and joined the Green Bay Packers' digital department as their sports analyst. McCarren has been voted Wisconsin Sportscaster of the Year four times (1994, 1996, 2002, 2007) by the National Sportscasters and Sportswriters Association. In June 2016, McCarren was inducted into the Wisconsin Broadcasters Association Hall of Fame.
An iron man at center for the Packers for 12 seasons (1973-84), McCarren played in 162 consecutive games – the sixth-longest streak in team history – helping him earn the nickname "Rock." He was voted to the Pro Bowl in 1982 and 1983. Earlier, he had been a co-captain at the University of Illinois as both a junior and senior. McCarren, 71, originally is from Park Forest, Ill.
The Game WRNW begins its second season as the flagship station of the Packers Radio Network.
The Packers Radio Network is made up of over 50 stations in six states.