GREEN BAY – As the Packers opened training camp a week ago, Brynn Morrill took her place alongside all the other hopefuls in the bike corral outside of Lambeau Field.
Morrill, holding a brand-new BMX bike she bought just for the occasion, patiently stood and waited for her bike rider to emerge from the players' entrance.
It's a moment the 11-year-old girl from nearby Little Chute, Wis., had waited a year for.
As players started to trickle out for their first practice, Morrill's heart jumped in excitement when the No. 84 of Jared Abbrederis flashed in her peripheral.
One of the most popular players in Wisconsin football history, Abbrederis quickly was greeted by a thunderous ovation, and cries from kids and teenagers to ride their bike.
Yet, the third-year receiver scanned the sea of kids and made a beeline for Brynn despite plenty of outstanding offers.
"One older dude was like, 'If you don't like that one, you can always take mine,'" Brynn recalled.
Abbrederis turned and in a gracious tone replied: "I'm sorry. My bike girl comes first."
Theirs is a special bond, a friendship born from persistence and admiration. To understand it, you must understand the relationship that's been cultivated over the past two years.
The two got paired up shortly after the Packers drafted Abbrederis in the fifth round of the 2014 NFL Draft. Brynn's father, Mike, is a lifelong Packers and Badgers fan who always admired the way Abbrederis played.
Watching a game during Abbrederis' senior year, Mike mentioned to his daughter how neat it would be if the Packers drafted the Wautoma, Wis., native.
If they did, maybe he'd even ride her bike. The odds didn't appear to be in their favor, though. After all, it had been 13 years since the Packers last drafted a Badger.
"I said it on a whim, like "That would be great. This guy would be cool,'" Mike said. "Then, boom, there he is."
A man of his word, Mike fired off a tweet to Abbrederis congratulating him on his selection and made an open offer to ride Brynn's bike down to practice.
Astonishingly – hours after the biggest moment of his life – the receiver responded.
Abbrederis wasn't lying. He really had no clue how the process worked. Although he was a big Packers fan growing up, he never was able to make the 1½-hour commute from his hometown of Wautoma to Green Bay.
Brynn armed herself with an Abbrederis Packers jersey and brought a sign that read "ABBREDERIS Ride My Bike!" to make sure he saw her.
The two biked that first week together before one day Abbrederis didn't show. Later, he sent her a direct message on Twitter to apologize.
It turned out a knee injury Abbrederis sustained earlier the week – one he actually practiced through – was a torn anterior cruciate ligament, which required season-ending surgery.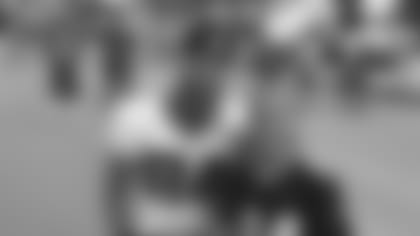 His rookie season was over.
In the aftermath of the disappointment, there was one small silver-lining. The doctors gave the go-ahead for Abbrederis to ride his bike down to practice with Brynn one last time before the surgery.
"I knew it'd probably be my last opportunity," Abbrederis said. "Get a last ride in and say goodbye for a little while."
The two stayed in contact with one another through Twitter with Brynn checking in to see how he's doing and Abbrederis asking her about school and her dance team.
When Abbrederis and his wife, Rachel, gave birth to a daughter in February 2015, Brynn helped make them a Packers hat and Badgers footie for the newborn.
Abbrederis and Brynn stuck together for his NFL second season. Equipped with an expanded wardrobe of Abbrederis apparel, she again waited anxiously for him at the start of camp.
However, Abbrederis sustained a concussion in the first practice that would sideline him indefinitely. Given the nature of the injury, nobody knew when Abbrederis would get cleared.
He tried his best to keep her in the loop, but there was no telling when he'd be back. So Brynn kept showing up with her bike – every day, every practice – in case Abbrederis was cleared to practice.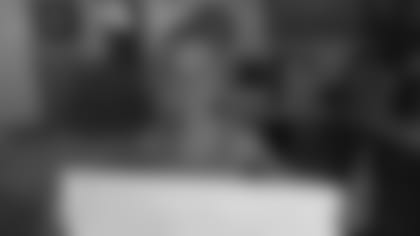 Brynn's mom, Brooke, laughs when recalling the few conversations she had with her daughter, questioning whether they should make the early-morning trip to Green Bay.
"Are you sure? Because we haven't heard from him in days," she once asked her daughter.
"No, we're going to go," Brynn quickly replied.
And that settled it. Brooke packed up the car and off they went to Green Bay.
"Basically, I just showed up every day hoping that he would come out," Brynn said.
Sometimes they'd wait until the players all headed to practice and then head home. On other days, they'd stick around and Brynn would let another Packer player ride her bike back to Lambeau afterwards.
A few players started referring to themselves, as "Fill-ins," knowing full well they were borrowing Abbrederis' bike girl.
In the four weeks he was out, Brynn penned Abbrederis a get-well card, baked cookies and even made him a bracelet.
"Obviously it was kind of day-by-day with the concussion," Abbrederis said. "She cheered me up. She did a lot of nice things for me."
Abbrederis returned for the last preseason game against New Orleans, but it wasn't in time for the Packers' final public practice. So Brynn's next ride would have to wait another year.
Although Abbrederis didn't make the Packers' initial 53-man roster, he was signed to the practice squad the following day and promoted to the active roster less than a month later.
Immediately, Brynn's parents noticed their daughter's attention spike considerably during games. Even when he didn't play much at first, she'd point Abbrederis out on the sideline.
At the end of the season, Brynn was cheering loudly in Green Bay when Abbrederis caught four passes for 56 yards in the NFC divisional playoffs against Arizona.
Once in a battle for the remote on Sundays, Brooke and Brynn are as into the Packers games these days as Mike and son, Connor.
So what has Abbrederis done to earn such allegiance?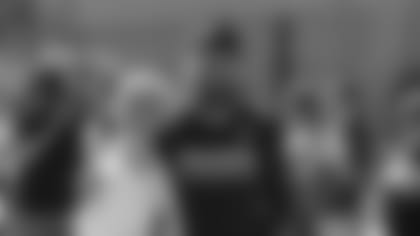 "I don't know. I must have done something right, I guess," said Abbrederis, laughing. "It's fun to see her before practice because sometimes you can get wrapped up in football but you remember what it's about. It's about having a platform and using that platform that you have to be an example.
"Not even that, but just seeing somebody who reminds you what you're doing it for."
Brynn's dedication comes from seeing a lot of herself in Abbrederis. Their sports are different – she dances, he plays football – but there's a competitive link between the two.
There's also the adversity. After breaking her foot in dance last winter, Brynn went back and reviewed a few of Abbrederis' quotes about overcoming unexpected setbacks.
Brynn gritted her teeth and danced through the injury, helping Little Chute Middle School win a state title. After a layoff, she's back dancing 20 hours a week this summer.
"All the setbacks that he had, it made him come back stronger and made him work harder," Mike Morrill said. "That's what we noticed with her. She doesn't quit."
When camp opened this year, you couldn't find a happier child than Brynn. Standing on the rear spokes of the new bike, she glowed as Abbrederis pedaled down for his first practice.
They've since swapped out the BMX bike for a larger 10-speed, but the excitement is the same. It's been a long journey for both, but the Packers' bike tradition is something that's forged an unshakable bond between them.
"I think we sort of became friends because we're both in a sport and we have a lot in common," Brynn said. "It's just cool to be able to see him again and I have something to look forward to every morning."
After a two-year wait, Jared and Brynn have their fingers crossed for a full slate of rides this summer.
"We really haven't had too many rides," Abbrederis said. "Knock on wood we'll keep it rolling and get some this year to make up for lost time."