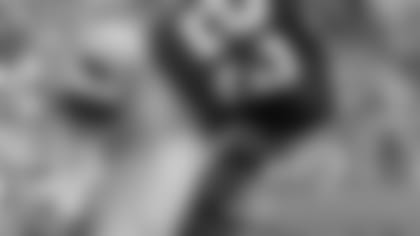 Travis Williams
The regular writer of "Ask Vic," packers.com Editor Vic Ketchman, is taking some time off. Staff Writer Mike Spofford is temporarily filling in to answer your "Ask Vic" questions.
Heads up! Word on the street is Vic is going to go undercover and ask you a question about "cover two" while he is on vacation.
I'm on the lookout. I'll be sure to shoot him an inquiry about Cullen Jenkins when he gets back.
Scott from Greensburg, IN
The heading of Monday's column raised my curiosity. Whom do you consider to be the Packers' best all-time return man? Also, whose season was better, in your opinion: Travis Williams on kickoff returns in 1967, or Desmond Howard on punt returns in '96?
I don't know about the best, but my favorite might have been Walter Stanley, when he'd do those backflips in the end zone. Spontaneous celebrations like that were great. As for the individual season, I have to go with Williams. Howard's three punt-return TDs in '96 led the league, and his 875 punt-return yards is still a league record, but Williams' season takes the cake. Four kickoff-return TDs in just 18 attempts? Wow, and he did it as a rookie. That's one for the ages, and I wish I could've seen it. The four TDs is still a single-season league record for both a rookie or any player (tied) and his 41.06-yard average remains a league record, nearly 3 ½ yards better than Gale Sayers' best season, which was also '67 (37.69).
What do you think the first game of the season against San Francisco 49ers is going to tell us about the Packers' 2013 season?
It will give us a glimpse into how the Packers will defend the read-option when they face Washington in Week 2 and Philadelphia in Week 10. It will also tell us whether the Packers have closed the gap on the team that will begin 2013 as the front-runner in the NFC, but as I've mentioned several times, the NFC has a long list of contenders and the "team to beat" could change throughout the year. Beyond that, it will only tell us whether the Packers are 1-0 or 0-1. It's not going to tell us whether or not the Packers are going to the Super Bowl.
Mike, so in the NBA this weekend the Celtics traded their coach. Can this happen in the NFL as well?
It used to. Bill Parcells was acquired by the Jets from New England for draft picks in the late 1990s. A few years later, the Patriots sent draft picks to the Jets for Bill Belichick. Then, in 2002, the Buccaneers gave up two first-round picks, two second-round picks and $8 million cash to the Raiders for Jon Gruden. Shortly after that deal, the league made a rule prohibiting the use of draft picks as compensation for head coaches (as well as assistants, front-office personnel and scouts), but I wasn't able to determine in my hurried research if that rule is still in place or if it has been repealed in the last decade.
Jocelyn from Crawfordsville, IN
Mike, what are your thoughts on hockey? Vic thinks the puck is too hard to follow, which it can be at times. However, in terms of toughness, it's second to none if you ask me. Guys played through playoff games with dislocated shoulders, broken ribs, and badly sprained knees. You won't find that too often in today's NFL.
Hockey players are tough, no doubt, but I'm not about to rank the toughness of players in sports I could never play. What these guys put their bodies through at this level, whether on skates or in three-point stances, goes beyond normal. Hockey is tough to follow on TV sometimes, but that Stanley Cup Finals series was a classic. I turned it on at the start of the first overtime of Game 1, and I don't think I missed more than few shifts until Game 6 ended last night. I was enthralled.
Mike, do you know if anyone on the team, players or coaches, who are avid outdoorsmen; hunters or fishermen?
The offensive linemen are the first who come to mind. Josh Sitton and T.J. Lang like to fish/hunt and are outdoor enthusiasts, I believe. Tight end Ryan Taylor and quarterback B.J. Coleman, too. I'm sure there are others.
Mike, that was a weak answer to Joe from St. Paul as to whether or not Aaron overthrew his receivers more last year vs. 2011 on passes of over 21 yards. Seems to me one should be able to analyze from film whether or not a pass was overthrown. Are you not allowed to look at film? Or are you, like me, afraid of the answer?
I'm not afraid of the answer, but I'm not a coach with access to the database of cut-ups that would allow me to view those 53 pass plays in just a few minutes. I'd have to mine through my NFL Rewind subscription to find them all myself and then chart them on my own. Adding a stat to what I posted in that answer, Rodgers threw one interception each season on deep passes, which would indicate overthrows were probably the biggest factor in 2012, because underthrows would be picked off more often. If there's a defender deeper than the deepest to intercept an overthrow, Rodgers generally speaking isn't going to make the throw.
Mike, great article on KGB. I really like and agree with what he said about defending the read-option. As hard as it may be, the defense has to have some patience and not overpursue the QB. I recall games against Mike Vick when he was with the Falcons, and he would torch the defense with his ground speed when overpursued. Doesn't the whole "keep the QB corralled" make quite a bit of sense when is comes to the read-option? Granted, Vick wasn't known for being an accurate passer at that time, either.
Your last line is what makes all the difference. Defenses could keep Vick corralled at the expense of giving him time to throw because he wasn't as accomplished a passer in his Atlanta days. That's the sacrifice that's made – time to throw, as Nick from Water Mill, NY, pointed out, and QBs like Colin Kaepernick and RGIII, if given too much time, can pick apart a secondary. But if they're attacked too aggressively, they can scramble or turn to the read-option to keep defenses on their heels. As best it can, a defense has to choose which it wants the QB to do. After Sam Shields got that early pick-six against Kaepernick last January, the Packers didn't make Kaepernick throw enough. He scrambled for a ton of yards in the first half and then ran a bunch of read-option in the second half. He's got a cannon for an arm, but I'd still rather make him beat me that way.
Mitchel from Sydney, Australia
Which NFL records do you classify as "unbreakable"?
Brett Favre's record of 297 consecutive starts is what immediately comes to mind, and Jerry Rice's 274 consecutive games with a pass reception might be next. Those are like football's version of the Cal Ripken and Joe DiMaggio marks. If we're sticking with individual records, I think it's interesting to debate whose yardage total is more untouchable – Emmitt Smith's career 18,355 rushing yards or Rice's 22,895 receiving yards? The current state of the game would suggest Smith will be harder to reach, with Adrian Peterson (8,849) less than halfway there and already 28 years old. But Larry Fitzgerald (10,413) is less than halfway to Rice and he turns 30 when the season starts, while Calvin Johnson (7,836) is younger but barely more than a third of the way there. Quarterbacks' passing records seem to fall regularly now, but Smith's and Rice's marks make for fun conversations.
So, is Johnathan Franklin actually running for mayor?
Not yet, but when Green Bay Mayor Jim Schmitt dedicated the statue and street to Donald Driver a couple of weeks ago, Schmitt noticed Franklin in the crowd and made a crack about him coming after his job. I don't think Schmitt's too nervous, yet, but we'll see how Franklin's rookie season goes.
Tom from Hell for Certain, KY
Other than at left tackle, if you were an O-line coach, would you rather teach a young lineman who's a "natural" at run blocking to pass block? Or vice versa? Thanks Mike. Keep up the good work.
I've never coached football, but since pass blocking requires the more unnatural footwork of backpedaling, I would take a pass blocker who makes that look natural. By the way, I looked up your locale to make sure it exists, and I'll be darned. Yesterday there was a question from Truth or Consequences, NM, and I had heard of that one before, but not this one.
Mike, when did you know that football and journalism was your absolute greatest passion, and how difficult of a road was it to land where you currently are?
It was never football specifically, but I started working on my high school newspaper as a junior and really got into journalism. Sports in general was a passion going back much further, so I worked to combine the two for a career. As for the "road" to covering professional sports, during my newspaper days in Wausau and Green Bay, I wrote a ton about specific prep sports that I knew very little about when I started – wrestling, cross country, volleyball and the like. Those types of assignments made me a better reporter, because I had to study and learn and ask a lot of questions along the way. There are two parts to the job – reporting and writing – and I enjoy both.
Jenny from Loves Park, IL
So, the Packers have only three players voted in on the "Top 100 show"? What is your opinion of this "rankings" show Mike? I certainly know how I feel about it.
Whether the Packers have three or 30 players in the top 100, I don't really care. The only value in it is seeing what players think of their peers, if they're all being honest when they vote, but even then it's only one set of opinions.
Brandon from Yucca Valley, CA
Oh, great, that makes two players I didn't want to face twice a year on the Vikings.
I'm sure Desmond Bishop won't miss facing Adrian Peterson twice a year, either.
Hi, Mike! I appreciate you filling in for Vic in summer, just like mixing run and pass nicely. My question is, will Greg Jennings leaving for the Vikings and taking all the knowledge about audibles that Packers use with him to Minnesota, force Green Bay to make any adjustments to their system?
Just changing the key words or code words should do it, but teams do that all the time anyway, whether a former player is on the other team or not. Dummy calls can become hot calls, and vice versa. Sam from Highland, IL, asked about a player's new team mining him for information about his old team, and whether that prompts clubs to target players from their rivals. It doesn't drive personnel decisions. The player has to be able to play to take up a roster spot. Extracting inside information goes on all the time, but the amount of useful information gleaned is limited. The new team has no way of knowing if the old info is still any good.
Mike, adding to the compensatory draft pick issue, I felt the draft pick (position not player) given to the Packers for Matt Flynn was hardly fair. It doesn't seem fair that the Packers develop a quarterback into a potential starter and then after losing him be compensated so poorly. My question is twofold: Would the Packers have been granted a higher draft pick if Flynn was the starter for Seattle, and if the formula for determining compensatory draft picks is so complicated, how come someone hasn't reverse-engineered the results and figured out the code?
Compensatory picks aren't awarded for any single free agent, unless a team loses one free agent and signs none. In the Packers' case, they were awarded a fifth-round pick (used on Josh Boyd) for their cumulative free-agent picture – losing Flynn and Scott Wells and signing Jeff Saturday. Considering Flynn didn't play for Seattle and Wells ended up on IR by midseason, while Saturday started 14 games and was named to the Pro Bowl (a discussion for another day, but it is a fact), I thought the Packers were somewhat fortunate to get a pick. The award indicated to me, as I wrote before the draft, that the value of the contracts signed by the free agents must factor more strongly into the formula than playing time or performance. Beyond that, if you can reverse-engineer the results and crack that code, be my guest.
Mike, did you ever see Jim McMahon when he was with the Packers? Did he remember that story?
McMahon was with the Packers in 1995-96, and the first season I started covering Packers games regularly for the Wausau paper was 1997, so no. I'm sure he wouldn't have remembered it, but even if he had, the really sad thing is the memory would be long gone now. I saw a piece on ESPN a while back about McMahon's memory troubles and other mental issues, and I know he's not alone.
George from Hillsboro, OR
Hey Mike, what is your relationship with Vic like? You seem to have a guess as to how he would feel on most issues. Do you two talk a lot or is it just from years of reading each other's articles?
We talk plenty. It comes with the territory. He has a lot of stories about football from before my time, and I can toss out names of former Packers he's never, or barely, heard before. We read each other's work, too. When you exchange thousands of words per day with someone in various forms, you get a bead on him, but he still surprises me once in a while.