Mike from Altona, Manitoba
So what you're saying then is that if a team like the 49ers gets "The Man" late in their building process, their run won't last as long. Why?
Yes, that's what I'm saying. When did the Packers get Bart Starr in the building process? When did they get Brett Favre? When did they get Aaron Rodgers? The old philosophy about building dynasties is that you have to do it quickly because you don't want the front end getting old when the back end arrives. Look at the last five teams of the decades. They were all assembled quickly, they got the quarterback at the front end and in nearly every case he stayed with them through the whole run. Starr was already in Green Bay when Coach Lombardi arrived. Terry Bradshaw was the first overall pick of the draft in Chuck Noll's second season. Joe Montana was a third-round pick in Bill Walsh's first season. Troy Aikman was Jimmy Johnson's first pick. Tom Brady was a sixth-round pick in Bill Belichick's first draft as Patriots coach. There are a lot of other examples. Peyton Manning and John Elway immediately come to mind. Most recently, Eli Manning and Ben Roethlisberger are good examples of quarterbacks that triggered revivals. Rodgers gives the Packers the kind of length-of-run potential that usually accompanies great runs.
Vic, out of all the teams you have covered, which player made the biggest jump from year one to year two?
Tony Boselli went from being a very good rookie tackle in 1995 to being the best tackle in the game in '96. Lynn Swan went from being a part-time player and punt returner in 1974 to being the MVP of Super Bowl X the following season.
Vic, I was golfing my first round of the season today and remembered what a great time my team had on the course last year for your event. I also have to give a shout out to Mike Spofford, as he sat at our table and gave us great insight into the life of a sports writer/fan. I know this year is out because of your shoulder, but is the event going to return?
Sean, it has nothing to do with my shoulder; that was just a joke. I would've loved to have driven around the course consuming liquid pain killer and cuttin' up with everyone. We're experimenting. We think a Lambeau Field luncheon and tour will be appealing to those readers that aren't golfers. Yeah, I want to get back to the golf format. Maybe we can combine both next year.
Samuel from Cedaredge, CO
I love Bakhtiari's comment about being an annoying little brother but, seriously, do you think he will be able to impact the offensive line?
I knew very little about him when he was picked. He's coming out as a junior, which means he wasn't at the Senior Bowl, and he played in a Colorado program that is really struggling and is not getting much in the way of TV exposure. Tony Pauline loves the pick. He thinks Bakhtiari is a top athlete. Most importantly, he's only 21, so the Packers are getting a young player with a lot of upside and who can be developed in the Packers' style of play. I think it's unrealistic to expect immediate impact, but nobody expected Don Barclay to make an immediate impact last season and he sure did.
Aaron from White Hall, AR
The other day in one of my classes, my professor asked us who liked sports. So I raised my hand and we started having a debate about football, and he was trying to talk about how football should be banished because people die. So my counterpoint was that in anything you do in life you can die and that you can be training for track and you can die from heat exhaustion.
I've told this story before but it bears repeating. I broke my leg playing football as a freshman in high school. My dad hesitated at allowing me to play the next year. The coach came to our house and talked to my dad. The coach said, Mr. Ketchman, are you going to allow your boy to drive the family car? Give him to me and all the time he spends playing football will be time he won't spend driving the family car. My dad signed the paper and handed it to the coach. The point of the story is this: Nothing engenders more fear in parents than giving the keys to the car to their teenage kids, but we keep doing it. Give your kids to the football coach. They'll be safer there than on the highway. Tell that to your professor.
Vic, please explain to me how we can create a new-age Packers defense with an old-school defensive coordinator named Dom Capers? His bend-but-don't-break strategy will not cut it this season against the 49ers and several other diverse offenses.
What? Bend but don't break? Are you serious? Do you understand you are talking about one of the greatest attack-style defensive coordinators in the history of professional football? This is outlandish. If you're going to rip a guy, shouldn't you at least know why you're ripping him?
I read your column every day and you've never answered anything I've ever sent. I understand that, but this question is important. Do you have at least a guess or two on a date for your luncheon? I am approaching the deadline for bidding my vacation dates.
We're focusing on July 23. I hope to be able to confirm that date soon.
Everyone seems really excited about WR Charles Johnson, but if Ted Thompson thought he was so good, why did he wait until the seventh round to get him?
Because he could. Why would you draft a guy earlier than you have to draft him? Chuck Noll wanted to draft John Stallworth in the second round. His personnel man told him to be patient, "We can get him later." They picked Jack Lambert in the second round and two rounds later they picked Stallworth. This goes with what I've been preaching about fitting yourself to the pick. It's not enough to know who you want to draft, you also have to know when to draft them. When you combine who and when, you achieve full value.
Why is height so important for left tackles? I understand why arm length is important, but people are saying Bakhtiari is too short to play left tackle at 6-4. Does one inch really make that much of a difference?
I'm with you on this one. I understand that the preponderance of great left tackles are tall guys, but I agree with Bakhtiari that length is defined by the arms, not a man's height. Leon Searcy is one of the best tackles I've ever covered. He was a right tackle, largely because Boselli was the Jaguars' left tackle, but Searcy was also Mark Brunell's blindside protector, and Searcy was only 6-4. Searcy overcame his lack of height because he had the arm length of a taller man, and he had the punch of a heavyweight fighter. Nobody punched like Leon. Long arms keep a rusher's hands from getting to the blocker's body, and they widen the route the rusher has to take to the quarterback. Bakhtiari's arms are long enough to play tackle. By the way, Michael Roos is one of the best left tackles in the game, and he has alligator arms. Hey, if a guy can play, he can play.
Vic, I'm growing tired of your love affair with Tony Pauline. Can you give it a rest for a while?
Huh? He's our draft analyst. He's our Mel Kiper. Why would we give our draft analyst a rest during the draft season?
Vic, I'm looking forward to seeing Aaron Rodgers on "The Office." Do you think he will ever host "Saturday Night Live?"
"The Office" has always been one of my favorite shows, but it just dawned on me that I don't watch it as much anymore, and that's because my wife has literally driven me from the family room with that mind-numbing singing show, "The Vibrato" … I mean, "The Voice." I can't take the screaming. Scream, scream, scream; everybody's screaming on there. Well, tonight, I'm gonna watch "The Office." I have a feeling Rodgers is going to be fantastic in his role. He's perfect for "The Office." He's got the kind of glib sense of humor Don Meredith had, and if Rodgers wins another MVP and Super Bowl, he's a shoo-in for SNL.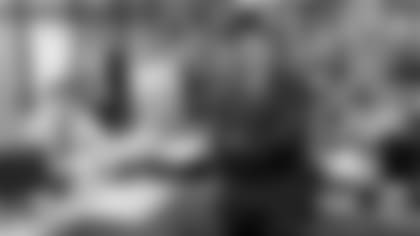 I get that Colin Kaepernick is a stud. He played decent at first and then hit his stride late in the year and we saw how that hurt the Packers, but shouldn't we see a full 16-game season before we decide this guy is the future of anything?
Yeah, I agree, but what are we supposed to do, ignore what he did? Hey, the season opener is only four months away. I can wait. We'll find out then what he has under the hood.
Mike from New Richmond, WI
I think Marko is right, the Packers should change their uniforms, not the logo or the team colors, but what's wrong with updating the uniform details? I think there should be a fan opinion poll and let's see what the fans think. The fans are the reason the NFL exists. I think packers.com is the perfect place to run that opinion poll.
I don't need to run a fan opinion poll to know that the results would be lopsided against changing the uniform design, plus, I don't want that statue walking up to my office. Mike, this is not the team of change. I gotta believe any good Packers fan understands that. This is the team of same. This is the team for people who resist change. This is the team for people who enjoy being linked to past glories. This is the team for people who don't want to see the things they love swept away by a world that often doesn't show enough respect for the way it was, only for what it wants to be. The Packers are bleacher seats and cold weather and uniforms that never leave you wondering who you're watching. It has been that way for a long time and it has served the franchise well. Why would you want to risk success for the sake of change?
Vic, in your "Video Ask Vic," when you were talking about what the team didn't have, you forgot the main person in that, Nick Collins. You are far too knowledgeable to forget something like that. Am I wrong or do you not think Collins was a key piece to that team?
Sure he was a key piece. Zac, a lot of what I do is meant for the fans to fill in the blanks, as you just did. I'm big on something called "think pieces," which is old-school newspaper talk. The question asked was what this year's team has that the 2010 team didn't have. I decided to play with it a little bit on both sides of the issue, with the hope it would stimulate thought, bring back memories of a very good season and promote hope for what 2013 might bring. It wasn't meant to be a documentary.