*As part of the Green Bay Packers' celebration of the 10th anniversary season of the Super Bowl XXXI Championship, Packers.com is running a series of stories about the people responsible for bringing the Vince Lombardi trophy back home to Titletown.
It is a surreal scene to picture. Jim McMahon, the symbolic rebel of the 1980s Chicago Bears teams lounging with Brett Favre, the gunslinger of the 1990s Green Bay Packers teams, after practices during the 1996 season.
"We got along pretty well," McMahon said. "Every once in a while we'd go out and have a few cocktails."
The Packers signed McMahon, best known for his days with the archrival Bears from 1982 to 1987, toward the end of the 1995 season to back up Favre and impart his knowledge from one storied franchise to another. Along with wide receiver Don Beebe, McMahon was the only player on the 1996 roster who had played in a Super Bowl. McMahon, who completed 3 of 4 four passes for 24 yards in mop-up duty in five games, downplayed his impact.
"If you're not playing," McMahon said, "it's hard to be leading anybody."
When pressed, however, McMahon said players approached him during the two weeks leading up to the Super Bowl with questions about the big game. Perhaps McMahon, who mooned a local TV helicopter hovering over a Bears' Super Bowl practice, learned from his previous wrongdoings. He advised his Packers teammates to watch their backs, know where they are at all times and avoid any craziness because of the intense media scrutiny.
"It's become a bigger and bigger zoo every year," he said. "When we won 20 years ago, it was nutty. Now it's just out of control."
McMahon described going from one NFC Central rival to another as "strange at first." That, of course, begs the question, does McMahon root for the Packers or the Bears?
"I'm nobody's fan," he said. "I don't watch football."
McMahon has little involvement or care for the NFL. He does not even watch the Super Bowl. Although McMahon did attend the Packers-Vikings game at Lambeau Field and the Packers-Bears game at Soldier Field in 2005, he sat in the press box, eating hot dogs and chips and chatting with old friends instead of observing the action.
"In the last 10 years, if you put everything that I've seen together, it might equal one game," he said. "I enjoyed playing the game, but I'm not a fan of it. I don't like watching it."
Removed from the game unlike so many former NFL players, McMahon busies himself with several charities, which keeps him traveling away from his Northbrook, Ill., home for more than 100 days a year. He currently has become very involved with two charities, Impact Player Partners and American War Heroes, supporting injured veterans from the Iraq War.
"The government's not doing a hell of a lot to help these guys," he said. "(We) try to raise money and make these guys' quality of life a little better."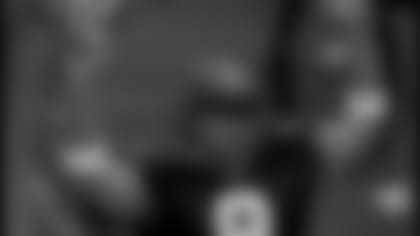 In addition to using his fame to raise money, he recently took a group of veterans, who had been in the hospital more than a year, on a trip to the Pro Bowl so they could have some fun and experience a much-needed diversion.
Helping to generate funds for those charities allows McMahon to participate in one of his favorite hobbies -- golf.
"A lot of these events are golf tournaments," he said. "I get to do what I like to do. I get to do it all over the world"
A five-to-six handicap golfer, McMahon also plays on the celebrity golfing tour, featuring athletes, comedians and actors. He has nine scheduled tournaments this year. Through those events he became friendly with former NBA basketball star and current TNT studio analyst Charles Barkley.
"Barkley's one of my favorite guys out there. Too bad he doesn't play it enough," said McMahon, adding a dig. "He's a lot of fun. I enjoy playing with him and all the guys. ... It's good to sit around the locker and just B.S. about guys' different sports or whatever they did. "
McMahon still keeps in touch with Packers people as well. While attending the two Packers games in 2005, he visited with equipment manager Gordon "Red" Batty and director of administrative affairs Mark Schiefelbein. McMahon may have played seven years with the Monsters of the Midway, but he enjoyed his last stint in the NFL with the Green and Gold.
That 15th NFL season capped his career in fitting fashion. Eleven years after defeating the New England Patriots on the NFL's largest stage in the Superdome in New Orleans with the Bears, he did so again with the Packers.
"It was a good way to finish," McMahon said. "It was perfect."