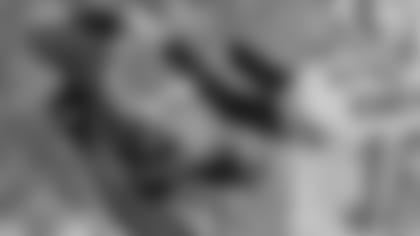 CB Al Harris had 14 of his 21 career regular-season interceptions as a member of the Packers.
GREEN BAY—Al Harris played the cornerback position one way – all out and in your face.
A classic man-to-man, press-coverage corner, Harris confesses he might have had more than 21 career interceptions – plus one momentous postseason pick – had he approached his craft a different way.
But jamming receivers at the line of scrimmage is how he got his career off the ground in Philadelphia, playing for coordinators Emmitt Thomas and the late Jim Johnson, and it became his calling card in a 13-year career.
"I wasn't allowed to play off," Harris said in a conference call with Wisconsin media on Thursday, announcing that he was officially retiring as a member of the Packers. "When a guy was in front of me, I pressed him.
"It kind of caught legs. People saw that's what I was good at. It's hard to find guys that can press consistently. You may get a guy that can do it half a game, but to do it the whole game, year in and year out, it's hard to find those type of guys."
That skill set interested the Packers, who traded for Harris in 2003 after four seasons with the Eagles. Harris spent the next seven years in Green Bay before concluding his career with two injury-filled seasons in Miami and St. Louis in 2010-11.
Harris' career reached its peak in Green Bay with back-to-back Pro Bowl selections in 2007-08, completing a long climb that began on Tampa Bay's practice squad in 1997. That rise to prominence in Green Bay made it important to Harris to retire as a Packer, even though his time here ended in difficulty, with a 2009 knee injury that led to him being released in the middle of the 2010 Super Bowl season.
"Green Bay is a special place to play football," Harris said. "I think I'll always be remembered as a Packer. I feel like a Packer."
He'll certainly be remembered for his overtime pick-six to beat Seattle in the 2003 NFC Wild Card playoff, a moment memorialized amongst the many wall hangings in the hallway outside the Packers locker room.
Harris actually pointed to a 2005 victory over New Orleans, the lone two-interception game of his career that included a pick-six and his first career sack, as his top highlight, calling it "a pretty good day for a corner." To him, the big playoff interception two years earlier was nothing but a simple reaction.
"It was an all-out blitz," he said. "It's Football 101. You can only get a couple of things from a receiver, from a quarterback. You either get a slant or you get a hitch."
An incredibly fit, durable player, Harris played in 175 consecutive games in Philadelphia and Green Bay before a lacerated spleen sidelined him for four contests in 2008. Then came the knee injury midway through 2009, a hamstring injury in Miami in 2010 and another knee injury in St. Louis in 2011.
Having gone through so much rehab and recovery in his late 30s, he had no problem calling it quits.
"I knew I was on the clock," he said. "Your body can only take so much, and I had pushed it to the limit for so long, was so fortunate and blessed not to have missed a game, to play through some injuries. I looked at it as God telling me it's time to turn the page."
That page has now turned to coaching, as Harris is a defensive backs assistant in Kansas City after interning last season for former Packers offensive coordinator Joe Philbin in Miami.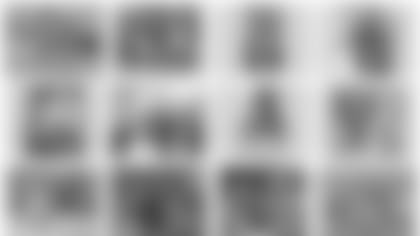 Mentored early in his career in Philadelphia by fellow defensive backs Troy Vincent, Bobby Taylor and Brian Dawkins, Harris got his first taste of coaching by taking young corners like Tramon Williams under his wing in Green Bay. He has also coached his son, Al Jr., who's a heavily recruited cornerback with one year of high school left at St. Thomas Aquinas in Fort Lauderdale, Fla.
With the Chiefs, Harris is working for new head coach Andy Reid, his former head coach in Philadelphia, and Thomas, who coaches Kansas City's defensive backs.
"I reached out to Andy," Harris said. "I called to congratulate him when I found out he had the job. He knew what I wanted to do after my playing career was over."
Harris was asked if he has discussed the transition with former Green Bay teammate Charles Woodson, who has indicated he wants to continue playing but has not yet been signed. Harris said the two situations are different, because Woodson is not injured, as Harris was when he hung it up, and his advice to Woodson is to "go for it."
"One thing you don't want to do, you don't want to leave the game and think that you still had something in the tank," Harris said. "When you've emptied your tank, you're at peace with yourself. Once it's over, it's over as far as playing. I emptied my tank." Related links