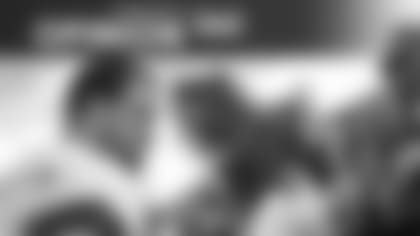 LT Bryan Bulaga
Packers fans such as myself always like to say the NFC North is the best division in football; the "experts" say the NFC West is the best division in football, with good reason. The truth is no one knows which is the best division or the best team is or will be in 2013. So, what do you think are some of the more colorful or interesting or good-rivalry divisions in football?
The NFC East and North and the AFC North, in my opinion, have the most colorful rivalries.
Why was Bradshaw's and Noll's relationship so rocky? Did Noll not see what a gifted passer he was?
It was rocky for the same reason Otto Graham and Paul Brown, Roger Staubach and Tom Landry, and Bill Parcells and Phil Simms had rocky relationships. That can happen when you have coaches that are as demanding as Noll, Brown, Landry and Parcells were, and it should also be noted that Noll, Landry, Brown and Parcells weren't warm and fuzzy guys. They could be harsh in their comments. In the last year of his career, Bradshaw was sidelined by arm surgery and told reporters he'd like to travel with the team so he might be a mentor for the young quarterback that replaced him. Noll said, "If Terry can't play for us, he can't help us." Paul Brown was famous for having said, "I pay you to do it right; I'll tell you when you do it wrong." Landry had a stone-like presence and maintained a two-quarterback system in defiance of Staubach's improvisational ways. Parcells was the master of verbal jabs and Simms was a constant target. There's one more thing we should note: All four coaches are in the Hall of Fame. Just win, baby.
For that opening game against San Francisco, is it really possible to emulate in practice what Kaepernick can do in a real game?
It's not likely. You can practice for the read option, but you can't practice for a player of Colin Kaepernick's talent unless you have one of similar talent, and if you did, he probably wouldn't be on your scout team.
Simon from Mountain View, CA
With the news about Bulaga, we've clearly failed the preseason.
We don't have news, yet. We have a report that speculates that Bryan Bulaga sustained a knee injury during Family Night. We have to wait for official word and this is a tough time to wait for injury news because teams aren't required to provide it during the preseason. Tuesday afternoon is the next scheduled Mike McCarthy press conference. All we can do is wait. I appreciate everyone's anxiety. Bulaga was the key player in the offensive line flip-flop. He was having a great camp and the flip-flop appeared to be genius. If he's lost, it's a blow.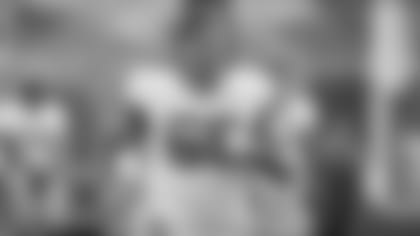 OT David Bakhtiari
Landon from Coeur d'Alene, ID
Tell us more about David Bakhtiari.
He was one of the stars of the first week of training camp. I loved everything I saw in him. He held his own against Clay Matthews. He moved back and forth from right tackle to left tackle. He's athletic and energetic and I see no reason for any concern that he's too small to play tackle. I also like Don Barclay a lot and at one point last week I thought to myself, "How are they going to get both of these guys on the field?" You'd think by now I'd be smart enough not to ask that question, especially as it pertains to offensive linemen.
I am so jealous you were in Canton this weekend. How cool is it there? I would love to go. Especially to see a Packer inducted. I should start saving for the ole gunslinger's induction.
He's next. It'll be in 2016.
The Packers had 60,000-plus fans at their scrimmage on Saturday night. I know other teams hold Family Night and I was wondering if any other team had as many fans show up.
The Packers are the greatest Family Night team in the history of professional football.
Andrew from Jacksonville, FL
Dave Robinson called today's NFL "mamby pamby," compared to how football used to be played. I'm not sure what that means but I have a follow up question about this topic. Who is more responsible for creating today's kinder, softer NFL? Is it the NFL itself, or the American judicial system? You can't sneeze anymore in this country without potentially getting sued. It's the judicial system that's gone all mamby pamby, in my opinion. The NFL is just adapting itself to continue its existence. Thoughts?
It's not the judicial system that's suing the NFL, it's 4,000 former players, many of whom are from Robinson's era. There's the rub in all of us. I applaud Robinson for making the comment he did at yesterday's roundtable discussion. I wanted to shout "that's right" when he said, "We made the NFL successful. We played the game people wanted to see. Now they're reaping the benefits. I hope they understand that." It's not less a fact, however, that the lawsuit the league is facing from the list of former players that grows larger every day is forcing the league to change its culture and the game. I don't know what the answer is to this problem. I love the way the old guys played. I wish the league had taken better care of them. If it had, maybe it wouldn't be facing this lawsuit.
Mark from Stewartville, MN
Vic, how do Dave Robinson and Ray Nitschke rank among the best linebacking duos in NFL history?
They're right up there with Jack Ham and Jack Lambert, Willie Lanier and Bobby Bell, and Harry Carson and Lawrence Taylor, which is to say two linebackers that played together on the same team and are both in the Hall of Fame.
Andrew from La Crosse, WI
So when can I start to panic over the Packers kicking game? It appears Crosby has lost his game and Giorgio is a weak kicker. I'm starting to get worried.
I'm not big on panicking about kickers after just a Family Night scrimmage, but if what happened on Saturday night continues into the preseason, then the issue is going to intensify quickly and significantly. The ball gotta start splittin' the pipes.
How can you take seriously any news of how good any offensive or defensive player is during training camp when they are playing against your own team?
I remember back in the mid-'80s covering a training camp in which the first two draft picks were defensive and offensive linemen that went against each other every day. The defensive lineman, a guy named Darryl Sims, and the offensive lineman, Mark Behning, traded results. Sims would whip Behning, and then Behning would whip Sims. I can remember thinking that they're either both going to be stars or they're both going to be busts. They were the latter. You can't know for sure what you have until the games are real and they count.
Interesting to hear Aaron Rodgers praise Tyrone Walker after Saturday night's festivities. Walker isn't that big and isn't that fast. Could he become Green Bay's version of Wes Welker?
I praised him last week. It's not that I saw any special skill in Walker. It's just that he has the look of a guy for whom football is an easy thing. No drill is too big for him and he never shies away from contact. I've seen him get pinballed on at least two occasions, and he reacted as though nothing had happened. That kind of ease through contact really resonates with me and, yes, that's exactly what you're looking for in a slot receiver. It gets crowded inside.
Has Crosby used a sports psychologist before? If not he should. They have helped plenty of athletes get over their mental blocks.
I don't care if he goes to see Mona Mondieu, just get that ball between the pipes. That's what it's going to take to get the coach's confidence and, ultimately, that's what it comes down to, the coach's confidence. Two years ago, Mike McCarthy was routinely sending Mason Crosby out to try field goals from the other side of the 50. That's when you know the coach has confidence in his kicker. That kind of stopped last season and what happened on Family Night didn't help matters. Crosby needs to get back his coach's confidence, and there's only one way to do it.
Jeremy from Saint Paul, MN
How do you think it will affect our third-down percentage having a big back like Lacy as an option?
If Eddie Lacy does nothing more this season than convert third-and-one plays, he will have been worth a second-round pick. I think he's going to convert those third-and-ones and a whole lot more.
Can it be Jerry's turn now? Finally?
Jerry Kramer
The question is: Will the senior committee elect another member of the 1960s Packers? I really don't know how any Packers fan can be critical of the men that vote for the Hall of Fame. They've elected 12 men from the 1960s Packers. Hey, there are 31 other teams in this league and they'd also like some representation in Canton. To Jerry Kramer's advantage, a very influential member of the senior committee is in his corner. In my opinion, that's the best thing Kramer has going for him because it means his name won't go away and it happens from time to time that we hit a weak class of candidates. It's also good for Kramer that there appears to be a groundswell to elect him. I liken his situation to that of Bob Hayes, who made it in a few years ago. I support Kramer's candidacy. When I am asked for my opinion from my peers, I always say he should be in. I also understand the pressure the committee members are facing to even the scales of immortality.