You're the GM today. Clay and Lang are signed and you get to break the bank on one cornerback or pass rusher in free agency. Who do you pursue and why?
My inbox has exploded with kill-the-cap, sign-everybody emails. It's an infestation similar to that of the love bug, which hibernates in the rotting vegetation until it re-emerges every spring to remind us of how annoying it is. They don't bite, but they smell terrible. I never, ever break the bank in free agency, the expensive part of which I regard as a trap for fools. It's early this year, but "love bug season" would seem to be upon us. You can't spray for them or otherwise exterminate them. All you can do is wait until they can go back into the rotting vegetation.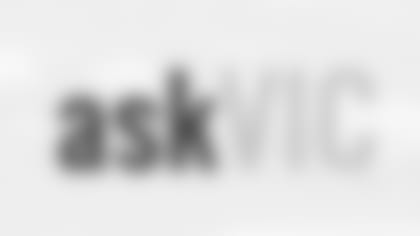 Michael from Ocean Township, NJ
Win a Super Bowl with this roster with an impact corner. Develop a No. 2 and look out. Disagree?
The Packers spent first and second-round picks on cornerbacks just two years ago. I'm not ready to give up on those guys. Use the draft to add to what you have, and then continue the development process. Patience is the key. If you can wait and not be tired by waiting. The Falcons defense struggled early in the season. It was the team's weak link, but not anymore. Defense has led the charge to the Super Bowl.
Vic, who impressed you in the Senior Bowl?
The practices are most important, and I asked Tony Pauline who he liked from the practices. Here are the names: Tarell Basham, DE-OLB from Ohio – High marks with his hand down or standing up. Eddie Vanderdoes, DT from UCLA – "Dominated anyone who tried to block him." O.J. Howard, TE from Alabama – "Best of a good group." Dan Feeney, OL from Indiana – "Great power and intensity." Haason Reddick, LB from Temple – "Provided scouts with a number of wow moments." Cooper Kupp, WR from Eastern Washington – He had a big Wednesday practice that turned heads. Rasul Douglas, DB from West Virginia – Big corner, definite riser. Evan Engram, TE from Ole Miss – Combines blocking and pass-catching. Montravious Adams, DT from Auburn – "Man among boys." Jonnu Smith, TE from Florida International – "Big possession receiver." John Johnson, DB from Boston College – Safety who covers like a corner. Taywan Taylor, WR from Western Kentucky – "Smoothest receiver on the field." Carroll Phillips, DE-OLB from Illinois – "Switched to outside linebacker and didn't miss a beat." Damontae Kazee, DB from San Diego State – "Played well in man and zone." Cameron Sutton, DB from Tennessee – "Left Senior Bowl practices as a big winner." Corey Clement, RB from Wisconsin – "Looked like the total package."
Falcons fans need to be humble to win the first Lombardi. They aren't ready yet.
Fans don't win titles, players do, and I think the Falcons have the combination of a star quarterback and a hot defense that can beat the Patriots.
With the defense based around a lot of sub packages and hybrid players, is it the Packers' philosophy to go after those types of players when building the roster, or does the team just naturally come together this way because of where they pick in the draft and from signing bargain free agents?
You pick the best talent available, and then you fit your scheme accordingly. That's how Mike McCarthy once explained it to me. I think that's especially true when you're consistently picking near the bottom of the order.
Is Vic going to retire after this year? It sure sounds like he needs to move to Florida full time so he can cover the JJs again. I for one will not miss his condescending comments anymore. I hope he enjoys life in Florida.
I wonder, if Thompson had whiffed on his free-agent splurges, i.e. Peppers and Cook among others that didn't work out, would we be begging him to go out and sign someone?
Julius Peppers and Jared Cook were signed as street free agents, which means they wouldn't count against the Packers in compensatory pick consideration. That's a Packers trademark. A team committed to the draft doesn't want to sign a free agent whose addition would cost the team a pick, which is what signing a first-week free agent will do. There are exceptions – sometimes it's worth the cost of signing a first-week free agent – but you're playing with fire.
Weston from Asheville, NC
Is there any free-agent cornerback that would be considered a shutdown corner? If so, do you think Ted Thompson will go after him or one in free agency?
The 2017 free-agent class shouldn't be evaluated until the tags go out and we know who's re-signed with their current team. A shutdown corner in free agency would likely come at a huge cost, since a shutdown corner would likely be a first-week guy. Don't use Charles Woodson as an example. He lasted long enough to make it into what most would consider the bargain round of free agency. Those kinds of mistakes don't happen often.
Why is no player ever signed by another team with a franchise tag? Compensation is two first-rounders, correct? If I'm the Cleveland Browns or San Francisco 49ers, I would gladly pay that for an established quarterback like Kirk Cousins.
Usually the insanity doesn't begin until February. We're early this year.
Why do we not see more superstar players sign team-friendly deals?
George Young said it's about the money, and when they say it's not about the money, that's when it's really about the money.
Michael from Escanaba, MI
I have been a fan and loyal supporter of the Packers for 40 years and I don't take winning for granted, however, at what point should I expect more out of my team? We have had below-average defenses consistently for a while now. Everyone points to injuries but, even with injuries, we should still be able to perform. At what point do we say what we are doing is not working, our fans deserve better and we as a team deserve better, and make some tough choices and change things. Capers is regarded as one of the best in the business, but if we don't provide him with the right resources, he under-performs. Our players might be talented but, if they are not performing, it's time to let them go. Is it a rebuild? No, but sometimes you need to get some new tools to do the job.
The Packers will add talent to their roster this spring, and they will try again to close the gap between where they are and where they aspire to be. They've made it to the NFC title game in two of the last three years, and came a play away in the 2015 postseason from making it three years in a row. In my opinion, that's football being played at a level fans of any team should value. I don't feel your frustration.
What do you think the Packers could get out of trading away some picks and players to increase draft-pick placements? For instance, should they re-sign someone and trade them away for a pick to get something out of paying them more?
When a team does that, it's responsible for accepting the bonus amortization that accompanies the new contract. It could be a big chunk off your cap. In effect, you'd be paying a player to play for somebody else. I think you're trying to get too cute. The Josh Norman situation was different because the Panthers franchised him to retain his rights, but it turned into a distraction that might've hurt the team. Make your decisions and live with what you decide.
Just watched a highlight tape of Eastern Washington WR Cooper Kupp. I think I'm in love.
You have wide receiver fever. It's common. Repeat after me: Get the big guys early, get the big guys early.
Love the column but don't care for the people wanting to sign free agents. How about free-agent signing questions be accompanied by who they would sign and how much they would pay?
How about we wait until the tags go out, players have re-signed and we know exactly what's available in free agency? At that point we'll know who. We already know how much – a lot.
Vic, many of us are hearing that Lady Gaga is going to pull some anti-presidential action during the Super Bowl halftime. Don't you think the NFL would be walking a seriously thin tightrope if this happens?
Is that a rumor or an alternative fact?
Who do you believe is the Packers' most important re-signing need?
Eddie Lacy has my attention because I think whatever the Packers decide to do about Lacy will have a domino effect on other decisions they'll make.
I understand our defense is currently our weaker unit and issues on that side of the ball will need to be addressed but, to be honest, I hope the Packers use this draft to add to the offense and build on our strength. There are some intriguing tight ends coming out this year (O.J. Howard and Bucky Hodges, among others) that in tandem with a returning Jared Cook would make for a pretty formidable challenge to opposing linebackers, safeties and defensive coordinators. Which talented prospects do you think could persuade Ted Thompson to draft offensively in the first round, if fortunate enough to drop into our laps at 29?
"Drop" is the key word. If a player the Packers have rated significantly higher than where they're picking was to fall to the Packers, they wouldn't pass on him, regardless of the position he plays. Yes, quarterback is a special position and is often an exception to the rule, but quarterback wasn't considered to be a position of need when the Packers picked Aaron Rodgers.