I can't tell if my eyes are getting better or worse with age. I think I see better tackling and pursuit than in recent years. What's more, the defense appears to be playing with an attitude. Do my eyes deceive me or should I trust them? Do yours corroborate?
What you're seeing is the result of what your eyes should've been seeing on draft day for the past several years, which has been an emphasis on adding defensive talent to the roster. You get what you emphasize.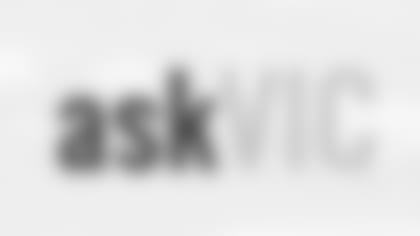 How do you think the Panthers feel about their decision to let Josh Norman walk after Julio Jones lit them up for over 300 yards yesterday?
The Panthers miss Norman, but that's the kind of difficult decision a team must make to remain true to its philosophy. Norman's contract disenchantment would've almost certainly been a distraction. The Panthers took positive momentum out of last season and they wanted to sustain it. In time, they'll recover from having lost Norman, and that's when the question you've asked should be asked again, but it won't. When you lose, everything you say and do is wrong. When you win, they cheer.
I am greatly concerned after watching all the games these past four weeks, and the teams we will be playing cause me to be concerned our pattern of play is not going to allow us to win many games. We appear very weak to rally and beat these teams. I really was ready to forecast a Super Bowl victory this year. Now it just doesn't seem to be a possibility after watching the happenings over the past four weeks. We need strength in the entire lineup. I am sorry to have seen John Kuhn (not re-signed) after he scored three touchdowns yesterday. We certainly could use him in our running game and as the great leading fullback he was.
Need to worry? There's a category four hurricane headed our way. Worry about that.
Vic, I hope you enjoyed your weekend. From reading your column since 2011, I have made progress in controlling my emotions during football games, except during the fourth quarter when the game is on the line. I am also a Georgia fan, and I was wondering if you could give me some fresh perspective after watching the ending to that game.
It's time for the 0-0-11 Ketchman prevent. Why rush?
Vic, have you watched much of Notre Dame's DeShone Kizer? If so, what are your thoughts on him? I'm a fan of the school and believe he could be a star at the next level. He is tall in the pocket and keeps his eyes downfield.
I liked him the first time I saw him play. He's one of the tall and athletic types that are defining the "New Age" quarterback. Kizer is joined by Deshaun Watson and Lamar Jackson. I believe that type of quarterback is the future of the NFL, but only if they can be taught to be more accurate passers. It's the only flaw in their game. They get caught between run and pass, and that's when the mechanics break down and they flip the ball.
Vic, the Packers win against the Giants if?
They run the ball and don't turn it over.
Aaron from Fort Wayne, IN
Vic, say I had missed the first four weeks of the season. What would you tell me I had missed from the Packers season and what is the current state of the team?
You would've missed a team that positioned itself to play its best football in the important weeks ahead. In my opinion, September is an extension of the preseason. It's when the starters play their first true football. I think the league as a whole provided examples of that through the first month of the season. There was no FULL CONSISTENCY anywhere. The Steelers lost 34-3, and then won 43-14. You won't see that kind of spread in November or December. The state of the Packers is that of a team on the rise. That's what young talent does for this team. It keeps it on the rise.
What did you think of the Ryder Cup?
You mean the Taunting Cup? I thought the golf was sensational, though I would've liked to have seen Hazeltine set up to be more challenging. Full-shot errors went unpenalized. It was a putting contest. My great disappointment with the Ryder Cup is professional golfers of the highest esteem allowed the event to be dominated by the fans' rude behavior, even to the point of encouraging it and emulating it. Sportsmanship was lost to golf this past weekend. The last gentlemanly sport is gone.

Engibus from Gainesville, FL
Vic, we both know the rulebook is too thick already, but I propose a rule prohibiting players from wearing gloves, with the exception of linemen. Can I count on you to lobby?
No, because it would be futile. Did you see the interception the Michigan player made on Saturday? He doesn't make that one-handed catch if he's not wearing a glove on that hand. College football and the NFL want its players making that catch. It's good for business.
Hugh from Sioux Falls, SD
Vic, the outcome of which games surprised you yesterday?
No game surprised me. I have come to expect anything and everything. There's no FULL CONSISTENCY.
Jerry from Wilmington, NC
Vic, which college game did you enjoy the most this weekend?
The Louisville-Clemson game was worthy of its billing. I especially enjoyed TV's touch-the-rock drama. The emotion that accompanied Clemson's entrance to the stadium was probably the highlight of the event. Football has become so important to us. There's no taking that away, and that's why football will survive the player-safety movement. We need the drama that accompanies a football game. We need the hype as much as we need the hike.
Jonathan from Holdrege, NE
Do coaches really call give-up plays that allow the opponents to score so they have more time when they get the ball back? Or do teams always try to stop the other team no matter what?
In today's game of Hail Mary passes and 15-second scoring drives, the fall-down-at-the-one and let-'em-score plays need to be part of coaching strategy. Game management skills have never been more important. The question is what is the cost of surrender? Do you teach your team to quit? In my opinion, the big picture is more important than the outcome of one game.
Vic, please do us long-time readers a favor and let us know how you spend your free time these days. We miss you!
I watched the Colts-Jags game, and then I watched a blend of Bills-Patriots, Panthers-Falcons, Raiders-Ravens and the Ryder Cup, and then I napped off and on during the Rams-Cardinals game, and then I barbecued chicken for dinner, went to the Bi-Lo to get some ice cream after dinner, and then I fell asleep in the recliner as I was watching the Steelers hammer the Chiefs. In between all of that, I logged on for updates on Matthew. Saturday was a noon to midnight football extravaganza. I'm whipped. TGIM.
Jerry from Wilmington, NC
Vic, did you watch more of the Ryder Cup or the NFL?
I watched equal doses of each, but I listened to a lot more of the NFL games than I did to the Ryder Cup. Every time I switched to the Ryder Cup, the fans were cheering misses or taunting Rory McIlroy or Sergio Garcia, so I quickly muted the TV.
They're the perfect marriage of a young franchise quarterback and a bold coach. Derek Carr and Jack Del Rio just might save football in Oakland. I hope they do.
Otto from Monongahela, PA
Did you watch the human confrontation between Wisconsin and Michigan? It was proof old-school, smash-mouth football hasn't died. Though I wish the outcome would've been different, I came out of the game having a greater appreciation for the game's most fundamental aspects: blocking and tackling.
It's still alive, but it can't win championships if it means not scoring points. Today's game is about scoring points.
I read Mark Murphy's "Take Five" and saw the use of the Oxford comma, which is great! Does Mark actually type his own responses or is he dictating to Spoff and Spoff is typing the responses?
It comes in document form and then Mike edits it, I suspect. When I edited "Take Five," I took the Oxford commas out. I didn't want to do it. I felt I owed it to them.
Keep your eyes on the two guards. Do they pull? Do they pop up and pass set? Do they drive step? That will tell you what the play is designed to accomplish for the offense.
I'm seeing a lot more pulling this year, and I love it. David DeCastro and Maurkice Pouncey were shown getting out ahead of runs last night. Zone blocking has long been an effective means for creating cutback lanes, but I think defenses have caught up with it, and that's why we're seeing more pulling and trapping.