Jake from Wisconsin Rapids, WI
"I mean, you can use it for motivation, but I'm not one to use external factors for motivation. That's not my personality. To me, it's only temporary."—Eddie Lacy, in regards to the Steelers not drafting him. This guy keeps showing more and more what you must love.
For it to be lasting, it must come from within. Draft self-starters. Lacy is a self-starter.
Vic, heading up to Lambeau for the first time this Sunday to catch the game. How warm should I dress?
You don't wanna get caught wearin' your short pants, if you know what I mean. Rocky from Edmond, OK
Vic, I don't know how you do it. You take criticism like a true pro. How do you blow off stream when negative people like Dhee try to ruin your day?
Brennan from Wisconsin Rapids, WI
"Football is a Spartan game, meant to be played by Spartan-like men in a Spartan-like manner." This is do or die. Let's be Spartans.
Do you fear the force of the wind,
Go face them and fight them,
Be savage again.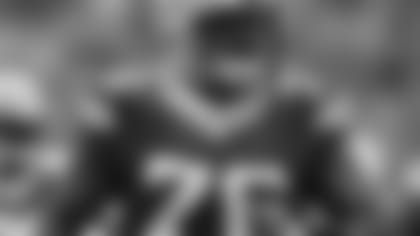 Mike Daniels
Vic, over the course of my life I have played almost every sport there is to play, and I can tell you without a doubt that wrestling is the most personal sport there is. There is nothing more embarrassing than going out on the mat and getting put on your back in front of all your family and friends.
I think wrestling translates better to football than any other sport. If I was a personnel guy, I'd look for talent in the heavyweight division of college wrestling. Mike Daniels was a wrestler. Carlton Haselrig is a legendary wrestler and he didn't play a down of college football, but in just the third year of his NFL career, he was in the Pro Bowl.
Nic from State College, PA
Vic, I'm thinking we are in a Packers golden age.
You bet we're in a golden age. My hope is that we're in a golden season. If the Packers win this Sunday, next week will become the most exciting week in the three seasons I've covered this team.
Uriah from Marysville, OH
What is the best football team you've ever covered in the regular season and what is the best team you've ever covered in the playoffs?
The 15-1 Packers of 2011 and the 14-2 Jaguars of 1999 demand mention. Those were really good football teams. The 1978 Steelers are the best team I've ever covered, period. They were 14-2 in the regular season and breezed through the playoffs with 33-10 and 34-5 wins, and then beat the Cowboys in Super Bowl XIII, 35-31, which was 35-17 with six-plus minutes to play in the game. That '78 Cowboys team, in any other year, would've qualified as one of the great teams in NFL history: Roger Staubach, Tony Dorsett, Randy White, "Too Tall" Jones, Harvey Martin, "Hollywood" Henderson, Drew Pearson, Tony Hill, etc. There was more talent on the field in Super Bowl XIII than there was in any other game I've ever covered.
I enjoyed your interview with Bill Cowher. Tell us something about him.
His reputation is that of a motivator, which he was, but he was also one of the best tactical coaches in the history of the game. Cowher doesn't get enough credit for his coaching smarts. He had a plan for winning and he executed that plan: Get a lead, take the air out of the ball and stick it down your opponents' throat in the fourth quarter. Cowher's teams were 105-1-1 when they led by 11 or more points at the end of the third quarter. That is one of the most amazing stats I have ever seen. When his teams got a lead on you, the game was over.
Have you ever tried Googling your name? There is some funny stuff. Did you know a Jaguars fan created a blog for people to talk smack about you? I have been reading your "Ask Vic" column since you came to Green Bay and truly enjoy your work. Why did you choose to write for the Green Bay Packers?
Among other things, I wanted to cover big games one more time. I'm going to cover a very big game this Sunday and, hopefully, I'm going to cover a huge game the following week. I'm tingling with excitement for what this season can become.
I've now seen two different articles about McCarthy's comments about Rodgers, one saying he was optimistic and one saying it made it seem unlikely he would play. I'm sick of this back and forth. Just wake me up when the game starts and I'll find out then.
Drum roll at 12:25 today. Be there.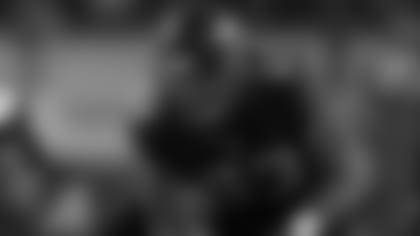 Jaguars C Brad Meester
Mr. Jaguar, Brad Meester, is retiring after 14 years, many of which you covered. Any thoughts on his play?
Brad is one of those players that had the misfortune of having spent a career in the shadow of losing. Every franchise has those players, including a lot of great players that spent their careers with the Packers in the 1970s and '80s. We have a place for them where they live forever: in our hearts, where we store our memories. Brad's career defines the "bad years" in Jacksonville. One day, we'll remember them as having been good years.
Greg from Toronto, Ontario
What are your thoughts on Bell vs. Lacy? The Steelers said recently they picked the right guy, referring to Bell over Lacy.
Lacy was their guy. There's no doubt in my mind. If ever there was a Steelers kind of running back, Lacy is it. They interviewed him at the combine and brought him to Pittsburgh for a pre-draft visit. They got scared off by the toe, and that's when Bell became their guy. There's reason to believe they'll both be star running backs. Their careers will be fun to watch and weigh. We'll revisit this at a later date.
Chris from Statesville, NC
Vic, I actually love your sarcasm and wish you would have let Dhee have a little taste.
I think I'm gonna change my name to Vhic.
Gerrit from Milwaukee, WI
Serious question, Vic. I see the Packers are hiring shovelers for Friday. Do they plan on putting more trucks on the road for Sunday's game? Should I leave on Saturday? Are there rooms available within walking distance? Let us know, Vic. I just don't want to miss the expression on your face when the Packers beat your Steelers. Will Spofford be doing a live interview with you after the game? Just remember, there's no crying in football.
Hey, you're a funny guy. The hotels are all booked up, but you can stay with me. I've got a room and I've got a shed. The shed would be good for you.
Jon from South Saint Paul, MN
I agree with you that come this time of year, the direction of a team's arrow is more important than almost any other factor. So, is the Packer arrow pointing up right now?
I think it is, and it sounds as though Bill Cowher thinks it is, too. I found my interview with him to have been enlightening and stimulating. Coach "Kire" gets to the heart of things, doesn't he? The namby pambies are saying shut it down because the Packers don't have what it takes to go all the way, and Coach "Kire" says the Packers absolutely can go all the way. I'm with Coach "Kire."