Bob Schnelker with QB Scott Hunter and WR John Spilis during a 30-13 loss to the Los Angeles Rams on October 24, 1971
*
*

Cliff Christl started gathering oral histories with former Packers and others associated with the team in 2000 and will continue to gather them as Packers historian. Excerpts from those interviews will be periodically posted at *www.packers.com*
Bob Schnelker served two stints as an assistant coach with the Packers: The first from 1966-71 and the other from 1982-85. Hired by Vince Lombardi, Schnelker was the Packers' receivers coach when they won Super Bowls I and II. In all, Schnelker spent 27 years as an NFL assistant after playing offensive end for nine pro seasons, five of them with the New York Giants when Lombardi was an offensive assistant there. This installment covers the two years Schnelker served as an assistant under Lombardi with the Packers.
On the key to Vince Lombardi's success:"His key to coaching was to inspire the players to play. He was not a great X-and-O man. He wasn't that. But he could motivate people better than anybody I ever saw. He knew exactly when they needed to be talked to: Whether it was a Tuesday after the game, a Friday morning before the game, Saturday morning before the game, Wednesday afternoon. He always knew when they needed jacking up. That was what made him the great coach he was."
On what made Lombardi such an effective communicator: "He just knew when to do it and what to say. He had a great speaking voice. He was smart. He had studied to be a lawyer. So he knew words. He could get up there and say the right things, and it wouldn't take forever to do it. He knew what to say and when to say it and when the players needed it."
On how often Lombardi addressed his players: "He didn't overdo it. I've been with head coaches who talked to the players every day before practice, every day after practice, all week long, and the players tuned them out. Even as a coach (working for Lombardi), you sat there at the end of your chair and you were ready to go play."
On Lombardi's explosive temper: "As long as you didn't make mistakes, you were OK. But if you made mistakes, he was all over you. And he didn't care who it was. That was his way."
On Lombardi's uncanny ability to browbeat players and still have them brimming with confidence on game day:"Another thing he could do and he did it all the time was that he could put a play in Friday morning before a big game and the (darn) thing would work because the players knew that if he thought enough of that play to put it in Friday morning, we better do it and it would work. It might be some unusual play. He'd wait until Friday morning and say, 'I want to put this play in.' Then we all had to give it to our guys, practice it on Friday and the walk-through on Saturday. The other plays we'd work all week long. But he was good at that. He knew exactly when to do what."
On Lombardi's playbook: "It wasn't a big playbook. Like I said, he wasn't a big X-and-O guy. Also, if you came up with an idea, he'd listen to you. He might use it; he might not use it. But you could give it to him and let him decide if it was a good idea or not."
On how many plays would be in a Lombardi game plan: "It wouldn't be many. Running plays, I'd say maybe a dozen at the most with some variations. Pass plays, probably a few more because on pass plays they could tell an individual what to do. You'd have a basic pattern, but maybe you'd tell Max McGee to do this or that, which would add to the numbers. But it wasn't a big playbook. Some of these guys now days, no wonder those kids make mistakes."
On how often Lombardi would run his strong-side and weak-side sweeps in a game:"Quite a few and as long as they worked, more. Vince was known for that and he always liked to teach it."
On why teams don't run Lombardi's sweeps today: "I think guys now days are so fast, they can run it down from behind. Some of these defensive ends and linebackers coming from the backside can run down stuff you can't believe. The game has changed. They talk about all the plays teams have now days, but I think most of them are pass plays. Run plays with zone blocking, there isn't much to it. They don't trap like they used to in my days: Run traps up inside and split the defense down the middle. They just overpower people."
On Lombardi's philosophy about the passing game: "Play-action on third-and-one, third-and-two. He'd go for the home run and it worked a lot. But he didn't have that many deep passes in. Bart (Starr) was an intermediate guy. It was like part of the running game."
On Lombardi saying the left halfback, not the quarterback, was the key operative in his offense: "I'd say it was pretty balanced. Maybe with Paul Hornung that was the case."
On whether Lombardi allowed his assistant coaches enough latitude to be effective: "No, no, he let you coach. If you didn't do it the way he wanted it done, he'd be all over you. But I can honestly say in all the years I was around Vince, 10 altogether (as a player and coach) never once did he yell at me because I knew what I was doing. I'm not bragging, but I was smart enough to know what I was doing."

On Lombardi's relationship with his assistants: "I noticed this ever since I knew Vince – I played for him and coached with him – he always had a whipping boy. He always hired a guy he could berate. Red (Cochran) was his guy at first. Then when Red left, he hired Tommy McCormick. Tommy McCormick was not a coach. He was a nice guy, but he didn't belong. He wasn't knowledgeable. Guys made fun of him, just like (Paul) Hornung and those guys made fun of Red. Then Tommy came in just before the second Super Bowl and the players made fun of him. Vince would see Tommy do something wrong and he'd jump all over Tommy. Boy, that would shake the players up. Vince was berating one of his coaches. He always hired a guy like that; that he could yell at and scream at and get no recourse."
On Cochran resigning as backfield coach following the 1966 season:"We were coming back, I think from the first Super Bowl. We could bring the wives back with us. In those days, there were quite a few first-class seats and the coaches and wives sat there. But there wasn't enough room for all of us. Vince had Red and Pat (his wife) sit in the back. Red blew up. 'Why should it be me? I've been here longer than a lot of these guys.' Red was pretty hotheaded and he got into a shouting match with Vince. Pat and Red were the only two who had to go in the back."
On whether Lombardi ever went out with his assistant coaches socially: "No. He didn't want to be that close to us, I'm sure."
On Lombardi's 5 o'clock club at St. Norbert College during training camp: "The 5 o'clock club was a fun thing. Vince had a lot of visitors. A lot of guys from New York would come and stay a few days -- buddies of his. Vince was at his best with those guys. Football was forgotten. That was the relaxation part of the day. We'd talk about the topic of the day, maybe things that happened in practice, funny things or bad things. It was a nice big room. So Vince and his buddies would be over this way and the coaches over this way."
On receiver Carroll Dale: "There's a guy I coached with the Rams and then I come to Green Bay and he's with Green Bay. Carroll was fast, very intelligent. Another guy who was willing to listen to coaching. He and I had a big outing one time, and later on, like six months later, he wrote me a letter and apologized and said he was wrong. I never had anybody do that. It was a route-running thing. (But) he was the epitome of route running."
On receiver Boyd Dowler: "I never could warm up to Boyd Dowler, but he and Bart worked together great. Plus, he was 6-5 and he could run pretty well. He didn't have great speed. Less than Carroll Dale."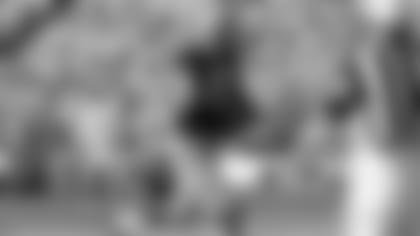 Packers WR Max McGee catches a pass for a touchdown during Super Bowl I Jan. 15, 1967
On receiver Max McGee: "Max was my kind of guy. Max could do anything. He could make impossible plays. Certain guys, no matter where they are or whom they're playing with, make sensational plays. It's just in their nature and Max was one of those guys. He didn't have the great speed or the great this. He didn't always do what you told him to do and didn't give a (darn). Yet when the chips were down, Max could play. Just like that one-handed catch in the Super Bowl. He comes off the bench and plays like he's all-world. He was a good athlete. He could play anything."
On receiver Bob Long: "Bob Long was just a guy who could run like hell. He was too stiff. To me, he was more of a sprinter playing football, yet I don't think he was ever a sprinter. He could run and catch the ball most of the time, but you couldn't depend on him to beat a defense."
On tight end Marv Fleming: "Marvin wasn't brilliant. But he was a big, strong guy and he could catch the ball when he had to. He was a real good blocker. He wasn't real fast. He was what I call a ground-pounder. He wasn't light on his feet."
On veteran tight end Bill Anderson, who started for Fleming in the two postseason games in 1965 and caught eight passes: "Bill was very average, but a good player. Another guy you could depend on to do exactly what you wanted. He was a decent blocker, a decent pass receiver. Not the best I ever coached. Far from it. But a nice guy. We were friends because we played in a Pro Bowl together (in 1959)."
On guard Jerry Kramer: "He was as good as there was around. He was smart and smart guys always got by on things. They could figure out when to hold, when to do this. He was big for his day. He was a good blocker. Forrest Gregg was the best lineman, but Kramer was better than (Fuzzy) Thurston. Fuzzy was just a hard worker."
On tackle Bob Skoronski: "Bob was a hard worker. He was a good player. All those linemen were good in their own way."
On guard Gale Gillingham: "Gale was the best guard I've ever been around. Maybe I shouldn't say the best because I played with Jack Stroud (in New York). But Gillingham was a big kid and he could run for a big man. He was a great player and had a great attitude."
On who was better, Gillingham or Kramer: "I think Gillingham. They were the same type. Big. They weren't fat. They were men. Two giant guys. They were tough enough. They were smart enough. That's how Vince won all those championships. With smart people. Guys on some teams aren't very smart."
On quarterback Bart Starr: "Bart was good. In those days, it just took a guy who was very smart and made few mistakes. Did what his coach told him. What Lombardi told him. Listened to everything. Worked hard at it before a lot of guys did. I'm talking about looking at film. Bart was a great player. He won games that an average guy couldn't do. Arm strength was very, very average. Now days, they probably wouldn't even take a look at him unless they knew who he was and knew he had those smarts. He didn't start out like he was going to be the greatest player. But toward the end, he was as good as there was. Look at all the championships."
On the key to Starr's game:"He anticipated. I told every quarterback I ever coached, you have to anticipate what is going to happen. You can't wait until it happens. I always said, 'If you wait, you're late. And if you're late, you're going to get an interception.' But he had great anticipation. Another thing, he believed in his receivers. He knew their strengths and shortcomings. He knew what Boyd could do and couldn't do, what Max could do and couldn't do, what Carroll Dale could do and couldn't do, what Marv could do."
On whether he knew Lombardi had tried earlier to trade Starr straight-up for Dallas' Don Meredith: "I didn't know that. But it ended up he was better off with Bart. I don't think Meredith would have been his type of guy. Meredith was too outgoing for Vince. You know, Bart was the ideal guy for Vince because Bart wasn't one to contest anything Vince said. He did exactly what Vince wanted him to do and it worked out. He knew his receivers. His anticipation was the best thing he had. Bart wasn't the toughest guy in the world. He wasn't the tallest guy in the world. He didn't have the arm strength. But you put those other things together and he was as good as they come."
On why Lombardi didn't play Travis Williams much in the Ice Bowl and Super Bowl II after he had a big game against Los Angeles in the playoffs, and why Lombardi went back to Ben Wilson at fullback in Super Bowl II after Chuck Mercein had a big game in the Ice Bowl: "I'll tell you what: It was him (Lombardi) doing it all by himself. Like I told you, he knew exactly how to do those things. Just like he did with those new plays he'd put it on Friday. He played hunches and they always worked. Travis probably would have coughed up the ball a couple times (in the Ice Bowl). Travis was strictly a speed guy. Big guy. In those days, for a sprinter-type guy, he was pretty good size. Chunky. But he could fly."
On why Williams didn't play much in the Super Bowl: "Another thing (Lombardi) knew was that Travis couldn't handle it mentally. Travis was not very bright. You can tell by the way his life ended up."
On fullback Jim Taylor, whose final season with the Packers was Schnelker's first as an assistant coach: "He was still a good player. There weren't many better than he was. He was tough. He'd run over people. He'd get things done when he had to."
On Elijah Pitts, who took over from Hornung as the Packers' starting halfback in 1966: "I liked him. Great kid. Hard worker. He'd do anything to please Lombardi. He was a good back. He fit into the system."
On Wilson, one of Taylor's replacements in 1967: "Ben was very average, but he'd fill the job. Just a big guy who could run over people and catch the ball once in awhile."
On Mercein, who also filled in at fullback in 1967: "Very intelligent player. He could do anything you wanted him to do. Very solid, mostly because of the mental thing."
Schnelker, 88, lives in Naples, Fla. The excerpts here were taken from interviews conducted in 2003, 2009 and last week.