I was reading an article about how the Broncos' Super Bowl team was built. I counted 17 free agents on their roster. Do the Broncos have some looming salary-cap issues facing them in the future? Did Elway leverage the future to pick up Peyton Manning and other free agents for short-term success? Based on comments here, it would seem you can't have it both ways.
The salary cap train whistle is blowing, and 2015 would appear to be the point at which the Broncos have to get off the tracks because Manning's cap hit goes to $21.5 million. Obviously, the Broncos have set 2015 as the end of the line, but what if the Broncos win the Super Bowl on Sunday and decide to restructure Manning for 2014 and push more money out so they can load up a little more? That's entirely possible. At that point, they'd be facing an obvious cut-and-gut in the near future, but I don't know that it would matter because in this case there are two whistles blowing, the cap whistle and the age whistle. When age costs Manning his effectiveness, will it matter where the Broncos are with their cap? In either case, it'll be a cut-and-gut. The Broncos took a huge risk and are reaping the rewards, but there's only one Peyton Manning and they got him. This is the exception, not the rule.
Paul from Apple Valley, MN
I've asked this before but had trouble getting an answer: If there are two similarly talented players at the same position on the board when you pick, one has an agent who is known for getting his guys in camp early and the other is known for having holdouts, is a team then drafting agents rather than players?
Once upon a time, the answer was yes. If a player was represented by Jerry Argovitz, a lot of teams weren't interested. Some teams felt that way about Leigh Steinberg. Nowadays, draft picks are largely paid according to their slots. Agents are waiting for the first domino to fall. When it does, they apply the increase in pay from that slot in the previous year, and then apply the same or a similar increase for their guy. There was no salary cap when Argovitz was at the zenith of his career. Agents today are hamstrung by the cap. Their greatest worth, in my opinion, is their ability to help structure a contract that's beneficial to their client and the team. That's what it takes nowadays to get a deal done.
Vic, your leg was clearly donning jeans, not khakis. If you lie about that, how do we know whether you really want to draft for need or think the Packers should go to a 4-3, or that we should have kept Cullen Jenkins?
Peter, Peter, Peter. If you're gonna get into this whole scoutin' thing, then you've got to start thinkin' like a scout. They travel a lot, and no self-respecting scout would ever be caught dead at baggage claim. Just carry on, baby. That means clothes must be kept at a minimum. Jeans are multiple-wear pants. You wear them on the way there, and then you wear them on the way home. Khakis, however, can't be worn two days in a row without everybody at breakfast seeing that you've lost your crease and that means you're wearing the same pants you wore yesterday, and I only do scoutin' in khakis. Tony wears jeans to do his scoutin'. I haven't said anything to him about it, but it's not a pretty sight.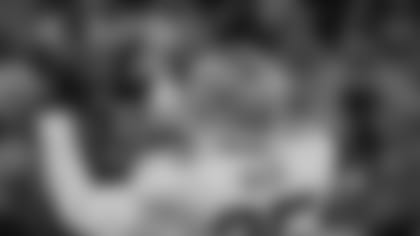 49ers S Eric Reid
Thomas from Milwaukee, WI
Is it a bad year to be drafting at the bottom? I remember you saying the opposite about last year's draft class.
It's all about where the runs of talent begin and end, and what the degree of difference in talent is between the runs. There were some good players taken in the second half of the first round in 2013. The three rookie Pro-Bowlers who were selected in the first round – Eric Reid, Kyle Long and Cordarrelle Patterson – were all selected in the second half of the round. Eddie Lacy, the other rookie in the Pro Bowl, was a second-round pick. I didn't like the top of the draft last year. I thought Dion Jordan and Tavon Austin, for example, were huge reaches, but that's where they projected. This year's crop looks a little better at the top, but not at quarterback, which is the position that usually defines the top of the draft. I like what I'm starting to see for the bottom of the first round. More on that later.
Vic, your scouting shoes are just fine, but that guy with his pants tucked into his ice-white sports socks, that's what gives your great nation a bad name.
Actually, his socks are baby blue. It's an interesting look. Obviously, he was going for something there; I'm not sure he pulled it off. If the man in those socks reads this column, I would ask that he please write to us and tell us what fashion statement he was making. Who is the man in the blue socks?
Paul from Farnborough, UK
Vic, when it was announced, what was your feeling on the 2014 Super Bowl being played in New York? Has your opinion changed now that the game is set to be played in freezing conditions?
My initial reaction was the league was unnecessarily accepting a tremendous weather risk that could ruin the game. As it turns out, it appears the game will be played in dry conditions and with temperatures in the high 20s, and there's no threat of a major storm snarling air traffic, so fans will be able to get into and out of New York. The league got lucky. I wouldn't advise trying it again.
How do teams begin to assemble a draft board and when does the process officially start?
Area scouts start coming back to the "mother ship" when the college season ends, at which point personnel departments begin having draft meetings for the purpose of assembling their board. It'll vary from team to team, but it's been my experience that most teams have their board arranged before they go to the combine, and then tweak their board after the combine. I had a GM tell me he once waited until after the combine to do his board, and it was a disaster because they found themselves putting too much weight on combine workouts.
Kyle from Salt Lake City, UT
How do you feel about Shayne Skov from Stanford as a potential second-round pick? He seems like the physical run stuffer this defense could use.
I don't know in what round he'll be selected, but I like him. He's a banger that fits well at weakside in a 4-3 and weakside inside in a 3-4.
Eastern Illinois QB Jimmy Garoppolo
Jay from Arlington Heights, IL
Vic, I went to school with Jimmy Garoppolo and was curious about your thoughts. He is a very hard-working guy who keeps exceeding expectations. What say you?
He was a late addition at the Senior Bowl, and I think that caused everyone to take a harder look at him on day one when they announced at practice that he was being added to the roster. The first thing I noticed is that he has an extremely quick and compact throwing motion. At times, it appears jabby or punchy. So my question would be: Can he generate enough power in his throws with such a short throwing motion, and can he be fluid enough with that delivery to be accurate? If the answer to that question is yes on both counts, then he has the kind of quick release that works in this league.
Why is March 11 the day all teams must be under the 2014 salary cap? Seems like an odd time of year for that date. Wouldn't a better date be right before the season when teams know what their rosters will look like?
Week 1 of the regular season actually is the time when the "real" cap begins. That's when the cap rules shift from offseason to regular season. March 11 is the first day of the league year. It has to start sometime and March 11 is the day when everything begins: free agency, trading and the deadline for being under the cap according to the offseason cap rules.
Seth from River Falls, WI
I just watched Terry Bradshaw on Jay Leno the other night and the guy is hilarious, however, I noticed how stiff he was when he walked and how hard it was for him to sit down. He told Jay how he would be having surgery on his wrist, knee and ankle in the near future, and commented on how playing football all those years has caused him to fall apart. Do players such as Bradshaw, who basically have ruined bodies and live in constant pain, regret playing football when it is all said and done?
No, they usually don't, and that's the crazy part. Something important happens on a football field. It fills a void in men that otherwise would remain a void, and you don't have to play pro football to fill that void.
Could Dee Ford fit into a 3-4 as an outside linebacker, or is 4-3 a better fit for a speed player like him?
Defensive end in a 4-3? I don't see it, unless he's used as a pass-rush specialist. At 240 pounds, he's either going to get snowplowed by the big tackles in the run game, or he's going to run himself out of the play. I think Ford has to play rush backer in a 3-4 and the fact that he didn't play that position at the Senior Bowl makes me wonder, "What's he hiding?" He's going to test great for mobility at the combine, but that still won't tell me he has the instincts to drop into coverage. If you draft Ford, you better have a strong vision for him because you'd likely be selecting a player who you've never seen do in a game what you're going to ask him to do.
Any insight on Crockett Gillmore?
Great name. I thought to myself, "I wish my parents had named me Crockett."
Vic, you know the picture you took of your socks (and shoes)? You and I wear the same shoes! In fact, I'm wearing them as I type. Nice choice.
They say something about a man. They say I'm comfortable in my own skin and secure in my own manhood. My clothes tell the story of me.
Vic, I have heard good things about safety Jimmie Ward. Sounds like he has good instincts and is decent in one-on-one coverage. What did you see from him at the Senior Bowl?
Ward is from Mobile and one day at practice a group of school children from the Mobile area – they might've been from a school Ward attended – began chanting his name: Jim Mee Ward, Jim Mee Ward, Jim Mee Ward.
Aaron from Englewood, CO, would be appalled to know the Rams cheerleaders don't receive any pay. Exposure is their pay.
Vic, your comment about never, ever drafting for need angers and frustrates me as a Packers fan. Are you aware we have a general manager who doesn't believe in free agency? How else are we ever going to find the safety or linebacker we need so late in the draft every year?
By being patient and allowing the draft-and-develop philosophy to unfold.
Vic, if you had the first two or three picks, would you draft Clowney? There is something about him that doesn't sit right with me and I'm not sure what it is.
It's probably the penchant he showed this past season for running around blocks. It was most evident in the bowl game and it bothered me, too, but Jadeveon Clowney was in a tough spot this past season. He would've been the No. 1 pick in the 2013 draft had he been eligible, so a big part of him had to be playing to not get hurt. Whatever that might've cost him in perception he can recover at the combine, as long as he agrees to do the drills. I have to believe he'll test like a monster. If he declines to do the drills, however, he'll cause teams to become suspicious.
Therese from Kaukauna, WI
Vic, my friends and I were talking this weekend about how much more fun the Super Bowl would be if it was held on a Saturday night. Do you think the NFL would ever consider moving it to a Saturday night so the fans could enjoy it more?
I'm a traditionalist and my first reaction to the suggestion of change is usually resistance, but my opinion on this matter has softened. I think playing the game on Saturday is worthy of consideration. It would allow us all day Sunday to revisit the game. I mean, what else do we have to do, watch the NBA?