*Cliff Christl started gathering oral histories with former Packers and others associated with the team in 2000 and will continue to gather them as Packers historian. Excerpts from those interviews will be periodically posted at **www.packers.com*
Bud Lea, a Green Bay native, covered the Packers for more than 50 years, including the nine he spent as beat reporter for the Milwaukee Sentinel during Vince Lombardi's coaching reign. He covered all five NFL championship games won by the Packers in the 1960s, as well as Super Bowls I and II. In all, Lea was a beat reporter for 19 years and covered 30 of the first 31 Super Bowls. He covered the Packers for the Sentinel from 1954 to 1972. After leaving the beat, he continued writing about them as both a columnist and sports editor until his retirement in 1995. He subsequently wrote columns about the Packers for Packer Plus, a weekly magazine published by the Milwaukee Journal Sentinel. Lea also authored "Magnificent Seven: The Championship Games That Built the Lombardi Dynasty," which was published in 2002. In 2011, he was one of 14 people interviewed extensively for the HBO documentary, "Lombardi."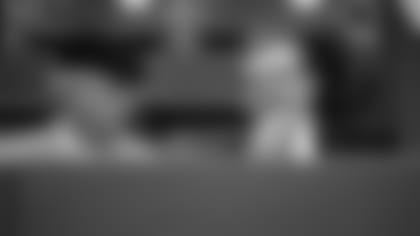 (Pictured above: Bud Lea, Ron Wolf)
On growing up in Green Bay and going to Packers games at old City Stadium in the 1930s and '40s: "When I was six years old, my dad worked in the railroad mail service, the post office car on trains from Green Bay to Winona, Minn. He could afford only one ticket to go to a Packer game. He was a big sports fan. He'd take me there, and I remember going through the turnstiles. My dad was kind of a skinny guy and the guy at the turnstile would say, 'Double up,' and two skinny guys would get in on one admission ticket. You'd sit on those wooden bleachers. You always took a blanket because they had so many splinters in them. I'm happy I was able to see Curly Lambeau and Don Hutson and all those guys that got in the Hall of Fame and those championship teams. Guys go back and talk about it, but I actually saw them."
On being given the Packers beat in 1954: "It wasn't very much desired by the other guys on the staff because the Milwaukee Braves were the thing. They put two guys on the Braves right away and took them to spring training. The next biggest thing was Wisconsin football. They were a Rose Bowl team. Marquette still had football at that time. That was a good beat. The Milwaukee Hawks was a major beat. Way down on the list was the Packers. (We) didn't go to training camp. They didn't cover preseason games because they were so bad. (The Packers) were bad, but I was thrilled. It was almost like a dream come true. Here, you're born in Green Bay and, boy, you're going to cover the Packers."
On whether he ever had any dealings with Lambeau: "I remember going out with Lombardi's teams in Los Angeles and Curly showed up one morning at breakfast. Lombardi didn't want any part of him. He acknowledged him, but that was all. But I remember sitting at breakfast with Curly and Tom Miller (Packers publicity director). I always felt Curly wanted to go back to Green Bay in some capacity and never got the chance. He was always debonair, distinguished guy. Curly was almost too big for Green Bay. He was nationally known. But he spoke highly of the Packers when I was with him."
On Fred Miller, president of Miller Brewing and his designs to move either the Packers or Chicago Cardinals to Milwaukee:"If he hadn't died and that team (Green Bay) wasn't going to build a new stadium, it would have moved to Milwaukee. I know the Braves would have never left Milwaukee for Atlanta if he was around. He was a big sports fan and a big Packer booster, too."
On Lisle Blackbourn, who had been hired out of Marquette University in 1954 and the first coach he covered:"The players called him, 'The Lizard.' I thought he was a good coach. I knew him a little bit.  I think (Blackbourn) was very forceful. I don't think he was like (Dan) Devine that did ridiculous college stuff. I thought (Blackbourn) was a very professional guy, but he had that active executive committee there. I think it was an easy excuse for players if they weren't being used to go to some guy on the executive committee and complain. I wasn't up there, so I can't prove this player did this or this player did that. But it was common knowledge that it was the undermining of the executive committee. Oliver Kuechle (sports editor of The Milwaukee Journal) called it the Soviet system. See Oliver, he was one guy they had to be careful of. Lloyd Larson (sports editor of the Milwaukee Sentinel) was a cheerleader. I know Blackbourn was a tough guy. He didn't put up with a lot of crap. He had a good record at Marquette. I thought he was a capable guy."
On Kuechle, his competitor on the beat and a harsh critic of the Packers in the 1950s:"Wrote (darn) good columns. Critical. I liked Oliver. A good reporter. A good-looking guy. He liked women. He liked his drinks. I remember at Camp Randall, he'd be typing and smoking like crazy. (Gosh), he wrote good game stories."
On Kuechle also being one of Lambeau's allies in the battle for power in the late 1940s:"He was, yeah. That's how (the Packers) got to play in Milwaukee in the first place, I guess, through Oliver Kuechle."
On Scooter McLean, head coach in 1958: "Scooter -- they had no discipline at all. I remember going out to (the West Coast) and he was playing cards with the guys at night. Everybody liked Scooter. He was a nice guy, but no discipline. Absolutely none."
On The Piccadilly, a popular Green Bay bar and Packers hangout in the 1950s that Lombardi put off limits: "That's where the craziest stuff went on. Want to pick up a babe, go to The Piccadilly. That famous story about the guy who wrote the letter to the Press-Gazette, 'Why pay 10 bucks to see the Packers play at City Stadium when you can go to the Piccadilly and see them play for free?' There was drinking, dancing, whatever. It was the biggest pick-up place in Green Bay. The players knew it. It was a big bar, big neon signs. It was thee place in Green Bay, more so than any place downtown."
On Jack Vainisi, the scout who uncovered many of the Lombardi Packers: "He was a tremendous talent scout. Vainisi knew Lombardi. He had so many connections. A bright guy and so many contacts. He married a Green Bay girl. I remember going to that funeral at Annunciation Church after he died. Players loved Vainisi and Lombardi lost a real great friend. (Vainisi) had drafted all these guys and Lombardi knew it."
On the Packers' six-week coaching search before hiring Lombardi: "The executive committee liked (Lloyd Larson). They told him they were close to hiring (Forest) Evashevski and they really liked the guy. Evashevski and two of his assistants went up to Green Bay. They sat down for a long time. At the 11th hour, he decided to go back to Iowa. They had played the so-called "Greatest Game" in New York, but, at that time, college football was superior to the NFL. And the Rose Bowl winner was thought of as one of the best coaches in America. The Journal thought it was going to be the guy in Canada, Jim Trimble. Oliver Kuechle and the guys thought that was going to be the coach. So nobody really pegged Lombardi until right before he was named. Really, he was the second choice because the executive committee liked Evashevski."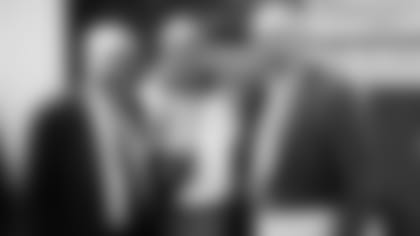 (Pictured above: Lee Remmel, Vern Biever, Bud Lea)
On meeting Lombardi for the first time: "I remember the day he came into Green Bay. (Team president Dominic) Olejniczak met him at Austin Straubel, and they brought him down to the Northland Hotel. They had a news conference there. A radio guy and I asked Vince if we could come up to his room and just talk to him. It might have been Bob Houle. (Lombardi) was with his wife and said, 'Come on up.' We went up to his room and they ordered room service, and he seemed like a really nice guy. We said, 'Boy, this is great.' Little did I know things were going to change fast."
On how quickly things changed: "Lombardi came down to the Milwaukee Sentinel Sports Show after that with Tom Miller and was introduced. The kids that day were all clapping and Vince kind of liked that. But as training camp got closer, he said, 'If you're going to cover training camp, you're going to stay at Sensenbrenner Hall (on the St. Norbert College campus).' All visiting media because that was how they did it with the New York Giants. He just put the fear into everybody right away. We were just afraid of asking a stupid question. He'd just glare at you or tell you, 'That's a stupid question.'"
On Lombardi's 5 o'clock club or cocktail hour at St. Norbert during camp and at the team hotels when the Packers were on the road:"I remember the players used to always ask me, 'What's the 5 o'clock club?' What do you guys do there?' I told them, 'Nothing. We just have a drink. It's almost like you're ordered to be there. Lombardi told us we had to."
On what Lombardi was like at the 5 o'clock club: "All Lombardi wanted to do was get Tom Miller to fix his drink, a Scotch and water, and get the paper so he could read the Press-Gazette. And he wanted to watch his television show, including cartoons. He'd watch Tom & Jerry and laugh. We thought he was a weird s.o.b. What's wrong with this genius?"
On how often he had to call Lombardi and interview him by phone the Monday after a game: "Every time there was an out-of-town game."
On what those interviews were like: "It was terrible. One time I couldn't get back from Baltimore after a game. On the way back, I listed all my questions and called him from the airport. Quarter to 11, not 11 o'clock. The first thing he says is, 'OK, let's get this over with.' I ask the first question, the answer is, 'Nope.' The second answer, 'I don't know about that.' The third question -- he asks, 'How many more you have?' I said, 'I'm just getting started.' 'I don't have time for this.' I just dreaded those calls by telephone."
On Paul Hornung's suspension for gambling: "I think it really upset (Lombardi) terribly when Hornung was suspended for betting on games. I think if Paul had told Lombardi first before (Commissioner Pete) Rozelle, Vince wouldn't have felt so bad. But he did not."
On covering that story: "My wife (Filomena) also worked at the Sentinel. The day that Hornung was suspended, she was sent up to Green Bay on an assignment. I'm (in) Milwaukee trying to get a hold of Lombardi and he's not available. My wife had gone over on Washington Street (to the old Packers office building), had never met (Lombardi) and just introduced herself. Boy, he grabbed her and said, 'We'll take you out to lunch.' All day long. I couldn't believe it. He took her out the day Hornung got suspended so he wouldn't have to take any phone calls. She didn't know Hornung had been suspended. She couldn't' care less about football. She's Italian and Vince is Italian, so she wanted to go over and introduce herself."
On Marie Lombardi, Vince's wife: "She was great. I remember the first Super Bowl out in Santa Barbara. Vince was so worked up about getting all these telegrams from the NFL owners that he kind of lost track of Marie. At the 5 o'clock club, he didn't even know she had been absent for a couple days. She had gone, I guess, to Las Vegas. It came up at the 5 o'clock club and we were all in there. He said, 'Marie, where the heck you been? I haven't seen you.' She said, 'I went to Las Vegas.' He said, 'You flew over the mountains.' She said, 'No, dummy, I flew under them.' We all laughed. Vince didn't laugh at all. We all loved her. She was the only one who could speak back to him."
On players standing up to Lombardi:"I remember that game in Detroit (on Thanksgiving, 1962). In the fourth quarter, Lombardi was so (bleeped) off it wasn't even funny. One time (Max) McGee went back to the huddle and told (Bart) Starr, 'Why don't you just throw a long incomplete pass so you won't get sacked?' Everybody was laughing in the huddle – not Starr – and Lombardi was going insane on the sideline."
On whether he feared or respected Lombardi: "I respected him, but, yeah, I did fear him. I respected him an awful, awful lot. When he spoke, he made such great sense. The guys I felt sorry for were the guys at the Green Bay Press-Gazette. They had to deal with him every single day. I remember the press conference when the Packers came into Los Angeles to meet the Chiefs. I think Art Daley (of the Press-Gazette) asked the first question. Vince just really put him down. 'Geez, Art, you know better than to ask a question like that.'"
On whether he received the same kind of treatment:"I don't think he treated me any better. I think he respected me. He never complained about anything. I remember one time I had a couple Scotches, probably one too many, at his 5 o'clock club. I told him point blank, 'Hey, coach, I'll put up with this stuff.' He said, 'What?' I said, 'Don't lose.' He said, 'Mister, I don't intend to lose.'"
On Lombardi's dealings with the executive committee: "Lombardi trusted only two of those guys: Tony (Canadeo) and Dick Bourguignon. The rest of those guys, he thought were full of (it). He didn't like Olejniczak. I remember sitting in that Monday morning session with Lombardi. The door opened. 'Ole, what do you want?' 'Nice game.' 'Look it, we've got work to do here. You get out of here.' He didn't want anything to do with Dominic Olejniczak."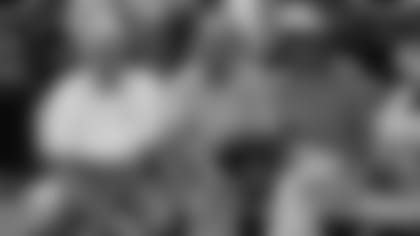 (Pictured above: Art Daley, Vern Biever, Bud Lea)
On his suspicions Lombardi picked Phil Bengtson as his successor without even consulting the executive committee: "I went to that press conference at Oneida Country Club after that Super Bowl when everybody knew he was going to retire. I'm positive of this: (Lombardi) never asked anybody who the next coach was. He picked the coach himself. I don't think he asked anybody to vote for it. He introduced him. 'And now the new coach of the Green Bay Packers, Phil Bengtson.' Everyone looks at each other. I can't prove that."
On his impressions of Bengtson as a coach: "What a great defensive coach. Great! He knew how to defense teams. (But) the biggest nervous wreck was Phil Bengtson. I remember before a Thanksgiving Day game in Detroit, the night before he was begging guys to come to his room for a nightcap. Boy, the next morning, he was hung over, smoking a cigarette, his hat down and they went out to Tiger Stadium."
On Dan Devine, head coach from 1971-74: "How they ever named Dan Devine head coach? I just watched the way he coached. He wasn't coaching anything. He'd go from this group to that group. Lombardi was always with the quarterbacks, right there. Devine walked around. So I asked him, 'Is there one part of football, you really like to get your hands on?' He said, 'Didn't Coach Lombardi tell you at one time that the two jobs up here were too much for one man?' He was trying to tell me being head coach and general manager of the Packers were too much."
On the greatest Packer ever: "Because I saw (Brett) Favre more that's a tough question. I saw Don Hutson play both positions, including defensive back, and he was so far ahead of everybody at that time. Plus, Hutson did all the kicking. Football is so different. But to see Favre survive that many games and that many seasons, I'd go with Brett Favre."
On covering Favre: "I liked him. He never complained about anyone taking shots at him in columns, and I did. He always answered questions. I thought he was a great player. I really admired him. The beating he took up there and to play that many years, he was the image of the Green Bay Packers."
On whether Bart Starr or Paul Hornung was the best player during the Lombardi era:"Because Starr survived longer, I guess Bart Starr."
On whether Lombardi would have picked Hornung: "Oh yeah, that was his guy."
On what Lombardi liked about Hornung as a player: "He could do so many things. He was the quarterback at Notre Dame. Liz Blackbourn tried him at fullback, quarterback. It didn't work out. Lombardi saw this guy as an option halfback. He was a kicker. He did so many darn things well. I remember one of his last appearances in Baltimore. So foggy. I can still see that picture of him running in to the fog at Memorial Stadium. Five touchdowns that day."
On comparing Starr and Favre: "Bart wasn't as strong a thrower."
On whether he planned on heading to Green Bay for any Packers games:"I really wanted to get up there for that Chiefs game because of the anniversary of the first Super Bowl. I'm the only one left from the Wisconsin media that covered that game. Art Daley and Lee Remmel are dead. Chuck Johnson of the Journal is dead. Ted Moore of WTMJ who broadcast the game is dead. I'm the only one left. The Sentinel and Journal at that time each sent one guy to the Super Bowl: Chuck Johnson for the Journal and I was the only one for the Sentinel."
Lea, 86, lives in a suburb of Milwaukee. The excerpts above were taken from two interviews conducted in 2009, another in 2010 and one last week.
For more of Cliff Christl's historical perspectives, click here.