Chad from Tarpon Springs, FL
Is there a moment, team or player you wish you could have covered?
I've long considered Bart Starr's play call in the "Ice Bowl" to be the most courageous individual act in NFL history. I could've written it forever.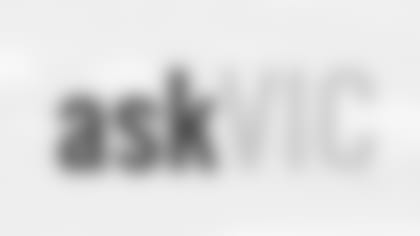 Vic, Aaron said we need a couple of more parts on defense. We know pass rusher is one. What do you think is the other?
He might've been speaking of the need for a defensive back, in reference to rush and cover, the two main components to playing sound pass defense. Or he might've been suggesting the defense is more than one player away. I would agree with both thoughts, but one star pass rusher can be a game-changer.
Vic, why do your columns have fewer questions than Mike's and Wes's?
One of my college professors said a story should be like a woman's skirt: long enough to cover the subject but short enough to keep it interesting.
Randy from Trophy Club, TX
Here's an idea for speeding up the game: Keep the clock running when a player gets tackled or runs out of bounds. Also, keep the clock running on an incomplete pass. I don't see the benefit of stopping the clock in those situations; have another ball ready to go and get it set up for the next snap. Seems pretty simple, if the league actually wants to speed up the game.
Here's an idea: Let the game alone. Let it evolve naturally. Changes have become too many; they've become dizzying. We're forcing the issue unnecessarily.
I'm excited to see the Packers pick up some additions in free agency. With the upcoming draft, do you think we can fill the rest of our needs and continue going to the playoffs?
That's the challenge the Packers face yearly, but I think this year the challenge is more distinct. I get the sense this could be a big roster turnover year. I acknowledge the validity of your question. I think it is the No. 1 question of the offseason. I would request delaying my response until at least after the draft.
Is Jabrill Peppers a fit for Dom Capers' defensive schemes?
Coach Capers could easily fit Peppers into the current scheme, and he could also create special packages for a player of Peppers' talent that would expand the Packers' defensive playbook. Some see Peppers as a safety, others as a chase-type linebacker. I see some Ryan Shazier in him.
So, it's 2005 and the Packers surprise everyone by drafting a young QB, even though they don't actually need one for the next couple of seasons. If there was an "Insider Inbox" back then, what kind of questions do you think you guys would get?
The pick was unpopular because it didn't address an immediate need, therefore, it wasn't going to make the Packers a better team in the upcoming season. That's the kind of visionless thinking that needs to be avoided during the draft. The selection of Aaron Rodgers would make the Packers a Super Bowl champion and a championship contender for what is soon to become a full decade. Here's the question I would ask: If I could go back to 2005 and tell fans the selection of Rodgers wouldn't turn a dividend for the next three seasons, but it would one day produce a Super Bowl title and extended playoff run, what would the fans' reaction be? Would they like the pick?
Is there a dual-threat running back the Packers could pick up near the middle of the draft?
There are several such prospects. I mentioned one of them last week: James Conner, a big, between-the-tackles pounder who's an accomplished and fearless out-of-the-backfield, wheel-route receiver. In the passing lanes, Conner can be another tight end. Tony Pauline believes Conner, a cancer survivor, will be available in the late rounds. I also like Kareem Hunt of Toledo and Marlon Mack of South Florida. I watch too much football on weeknights in the fall.
If you could pick any international city to host a game, which would you pick?
Moscow. Would all ticket prices be the same?
Jason from Moreno Valley, CA
Six times a week? Imagine what it was like in-season with both a.m. and p.m. inboxes. That's 11 times a week! Vic might not look like much, but as he proved with his photo with Mike Daniels, he's wiry.
You're forgetting "Ask Vic Halftime." I was working on "Ask Vic Cocktail Hour" when I heard Coach Noll's voice: It's time to move on to your life's work, Vic.
Vic, the Badgers game was by far the best game of the tournament thus far; possibly their best game of the season. It was filled with drama and suspense. They just came up on the wrong end. Great season, Badgers!
Wisconsin has defined "March Madness" in recent years. I love watching them play. Bo Ryan created a wonderful system for winning basketball. The best part is it appears to be a system Wisconsin can sustain.
Vic, Joe Namath was featured in "A Football Life" this weekend. I was a little kid when he played but, seeing this show, it was clear he was truly a larger-than-life personality. It seems like his era produced several larger-than-life sports figures. Did you have a favorite and how do you remember Namath?
His era was the product of the emergence of TV; that's why there was an explosion of larger-than-life sports figures. TV made Joe Namath and Namath helped make football the No. 1 TV sport. My first memory of Namath is as the star at Beaver Falls High School. Where I lived, a high school had to go undefeated and untied to play for the championship. If there were three or more such teams, two were chosen for the title game according to a points system. If there were no such teams, there was no champion that year. Namath's team was the only undefeated, untied team; it won the title without having to play a title game, and I remember not liking that. I remember the Orange Bowl game in which he starred. He was sensational. Of course, I remember Super Bowl III. It marked the merger and it began the era of the NFL that has taken us from the "Ice Bowl" to where we are today. That's why Namath is the seminal figure he is. He's the first bookend.
Why would any free-agent player sign with the Browns?
They pay with U.S. currency.
Jim from Rancho Cucamonga, CA
Vic, beware of your use of the Oxford comma. A dispute over its use has led to a class action lawsuit. I would not want to see you hauled into court for the misuse of the Oxford comma. What has been your most memorable lesson on using the Oxford comma correctly?
In my 45 years in journalism, I have never experienced a memorable lesson or moment involving my use of the Oxford comma. I consider it to be a topic lacking in meaning, value and interest.
Vic, do you have a favorite Aaron Rodgers pass completion? Do you have an all-time favorite completion, every quarterback included?
My favorite Rodgers pass was the game-winning touchdown pass to Randall Cobb in the 2013 season finale in Chicago? I heard the tinkle music as the ball hung in the air, and then I saw the lights explode. My favorite all-time pass completion would have to be the "Immaculate Reception."
I'm not going to comment on last season, but Sept., we are romp and stomp. I'm in a wheelchair.
How about wheel and whack?
Aaron Rodgers put out a statement this past week telling Packers fans they should really be excited for this upcoming season. It sounds to me he's going to make another one of those prophetic statements that seem to catch on every year. If you had a statement to get fans excited, what would you come up with?
The draft is that statement. It's the event that gets every fan excited for what's ahead. The draft is about hope. It's about getting better. I guess I would tell people this year's draft class is strong where the Packers have need. I believe it is.
Don from Cedar Rapids, IA
As a native Wisconsinite now living in Iowa, I'm proud there have been several successful Iowa players on the Packers squad (Bulaga, Daniels, Hyde). Do NFL teams give any special consideration to players from certain schools? What do you think about Desmond King from Iowa as a defensive back (and punt returner)?
I saw King in a game early in the 2015 season and I loved him. He has sensational ball skills. I think his 40 time can be misleading because it doesn't include his instinct for the game which, I believe, is extraordinary. Instinct allows a player to anticipate, and that makes him faster than his 40 time. King is a playmaker and I believe he can be a difference-maker for a team that needs one in their secondary. Who doesn't need one, huh? As for pipeline schools, it's common for a scouting department to become comfortable with a particular program, as the Packers have with Iowa's. I think that's especially true in the later rounds, when a team is trying to find roster depth. You know what you get when you pick an Iowa player: a disciplined player who's been well-coached, knows how to play the game and will work at his craft. Who doesn't want that kind of player, huh?
Joe from Whitefish Bay, WI
Some mockers have the Packers taking offensive guard Forrest Lamp of Western Kentucky with their first-round pick. Even with an obvious need, would the Packers really take a guard that high with arguably a greater need at cornerback and with this year's draft rich with highly rated corners?
Lamp was a four-year starter at left tackle in college but he's projected to play guard in the NFL; the Packers tend to draft tackles and turn them into guards. Guard isn't a weighted position but, in the final analysis, you're selecting the most talented player remaining on your board. If he's a guard, pick him. John Hannah was a guard.