John from Grand Forks, ND
Vic, it's like a divorce and we only get to see Vic on the weekends now. I'm glad you get to enjoy life and still get football. You will be missed every day.
It's not like a divorce because nobody gets a free house, and I won't be missed every day because "Ask Vic" will appear once a week as part of a daily "Insider Inbox" feature that will be co-authored by Mike Spofford and Wes Hodkiewicz.
Do you think the Green Bay Packers will go to the Super Bowl this year?
The Packers are a legitimate Super Bowl contender. Anything less than a serious run at the title will be a disappointment. That's all any team can know or expect at this point in the year.
Shad Khan recently said, "I think if you are a Jaguars fan, you should be excited and you should have some expectations that we're going to be a sustainable, winning organization now." Are those reasonable expectations?
They've had a lot of high picks, they have a franchise quarterback in place and they've spent big in free agency. It's time for the Jaguars to become a contender. I think that's what their owner is saying. If it is, I agree with him. I think he's also saying he likes the franchise's structure. That's the sustainable part. In my mind, that's the most important part.
Mark from St. Pete Beach, FL
Vic, as my father, who was my high school football coach and accumulated five state championships over the years, taught me and all of his players, in the end it's just a game. Enjoy whatever game you play next, but play to win.
Defeat defines us. Are we gracious? Do we remain strong and determined? Winning is personal. Losing is a public event. Everybody is watching to see how you'll react.
Now that you have your "Sunday Ticket," how will you decide what game to watch first?
I'll do it the same way I did it in the press box. I'll watch the Packers game exclusively. During the commercial breaks, I'd go to the back of the press box and stare at the bank of TVs showing the other games being played, so I could get a feel for what was going on in the rest of the league. I'm looking forward to Sundays. My house is going to become my press box.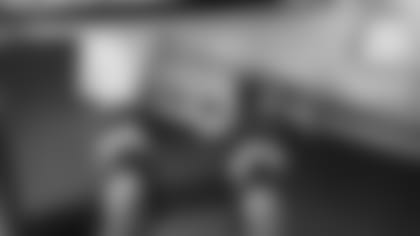 Vic, my goal is to wear shorts and flip-flops until the next wedding I have to attend. Been going since mid-May (there was a 40-degree day in the middle of May). Gotta free the legs and feet from their winter prison.
After I returned from the hospital, I went to the fire station to thank the paramedics for saving flip.
Thanks for your time with the Packers, Vic. I've looked forward to this column every day for several years and it will be missed. You've helped me realize winning is nothing without the possibility of losing, which has allowed me to accept tough losses and better celebrate amazing victories against the odds. Thank you and good luck in the next phase of your life.
The next phase of my life will be doing this column once a week instead of every day. The next phase of my life begins next Monday. Mike and Wes will do the other days of the week. "Ask Vic" will regularly appear on Mondays, unless the Packers play on a day other than Sunday. For example, after the Packers host the Browns on Friday, Aug. 12, "Ask Vic" will appear the following day. "Ask Vic" is going to become a day-after-the-game column once the preseason begins. Here's a near-future "Ask Vic" publishing schedule: July 18 and 25, August 1, 8, 13, 19 and 27, and Sept. 2. The schedule will settle into a routine once we step into the regular season. I like this next phase. It's the one after that I don't much like.
Rick from Los Angeles, CA
Do you think you'll be able to watch football games as a layperson and not with an analytical reporter's eye?
Taurean from Kalamazoo, MI
Is the new blog going to be the same? I think the way to do that is to keep the comments section the way it is. It will keep Packer nation at peace.
The comments section will remain the same. I've referred often to the "Ask Vic" community. We've built one. It's a city of people who take pride in their community. It is this column's greatest source of pride. I think of it as Vicville.
Your dream round of golf. Who are the other three in your foursome and where are you playing?
The old "Ask Vic Day" golf tournament was my dream round of golf. I loved driving around the course and playing a hole with every foursome. I loved meeting everyone. It was my favorite day of the year. We did it once in Green Bay, before we decided Lambeau Field was a more attractive destination for Packers fans than a golf course, but I've missed the old golf tournament. In my dreams, we're playing at my new favorite golf course, the Edisto Beach Plantation Course, and everybody comes to my house afterward, to sit in my nine-car carport and drink something cold as Bobo from Po Pigs Bo-B-Q caters the event. That's my dream round of golf. I just might try to pull it off.

Hey, Vic, not many Packers fans down here. My family is mostly Steelers and Dallas fans. Every year, the Packers usually back up my big talk. Last year, not so much. This year, I see a long playoff run into January, possibly to the Super Bowl and a major bounce back overall, a 12-plus-win season. Can I make some noise yet or sit tight?
Change may be good, but it can be hard in the adjustment phase, too. What do you think the hardest thing will be for you?
Not writing on deadline. I love it and I'll miss it. It was my crunch time. It all had to be sent back to the office before the wheels were up. I'll miss that challenge, and I'll miss the flight time that followed, which was always my time for peaceful reflection. The work was done. How good was the job I did? What will be the challenges this week? That part of my working life is gone.
Mike McCarthy calls you and says it is the first and last time he'll ask your advice. What do you tell him?
Thanks for answering so many of my questions, Vic!
No showing off. You're banned.
Artemis from Bullhead City, AZ
Vic, if you chase perfection long enough, will you achieve greatness? This column has!
Lombardi chased perfection. I chased fun. I think we have fun in this column.
Vic, thank you for answering so many of my questions. I wish I had discovered this column earlier. What has been your favorite topic to talk about in this column?
Football. You're banned, too.