Can I nominate Joe Callahan for preseason MVP? I'd like to point out he threw the ball over 85 times and didn't turn it over once. I look forward to seeing him develop further.
I made Eddie Lacy my preseason MVP last week. How about making Callahan rookie of the preseason? I rhetorically asked when the preseason began, who will be the next Vic So'oto or Jayrone Elliott? The answer is Callahan. He came out of nowhere to become the star of the preseason. I have every reason to believe you will have a chance to watch him develop.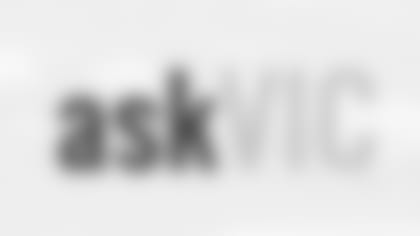 David from San Francisco, CA
Vic mentioned way, way long ago to never sit on the west side of EverBank Field for a day game. Buying tickets soon and just wanted to confirm the shady side will be on the east.
Actually, Vic said way, way long ago (April 15) to never sit on the *east *side of EverBank Field for a day game. I hope you haven't purchased your tickets. If you have, and if they are for the east side of the stadium, at least you'll be sitting on the Packers' side of the field. That should help you emotionally during your recovery.
On paper, Schum over Masthay doesn't make sense. What am I missing?
The Packers were dissatisfied with their punting situation and they've hit the reset button. Jacob Schum is being given the opportunity to win the job. For kickers and punters, the competition is every guy not in the league. Especially for punters, it's a waiver-wire position.
Vic, the Packers gave up the second-fewest points in the preseason. Is that a meaningful stat?
No stat in the preseason is meaningful, but what your eyes saw is. Know what you saw, know what you needed to see.
How does Teddy Bridgewater's injury impact the NFC North?
I'm a spoiled 19-year-old college student who has never left the Pacific Northwest. I am fortunate enough to be best friends with a Jacksonville Jaguars fan who got tickets to the season opener. How should I spend the weekend and game day in Florida to get the best possible Packers experience?
Saturday will be a critical day for you. It will be an opportunity to prepare yourself for game day. Here's what I suggest: Should it be a hot, sunny day in Jacksonville on Saturday, sit in your car with the windows rolled up to get a feel for what it'll be like on Sunday if it's a sunny day. Should a tropical storm be passing through Jacksonville that weekend, stand in your hotel room shower with your clothes on. Should it be a typical late-summer weekend in Jacksonville, which is to say intervals of blazing sun, suffocating humidity and drenching bands of rain, sit in the car, stand in the shower and then stand in the hotel parking lot to dry in the sun. That should cover it. I hope you have a great time.
Jonathan from Saint Joseph, MO
Who will you turn to and say the baloney stops now next Sunday?
I'll say it to myself, except I won't say baloney.
What's the future of preseason? Heck, what's the future of practice? Should we put these guys in bubbles?
In my opinion, today's players are too strong. How do you forbid them from lifting weights?
Sean from Ballston Spa, NY
This preseason, from my eye test, I feel like the Packers are so incredibly deep on both sides of the football and more than ever can make a deep run in the playoffs. Do you agree?
I think they're deep in a lot of places, and I absolutely believe they can make a deep run in the playoffs, but they're not without issues. Every team in the league has issues; it's a product of the salary cap. I keep reading and hearing about depth at wide receiver, but I'm not convinced. I see more questions than answers. My greatest concern is for the defensive line, especially heading into the opener in Jacksonville. That's a rotation game. The team that keeps its defensive line freshest will win that game.

Now that Vic's cranky butt is (mostly) out of the picture, is it safe to start using "What say you?" again, without getting banned?
Tim from Clintonville, WI
When a player is cut, what is the process?
Whatever a team's process is, rest assured it's tasteful and sensitive to the player's despair. I'll tell you this story: I was standing in the player's dormitory hallway interviewing Tony Dungy after he had been traded to the 49ers. As I was interviewing Tony, a scout knocked on veteran kicker Roy Gerela's door. Gerela answered and the scout said, "Roy, Coach Noll wants to see you, and bring your playbook." Tony heard it, too, and he winced. I said, "They really say that." Tony nodded. "Bring your playbook" was code for you've been cut. It was a leaguewide way of preparing a player for what he was about to hear. It was also a way for a team to monitor a player's reaction. This is an emotional time. Everybody can't make the team. Some have to leave. The focus this weekend is on those who have to leave. The goal is to say goodbye gracefully and caringly.
One of the high points of the year for me was attending the "Ask Vic Day." I attended the event the last three years. Is there any thought/possibility of having a similar event either this year or in the future?
I would very much like to host an event at my house – Bobo from Po Pigs Bo-B-Q could cater it – but I'm concerned about rattlesnake-bite liability. I need to talk to my insurance agent.
Vic, not to take anything away from the rest, but can't you at least do your own "Final Thoughts" video. I miss your opinions on the games coming up.
Vic, a commenter on Cliff's article yesterday made a great observation regarding the NFL's history and the current game. Usually, those conversations are about players from previous eras not stacking up to what players are today. However, Cliff's article was the opposite of that stance.
I refrained from reading Cliff's story – I love what that guy does – prior to commenting on this subject. These are the Lombardi-era players I believe would be stars in today's game: Dave Robinson – He'd lead the league in sacks in Dom Capers' defense; Herb Adderley – Move over, Darrelle Revis; Willie Wood – Ed Reed's instincts and Troy Polamalu's athletic ability; Forrest Gregg – If he's too short to play left tackle, he easily becomes the best left guard in the league; Bart Starr – He'd be even better in today's game; Ron Kramer – Nobody in today's game possesses the block-catch skills Kramer had.
Mike from North Hudson, WI
Vic, what are the top three things the Packers need to do to win at Jacksonville?
Run the ball, convert third down, stop the run. If the Packers do those three things, I guarantee victory.
J.R. from Terre Haute, IN
Do you watch with the sound on or off?
Margo from Bloomington, IL
In looking at the photos of the team arriving in Kansas City, I'm wondering if the team has any kind of dress code for travel during the season. Do you know if any other teams follow a dress code?
I've covered three teams, each with different tolerances for travel attire. The Steelers had no code I could see. Frenchy Fuqua wore an ensemble that included a cape and shoes with glass high heels and a live gold fish swimming in each heel, and much later Greg Lloyd wore tank tops that exposed his incredibly muscular arms. One player even wore a mask on the plane. In Jacksonville, Tom Coughlin required shirt, tie and jacket. Dave Widell told me Coughlin fined him 50 bucks for not having his tie tight to his collar. In Green Bay, I sensed something between the two extremes. I sensed a dress responsibly directive. Whatever it takes. Just win, baby.
Which are more complicated and impossible to clearly understand, the rules of NFL football or the USGA rules of golf?
The difference is in the NFL you need to know the rules before the play begins; in golf you can ask for a ruling.
Is there any reason the Green Bay Packers tend to use punters as holders for the kickers? I think there would be more options for fake kicks if we used a backup quarterback.
If the backup quarterback is with the kicker practicing holding, when is he going to practice being a quarterback?
How about a punt, pass and kick competition between you guys?
I'd have to bow out. I got drop foot from a back injury years ago and my foot on the ball makes a sound similar to mud falling on cement (please, don't do the concrete thing, OK? Hey, Jethro swam in the cement pond). Jack Del Rio once asked me to be the guest placekicker at the end of a Friday practice; it's one of those team-building things coaches do. I said, "I'm sorry, Jack, I lost my foot years ago." His face turned ashen. I found out later he thought I had a wooden foot.
Is it the Packers' division to lose now or are the division champs still the team to beat?