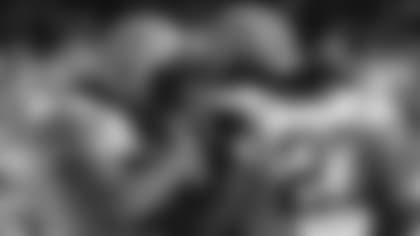 LT David Bakhtiari & RB Eddie Lacy
Patrick from Middleton, WI
Vic, I remember you talking in weeks past about how aggressive you thought McCarthy is as a play caller. I wasn't sure I agreed. Then I watched the Sunday night game and saw him go for it on fourth down from the middle of the field, twice. OK, you were right, I was wrong.
Vic, can you tell me who is going to be the NFL offensive rookie of the year?
The Packers have two outstanding candidates: David Bakhtiari and Eddie Lacy. One protects the best quarterback in the game, and the other has changed the face of the team. This is not an especially strong rookie class leaguewide, but it sure is in Green Bay.
Vic, I have never understood why Peyton Manning cannot throw a perfect spiral. I swear, all his passes are wobbly. For such a great quarterback, I seriously do not get it. Have you ever noticed this?
I think they're wobblier now than they were, say, 10 years ago. The simple fact of the matter is that a guy with a strong arm makes the ball spin more than a guy with a weak arm. The faster the ball spins, the tighter it spirals. A wobbly ball suggests a weak throw, which can be the result of weak force or bad technique. If there's one thing we know about Peyton Manning, it's that he doesn't have bad technique. He's always had a good arm, but you wouldn't put him in the same category with Bradshaw, Elway and Marino. I think the neck fusion has cost him some velocity. Erik from Debary, FL
Brandon Meriweather indicated he will target knees now. Is it time for the league to just kick him out? He seems determined to try and permanently hurt people, not just tackle them.
It's not something I like hearing or reading, but it's legal to target knees. That's the real issue here. I think the league needs to listen to what Meriweather is saying, and then think about how this game might be reshaped instead of redirected. Meriweather isn't the problem; the rules are.
Jake from Westminster, CO
Vic, if you were writing for Jacksonville or Tampa Bay, what would you be saying to their fans every day?
I don't know the Tampa Bay fans, so I'll speak to the Jaguars fans: Be calm, be patient and find other topics to discuss until Senior Bowl week. That's when the most important season will begin for the Jaguars.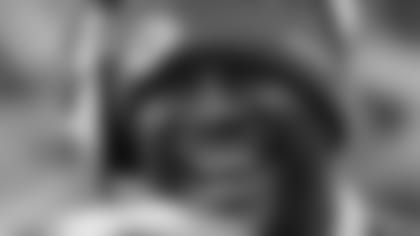 WR coach Edgar Bennett
When is Edgar Bennett going to get the credit he deserves for the work he's done with the likes of Boykin, White and the veteran guys? The receivers are really prepared each week.
When are readers going to stop asking me why a former running back is coaching wide receivers? I still get that question, even though I've answered it repeatedly: Good coaches can coach any position, and the more they learn about the game, the more prepared they are to become coordinators and head coaches. Edgar Bennett is a top-tier wide receivers coach who's on his way to becoming a coordinator, which is the next step to becoming a head coach, and Bennett has Mike McCarthy to thank. This is, yet, another bold move by a bold head coach. Alex Van Pelt is a former quarterback who's coaching running backs; he's on his way to becoming a coordinator and a head coach. Ben McAdoo is a former tight ends coach who's coaching quarterbacks; he's on his way to becoming a coordinator and a head coach. McCarthy is doing for these men what was done for him to advance his career. I'm delighted you've complimented Bennett on the job he's doing. It wasn't too long ago that he was feeling a lot of despair for the play of his guys in the playoff loss to the Giants. Look at them now.
Why do so many of today's quarterbacks point out the middle linebacker? Is it really that important?
Look through the middle linebacker to the strong safety and you should know where every other defender on the field is. That's old-school football and, to a large degree, it still works. By identifying the middle linebacker, you define the front. By identifying the strong safety, you define the coverage.
Barry from Glasgow, Scotland
Vic, can you believe the differing fortunes of the Packers and the Steelers from the Super Bowl in 2010? One is looking stronger as the season progresses, and the other looks like an old horse ready for pasture. They are two of the premier draft-and-develop teams, so why are they going in opposite directions?
For Super Bowl XLV, the Steelers were in their last gasp, the Packers were in their first gasp. What's happening to the Steelers now eventually happens to all good teams. It's not if, it's when. The only question to be answered is how long? Don't ever become so spoiled, so fond of yourself to think it won't happen to you. Enjoy what you have right now. It's special, but it's temporary.
John from St. Augustine, FL
I know it's so early, but who do you like more, Bridgewater or Mariota?
If you're talking about the first overall pick, I don't see a quarterback worthy of it, but I see several that would fit at pick No. 33. That could change at Senior Bowl and combine time.
Michael from Fort Lewis, WA
Vic, can we all just take a moment to recognize how great David Bakhtiari is playing? Jared Allen, one of the premier pass rushers and one of the few players on the Vikings teams have to game plan for, had no sacks or tackles Sunday night. I didn't see Bakhtiari getting any help, either.
He's playing great; I think that's been duly noted. What you're sensing is a reluctance to say too much. I felt Mike McCarthy holding back a little on Sunday and Monday when answering questions about Bakhtiari. Nobody wants to curse this thing. In a speaking engagement in Milwaukee at the start of the season, I said the Packers would go as far as Bakhtiari would take them. He's the left tackle. He's the blindside pass protector for the player who's the heart and soul of the team. Next Monday, Bakhtiari gets Julius Peppers. The pass rushers just keep on coming. Let's not forget, Bakhtiari will face Allen one more time this season. It's probably best to not say too much.
Paul from Farnborough, UK
Vic, referring to the 1978 rule change which led to linemen being able to use their hands against an opponent, was there a ground swell of opinion at the time that this rule change should happen, or did it come as a surprise to you at the time? Did it dramatically change the way the game was played?
It immediately and overwhelmingly changed how the game was played, and I only know one man who saw it coming. There was great indifference to the '78 rules changes, which included the elimination of bump-and-run coverage. I was in the Steelers offices with a few other reporters in early July, just before the start of training camp, when Chuck Noll called us into his office to show us a film (not video back then) sent by the league to its teams to demonstrate the rules changes. Don Shula, an esteemed member of the competition committee, was the film's narrator. I'll never forget Chuck telling us to pay attention to the film because what was going to be described was going to change the game. I watched and I listened as Chuck would stop the film to explain. Little did I know the impact of what I was seeing, but he did. He knew immediately and then he took the ball away from Franco Harris and gave it to Terry Bradshaw, who would become the MVP of the next two Super Bowls. Noll's greatness is defined by that move. He saw the impact of the '78 rules changes before anyone else did, and acted more quickly than anybody else did.
Ryan from Chiang Mai, Thailand
Vic, how does sending the Jaguars over to play in London four years in a row help the NFL's goal of building a presence there? Mr. Khan is delusional if he thinks his team will build a British fan base. They're like the NFL's version of the Washington Generals. They have ugly uniforms, lack star players, have no real history and are playing horribly. Putting aside any fondness for the team you have from your time in Jacksonville, you've got to agree that showcasing your worst product is no way to make a sale. Did I mention how hideous the uniforms look?
You're describing perfectly the pre-1972 Steelers. Then, one play changed everything. It happens that way. What if Starr hadn't scored? How would that have impacted the Packers franchise? What if the Giants had hired Lombardi to be their coach? That's the job he wanted. Fate is a fickle thing. In the Jaguars' early years, they got all the breaks. Now, they can't even get their name spelled correctly by the flag-bearers in London on Sunday. The best advice I ever got is that when you have happiness, enjoy it; when you don't have happiness, be patient and wait for it to return. This is a time for patience.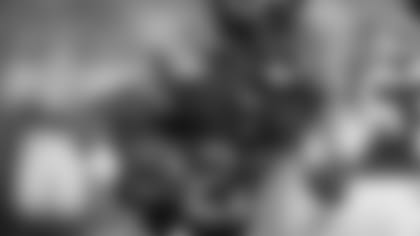 Bears RB Matt Forte
Steve from Lake Stevens, WA
Vic, as you see it, what is the Packers' biggest concern against the Bears, minus Cutler and Briggs?
It's Matt Forte and Brandon Marshall. They're big-play guys. They can carry a team.
Yellow causes a warm, pleasant, cheerful and energetic feeling. Green stands for growth, fertility, harmony and hope. Did they use color phycology to make us winsome? What's your favorite color?
My favorite color is blue, but I love green. My youth was spent in a love affair with my hometown's high school team, and its colors were green and white.
Gruden said it best on Monday Night Football. After some back and forth banter regarding a replay challenge, he said, "I just want to see some football."
Football is, by far, the most over-officiated sport in America, and it's a problem.
Vic, when Tate from the Seahawks scored in the third quarter on Monday night, he was flagged for taunting. He performed the act well before he scored the touchdown, so why didn't they enforce the penalty from the spot of the foul? This kind of call makes me want to run my snow blower through a pile of rocks full throttle. Do you ever feel that way?
What happens in a football game doesn't cause me to experience that kind of feeling. If it did, I'd stop watching. I'm with Gruden. Too many rules, too many rules interpretations, too many stoppages of play. Why can't the players act as Starr, Taylor, Robinson, Adderley, Nitschke, etc., did? What is it about this generation of athletes that compels them to taunt each other? Why do they react by feigning anger after they score a touchdown, instead of expressing joy or satisfaction? That's changing the culture? I think it's time for the NFLPA to begin concerning itself with the performance of its members, instead of the performance of the league's owners.