GREEN BAY – In one way, history is repeating itself.
In another, the hope and plan is that it doesn't.
Brian Gutekunst has made eight first-round picks in his six drafts as Packers general manager, and now seven have been defensive players, with the other Green Bay's new quarterback.
Iowa edge rusher Lukas Van Ness became the seventh defensive first-rounder of Gutekunst's tenure Thursday night, continuing the trend of his late predecessor Ted Thompson, who used his last five first-round picks on defense as well.
But while on Thompson's watch the Packers never developed an elite-level defense following the Super Bowl XLV championship, Gutekunst believes it's time for that to change.
"It's unusual that it's that many years (drafting defense early), but I do think that expectations are high," Gutekunst said at the conclusion of the draft's first round. "I sat here last year and said the same thing. I think we had really good moments last year, but the consistency has to be better. We put a lot of investment into that group and there are high expectations there."
The 2023 defense needs a couple of pieces, namely Rashan Gary and Eric Stokes, to return from injuries, and the addition of Van Ness can help mitigate any delay in Gary's return. Jaire Alexander certainly came back strong last year, earning second-team All-Pro honors, after missing most of 2021 due to injury.
But Gutekunst also sees a number of players, including last year's two first-round defenders in Quay Walker and Devonte Wyatt, ready to takes steps forward.
"We have some young players that are really coming into their own," he said. "I think we're all excited to see what Quay can do. De'Vondre Campbell, Ja's been playing at a premier level for a long time.
"They're a good group of guys but there's so much work to be done between now and in games. There's definitely high expectations but we wouldn't have it any other way."
As for addressing the offensive side of the ball, for the second straight year, Gutekunst takes three picks into Friday night's second and third rounds, and only five pass-catchers (four receivers, one tight end) were drafted in the first round.
Picks No. 42 and 45 the Packers own are the 11th and 14th choices in the second round. All the top pass-catching prospects were available to Green Bay on Thursday but the Packers prioritized a "premium position" as Gutekunst put it and went edge rusher.
Several attractive choices for perimeter weapons should be possibilities Friday evening, too, and even into Saturday.
"The board held up strong," Gutekunst said. "I feel good about tomorrow. You never know, but I feel good going into these next two days."
Last year, he packaged two second-round choices to move up and select receiver Christian Watson. He considered spending Friday night's two seconds to move back up into the first round on Thursday, but ultimately decided against it.
There's always a chance he makes a move toward the top of the second round again like last year, and he does expect the phone activity in the draft room to "pick up" after being "very quiet" on opening night. But he wasn't telegraphing any eagerness to trade the extra second-rounder he acquired as part of the Aaron Rodgers trade earlier this week.
Scenarios and strategies will be discussed early Friday, and then the action will resume.
"We worked hard to get that extra pick and we'll see how it goes tomorrow," Gutekunst said, "but I wouldn't expect to give it up."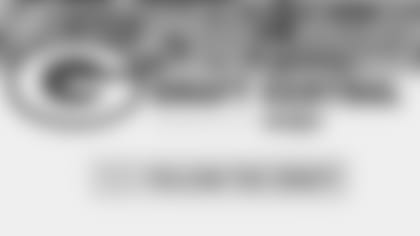 Packers Draft Central | Recap the 2023 NFL Draft
Follow packers.com's coverage of the 2023 NFL Draft