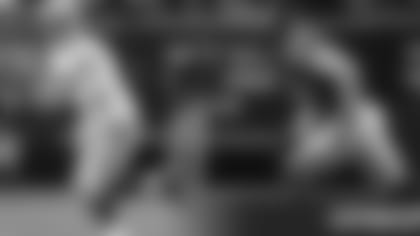 QB Aaron Rodgers completed 31 of 36 passes for 366 yards and three TDs in the 2010 playoffs at Atlanta.
Thomas from Fruit Cove, FL
Regarding the Brian from MD comment about Charles Johnson running a 4.35 and a 4.38 40, he is correct. It is in print on NFL.com and it shows the 20 different scouts from different teams looking at their stop watches. The best part is that the kid predicted he would run a 4.39 or better. He did what he said he would do. I hope he does the same for the Packers.
Then a lot of scouts did, indeed, miss on Johnson, because guys that run that fast, especially ones with his size and stats, don't last until round seven. I'm eager to get a look at him in rookie camp. I asked Tony Pauline about him and he, too, referred to Johnson as a possession receiver. Possession receivers don't run 4.35. Something is amiss on Johnson.
Gladdys from Rolling Meadows, IL
Why don't teams run "pro set" (split backs) anymore? That would be one way to get both Eddie Lacy and Johnathan Franklin on the field at the same time.
"Pro set" is a backfield formation from when football was a running game. The fullback was the feature runner and the halfback was a blocker with better-than-average running skills. The fullback would carry the ball 25 times and the halfback would carry it 10 times. Football is a passing game now. The halfback in "pro set" has been replaced by an extra receiver.
ESPN had a cool article on E.J. Manuel and how the Bills wanted him based on their idea that he will perform well in poor weather. How many teams take that into serious consideration?
The Bills liked how Manuel worked out on a windy, rainy day in Tallahassee. I guess they're equating that to snow and cold, which I find interesting. I can't think of a pick that's ever surprised me more or confused me more than this one, and a lot of draftnik types are expressing the same sentiments. First quarterback drafted? Nobody, and I mean nobody, shared that opinion of Manuel heading into this draft. I was in the company of a quarterback guru at the Senior Bowl when he made me aware of a flaw in Manuel's delivery that kept him from getting the ball up quickly enough to get the ball out on time on quick slants. There's no doubting Manuel's raw talent, but the Bills have some work to do on him. I'm sure they have a plan. I'm looking forward to seeing how this develops. I might be missing something.
I was interested in the question regarding the 3-4 and 4-3 vs. the read-option. Few have commented on the Rams' success vs. SF last year; one tie and one win. How did St. Louis, which runs a 4-3, do it? Does this suggest the 4-3 may be superior vs. the read-option? Scheme has to mean something, or the coaching staff wouldn't have bothered to go to A&M for help.
Most coaches would tell you that's too small of a sample to warrant a major change in defensive philosophy. Scheme absolutely means something, but only if you have the players to execute it. I feel sorry for the people who don't understand the "players, not plays" philosophy. The theory is that X's and O's don't move, only players do. Yes, you must put players in the proper positions for them to be successful, but then it's up to the players to execute the scheme, and players of greater talent usually defeat players of lesser talent. You need to be able to do two things to stop the read-option: 1.) Stop the inside run. 2.) Stop the outside run. If you have two tackles and a middle linebacker that can jam up the inside running lanes, and two ends and two outside linebackers that can play in space on the edges, the 4-3 will work against the read-option. If you have a nose tackle and two inside backers that can stop the inside run, and two ends and two outside linebackers that can stop the outside run, the 3-4 will work against the read-option. It's all a matter of what your personnel can execute.
Derek from San Francisco, CA
Vic, you called Kaepernick a stud. I stopped listening to local sports radio because I am tired of hearing that. Yes, I saw what he did against us in the playoffs. Didn't help him much in the Super Bowl, did it? He's an overrated player and his style of play will only end up getting him injured. I'm sick of the hype and can't wait for Week 1 so you and the rest of his fans can shut up.
Wait a minute, I'll put on my blinders. Wow! Everything is green now.
Derek from San Francisco, CA
Just wanted to say you're an excellent writer and this is a great column. Thank you for taking the heat from fanatical fans like us.
Vic, I have the choice to go to either the Falcons game or the Steelers game. Which one should I go to? I have already been to a Sunday night game at Lambeau.
Be that as it may, I think the Falcons game will be one of the premier NFC games of the season. The Steelers game is a clash of great names, history, tradition, etc., but I'm not sure where the Steelers will be at that point in their season. I'm sensing that they might be in a little bit of a rebuild year. The Falcons, however, are a prime Super Bowl contender. You got me fired up about that game.
Do you think more prospects will opt to play in the Senior Bowl after some players (Eric Fisher, Ziggy Ansah, Datone Jones) saw their stock rise after the game?
That's nothing new. A lot of great careers have been launched at the Senior Bowl. It's a great old game. The reason a lot of top players don't participate in the Senior Bowl is because it's such a good predictor of ability that it might expose them as not being worth the pick for which they're projected. They play real football at the Senior Bowl, and the coaches are from the NFL and they conduct the workouts in such a manner so as to expose what a player can and can't do relative to the demands of the pro game. Fisher, Ansah and Jones had nothing to lose, only to gain. Geno Smith declined to play in the Senior Bowl because the thinking in his camp was that he was the No. 1 quarterback prospect and playing in that game could only hurt him. As it turned out, not playing in the Senior Bowl might've hurt him, and apparently that's one of the reasons why Smith fired his agents after falling to pick No. 39 in the draft. Luke Joeckel was a junior, so he couldn't play in the Senior Bowl. What did it cost him? Had he been able to play in the Senior Bowl, would he have been able to hold onto the top overall draft spot? There's no doubt Fisher used the Senior Bowl to soar up boards. I think there's a higher percentage of players rising or falling due to their play in the Senior Bowl than there is of players rising or falling due to their performance at the combine.
I know your feelings about Tim Tebow, but couldn't he be an asset in prep for playing teams that use the read-option? After all, he did win some games with the Broncos as basically a read-option QB.
OK, this has to be the end of the line. Sign Tim Tebow to be the team's scout-team quarterback? I will not answer any more Tim Tebow questions unless all of the other questions that day are do the Packers miss Cullen Jenkins?
When you're watching games as a fan, are you allowed to jump up and cheer a spectacular play or, as a journalist, are you required to maintain a sense of decorum through it all?
If I'm in the press box, it's understood that I am a member of the media and, therefore, required to maintain a sense of decorum. I like the press box. I like the atmosphere. It allows me to not only enjoy the game but also to appreciate the event and its performances. I went to a sports bar on a bye week a few years ago, to watch a game I couldn't see on my TV at home. It was possibly the worst football experience of my life. The place was full of hate. I couldn't even concentrate on the game I was trying to watch. Never again.
I understand that our goal for the 2013 season is to prepare against the read-option (49ers and Redskins), but do you think Datone Jones will make an immediate impact?
That's the hope, because Jones has the kind of athletic ability to play in space, which is what you want on the field against the read-option. The old-fashioned, two-gapping, hold-the-point Okie end isn't what you want against the read-option; you'd prefer an end that can hold the point but also has the ability to play in space. Jones has that skill set. We talked a little about this above. It's not about the formation, it's about who's playing in the formation. You want mobile people on the edges against the read-option.
Do you see Dom Capers implementing major changes in schemes or packages to make an early statement Week 1 vs. San Francisco?
I'm sure Coach Capers will make additions to his playbook, but I don't know what you consider to be major. He has an end, Datone Jones, with a different skill set from what is customary in a conventional 3-4 end. It'll give Coach Capers some creativity at that position he didn't have in January. I'm struggling to find the right words. Tell me if this works: He has a player that can cover more ground. That kind of player allows you to do more schematically and be more successful at it. The Packers' big problem in January, as I saw it, was a lack of movement in space. As I've written, I think Nick Perry would've helped fix that problem, and I think Jones will help, too.
Vic, you compare Johnathan Franklin to Jones Drew. Who would you say Lacy reminds you of?
Familiarly, Steven Jackson. Not so familiarly, a running back from Georgia named Robert Edwards who blew out his knee after a strong rookie season.
The first thing I thought of when I heard Al Harris is retiring a Packer were those famous words: "We want the ball and we're gonna score." One of my all-time favorite memories of Packer football. I was there at Lambeau with my dad and everyone went crazy for that pick-six. I had to have re-watched that clip five times now. I know you don't get into the one-day contracts and retiring with a certain team hooplah, but I really appreciated him being officially retired as a Packer.
Every time I hear Mike McCarthy say he doesn't like the drama, I think to myself, "The fans do, coach."