GREEN BAY—The design of the new Harlan Plaza in front of the Lambeau Field Atrium has been finalized, and there will be a new addition to the landscape.
Just outside the new ground-floor entrance to the Packers Pro Shop will be a life-sized "replica" of a Lambeau Leap, with a photo-op space for fans to insert themselves into the action.
The Lambeau Leap depiction will include a mini-wall with a variety of fans shown in the stands. The space for the Packers player will be left open, allowing any fan to assume the spot as the adored touchdown-maker for a memorable photo-op. Fans can also take places behind the "player" to be part of the crowd.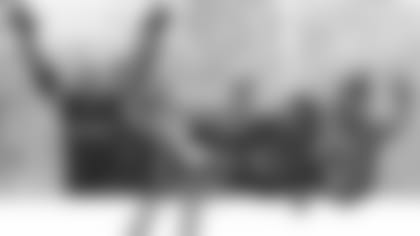 "We're really excited about the new addition to Lambeau Field," said Packers President/CEO Mark Murphy. "The Lambeau Leap is one of the great traditions in the NFL and highlights the special connection between our players and fans. Our fans will now be able to experience their own Lambeau Leap."
Work continues daily on this latest phase of Atrium renovations, which has required excavating the previous Harlan Plaza to create the new ground-floor Pro Shop entrance facing Lombardi Avenue, with parking directly in front.
As part of the new Harlan Plaza, a concrete staircase west of the Pro Shop entrance will lead from the area near the "Leap" up toward the ticket office. At the top of the stairs, the plaza in essence curls back to the east to an Atrium entrance, one floor above the new Pro Shop. The plaza and entrance also serve as the roof to the new Pro Shop.
The 14-foot bronze statues of Curly Lambeau and Vince Lombardi will eventually return to the plaza as well, though rather than residing at the entrance to the Atrium, they'll be at the base of the concrete staircase just outside the Pro
Shop.
The new plaza and Pro Shop entrance are scheduled to be completed in July, along with a new east-side Atrium entrance facing Oneida Street. More details on that entrance will be announced in the coming months.
The Packers Hall of Fame and restaurant are also being moved to new locations within the Atrium. Work will begin on that in late summer, to be completed in 2015.