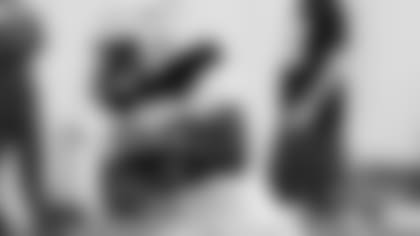 GREEN BAY—The Don Hutson Center is the land of opportunity this weekend.
That was Head Coach Mike McCarthy's message to the 11 draft picks, dozen rookie and first-year free-agent signees and 27 tryout players who had their first practice as Green Bay Packers on Friday.
The workout was the first of three slated for rookie orientation over the weekend, and while most of the cameras and media observers were focused on top draft choices Datone Jones, Eddie Lacy and Johnathan Franklin, the coaches and the personnel staff are charged with giving "everybody an opportunity," McCarthy said.
Noting that "50 percent of our football team" is made up of sixth- and seventh-round draft picks and undrafted free agents – and indeed, 28 of the players on the 53-man roster for last season's final game began their Packers careers fitting that description – McCarthy said it's in everyone's best interests to provide a fair shot.
"I've changed the philosophy of our program," McCarthy said, only half-jokingly. "We've been noted as a draft-and-develop football team, but we're really a draft-or-undrafted-and-develop football team. That's what the facts show and something we take a lot of pride in.
"We have great trust and belief in our personnel department, and it's our responsibility as a coaching staff to get these young men developed and fit into our program."
Workouts filled with so much youth and inexperience naturally lose crispness at times, but they do produce moments when an otherwise little-known player flashes his talent.
Kansas State's Angelo Pease, an undrafted rookie running back, was one McCarthy noticed from the two brief periods of 11-on-11 work conducted on Friday.
"He jumped out on that run," McCarthy said, referring to a cutback to daylight by Pease. "That's a big-time cut. Frankly, I thought it was Eddie Lacy, just the way he dropped his weight and hit the hole."
As for the real Lacy, the second-round pick from the national champions made a good first impression, too.
"He definitely is very smooth," McCarthy said. "You can see the things, particularly in the run game, that he did at Alabama. Obviously, he was very well-coached there, just his comfort in the inside, outside zone footworks. I'm glad he's here."
McCarthy said the same about Jones and Franklin, the UCLA graduates selected in the first and fourth rounds, respectively. McCarthy talked to both after they arrived late Thursday night and is impressed with how new UCLA coach Jim Mora Jr. prepared them for the NFL.
Jones, a defensive end, is coming from a 3-4 scheme similar to the one Dom Capers runs in Green Bay, which will only help his transition to the pros.
"Datone hit the lottery in a number of different ways," McCarthy said. "It's the same terminology. It will be pretty seamless for him."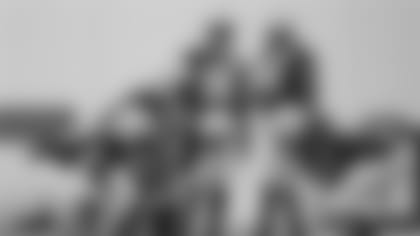 This weekend should be smoothest for the seven holdovers from last year's practice squad who are still eligible to participate in a rookie camp, and the impression they make matters, as well.
Quarterback B.J. Coleman, a seventh-round draft pick last year, made probably the play of the day with a rainbow throw deep down the middle that nestled nicely into Ohio State tight end Jake Stoneburner's arms.
"You look for them to be a cut above," McCarthy said of the returning practice-squad players. "It's a real indicator the coaching staff and the personnel department pays a lot of attention to, because if they're not, then that's obviously not a positive sign.
"I thought B.J. exhibited that today, as far as his command in the huddle, where to go with the football. Based on what I saw, I was pleased."
Practices continue Saturday and Sunday, providing plenty to evaluate. Every year, at least one or two tryout players are signed and brought to training camp, and at least one or two undrafted rookies make the 53-man roster.
McCarthy believes this year will be no different.
"If you ask any player that's in that locker room, they all feel they have a chance, regardless if they were drafted or undrafted," he said.
"You're looking for players that fit. This is an opportunity for competition. That's the theme of the weekend. I expect everyone to grab hold of that opportunity, and we're off to a good start." Related story