Mike, I think I speak for all when I say Vic will be missed because of his unique ability to tell a story about the past and present with candor and humor. However, I look forward to you drawing on your own experiences to pave a new path for this forum. Let's hear about your rise from the Wausau Daily Herald! Go Everest.
And away we go. I look forward to this, too. For those who don't recall or weren't readers when I filled in for Vic a few times over the years, I'll tell you that my first job out of grad school indeed was at the Wausau Daily Herald, then the Green Bay Press-Gazette, before coming to the Packers in 2006. At the newspapers, I covered the Packers on certain occasions but mostly covered prep sports, and there's no better way to cut your teeth in this business than that arena.
Hey knucklehead, who's your surprise team of the year?
Thanks for the welcome mat. I don't think the Falcons are staying down much longer. They started out hot last year and couldn't sustain it, but that late-season win over the Panthers, two weeks after getting blasted by those guys, might have been a sign of something.
Derek from Eau Claire, WI
Five reasons to believe the Packers' offense will be improved this year.
Jordy Nelson, Jared Cook, a ton of competition for the third receiver spot on down, a potentially renewed Eddie Lacy, and an offensive line that hopefully can be intact for more than just the eight games it was in 2015, but even if injuries strike that particular unit again, its depth will be improved.
Matthew from Mount Pleasant, WI
As Week 1 nears, all I hear is weather, weather, weather. How about those Jaguars? They are a team on the rise, let's give them respect.
No doubt. They will look at their opener against the Packers as a measuring stick game. As Nuke LaLoosh begged to do, they can announce their presence with authority.
Brett Favre will soon be in the Hall of Fame. Do you know if he was elected unanimously? Has anybody EVER been?
Vote totals for the Pro Football Hall of Fame are not announced publicly. Individual voters can reveal whom they voted for if they wish. I know in baseball, there are some voters who will never elect a candidate in his first year of eligibility, and I don't quite get the obstinacy with that. Ken Griffey Jr.'s 99.32 percent of the vote this past year broke Tom Seaver's record for highest percentage. How can somebody say Junior is not a Hall of Famer?
As the torch is passed for this venue, what philosophical differences might we expect from our new guides on this beautiful journey? I know you all cannot agree on absolutely everything football.
There are plenty of times I don't agree with Vic, and I'll miss our office arguments more than anything, though the rest of our floor surely won't. What I like about the new approach is the chance for this column to provide perspectives from three different generations of football writers. I hate to admit it, but Wes's age is nearly as far below mine as mine is to Vic's. I think that'll be fun for all of us in this space.
In my opinion there is a lot for the Packers to improve on in 2016. They lost home games to every team in the NFC North last year. Do Packers fans realize that being the best means you need to beat your division opponents in your own house?
Of course they do, and so does Mike McCarthy. Since his first year here, he has put up special signs around the players' facility when it's the week of a division game. Wouldn't surprise me if this year he adds a Lambeau logo to those signs when it's a home division game. By the way, as a child, my family vacationed in Hayward for a week every summer. Great memories of that town.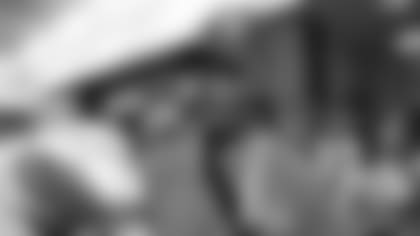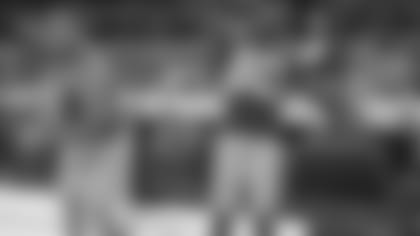 Vic showed a picture of Gino Marchetti on the sidelines watching a game with a broken leg. Even better is Charles Woodson on the sidelines wincing in pain during the Super Bowl. Show that picture.
At the time, I thought if anyone is going to force himself back into the game, it's Charles, and when he couldn't continue it had to be really bad. Him holding the trophy after the game with his one good arm, and Donald Driver standing on the bench in a boot waving his towel over his head to cheer on his team are two everlasting images from that game for me.

Now that Vic isn't mentoring you "all the way to the bench," what can we expect from you?
I don't know how to answer that, but you get credit for the first laugh-out-loud line I've read in the Inbox.
Hi Mike or Wes! I recently watched the NFL Network rebroadcast of the 2009 NFC Wild Card game against the Cardinals, and can't help thinking that if Finley and Collins were still playing at a high level, we would have at least one if not two more Lombardi trophies.
I would never consider Super Bowl titles a given, but those are two special talents that have proven not easy to replace. I'm looking forward to seeing Collins again this weekend as he goes into the Packers Hall of Fame. It's bittersweet, though, because it shouldn't be this soon. I'll always wonder if he might have been headed to Canton. Wouldn't that have been something? Ted Thompson's first two draft picks both wearing gold jackets when it's all said and done?
One of the features of a Capers defense is the surprise places a blitz will come from. It seems to me that this has toned down in recent years. We have a young and talented defensive backfield. Do you think we'll see more blitzes from the safety position, a la Charles Woodson this year?
With an elite defender like Woodson in the secondary, Capers will have that guy play a rover-like position, always keeping him around the line of scrimmage. But you don't just pick any next guy to step in there. That said, Damarious Randall was working a lot in the slot this spring, so we'll see. Ha Ha Clinton-Dix is another guy I'll have my eye on.
Is there a set schedule of who will be doing this column each day of the week?
I think Vic told you when he's doing it. As for me and Wes, we'll mostly alternate days and trade off on Saturdays, but that can always change depending on circumstances. We'll see how it goes. Planning that meticulously would take the fun out of it.
Fresh start for all. Interesting how those who do not enjoy your feedback keep coming back. Not knowing stats of the best receivers, can you think of a couple who were able to grow into success after early struggles in the league?
I wouldn't call them struggles, but Jordy Nelson didn't have more than 500 yards in a season until his third year, nor more than two TDs until his fourth. Donald Driver didn't hit 400 yards in a season or more than one TD until his fourth year. It was mostly a function of the players in front of them on the depth chart at the time, but when you're committed to developing players, it can pay off.
Only with those who deserve it. Then again, the longer I do this, maybe it'll just come out organically.
John from Port Edwards, WI
Hey Mike, will you be banning anybody?
Going right to the edge on my first day, eh, John?